After years of emphasizing worker training and education, emerging markets such as India, China, Brazil, and Eastern Europe now have labor surpluses, and not just of the unskilled whose low wages attracted outsourcing and drove global expansion for a quarter century.
Workers in such markets increasingly are agile thinkers who possess digital, interpersonal, communication, and global operating skills, says a new report from Towers Watson and Oxford Economics, "Global Talent 2021 Survey." The research found that the surplus talent can fill needs for finance, managerial, and technical positions, and will be increasingly so over the next decade.
The ranks of the unemployed have for some time been moving up the talent curve and away from just manufacturing and construction positions, says John Boudreau, a professor and research director at the University of Southern California's Center for Effective Organizations, who helped analyze the survey data. In the major emerging markets, annual talent pool growth in India, Brazil, Indonesia, Turkey, and China will surpass that of developed countries, says the survey (see chart).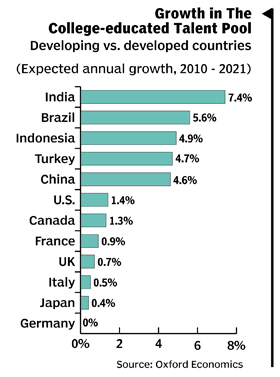 The availability of more talent globally means CFOs, especially those with significant international operations, should pay more attention to human-capital planning than they have historically, the report suggests.
"CFOs need to be a bit more flexible in order to really help the companies take advantage of these opportunities in a controlled way," says Larry Harding, founder and president of High Street Partners, which helps clients set up overseas locations. He says that in the United States, there generally is not a full grasp of just how well-educated people in other countries are becoming.
According to the survey, 217 million workers in emerging markets, or 60% of the global workforce, will be college-educated over the next 10 years, as opposed to 143 million in the developed world. "There [is] a huge number of extremely well-educated people outside of the United States. Cutting-edge companies are going to be taking advantage of these opportunities as well as or better than their competitors."
One company that's taking advantage is SolarWinds, an IT-management software developer whose products are sold in 180 countries. "We've made the shift from focusing mostly on engineering development talent in the Czech Republic and India," two of the company's major international locations, says CFO Mike Berry. "Now we're looking for skills like knowledge of digital media, how the Internet really works, and search-engine optimization." Employing people with such skills allows companies to build a more robust international presence in areas that were previously seen as outsource locations, he notes.
The benefits of an overseas talent surplus go beyond affordable, available workers: having new, highly skilled talent nearby existing production locations is highly productive. "Instead of having to deal with different time zones and different languages, it's very beneficial to put product people, marketing people, and even finance people in the same area as engineering centers," says Berry.
CFOs are rethinking their global strategies and business models, of course, but restructuring organizational approaches may also be a key to getting the most efficiency from existing talent, according to the survey. For example, worker retraining is becoming more important all the time as new technologies are developed, implemented, and quickly rendered obsolete. The report also advises companies to consider investing in literacy programs and planning for changes related to areas where there are unstable political or economic conditions. "Finance leaders need to get their heads around [the idea that] investments in talent may have a payoff that's 5 to 10 years out," says Boudreau.
The global availability of talent also serves as another reminder to CFOs to think beyond costs. Carefully choose the markets where you will build up a local workforce. "You may go into a country that costs more up front but find that over time, the workforce is more skilled and productivity is better," says Berry.
Boudreau agrees that it's "insufficient for finance leaders to believe that you can just take price as an indicator as to if you're sufficiently managing these labor markets." He names the shifting nature of skills, subtle moves between countries, and development investments as other concerns that will be shared by the CFO and human resources.
"It's a much different game these days for CFOs, especially internationally," says Berry. "The people aspect is a huge piece."