Even employees who have traditional pensions will be working longer than they planned — and their bosses know it.
In a recent survey conducted by CFO Research in collaboration with Prudential Financial, about 70% of senior finance executives said they believe their companies' employees will be forced to delay retirement because of insufficient savings. (CFO Research and Prudential conducted similar surveys in 2009 and 2010.) The 186 finance executives surveyed work at large and midsize companies, all with defined-benefit (DB) pension plans with assets of at least $250 million. Employers also said that employee benefits are critical to attracting and retaining talent, with three-quarters agreeing that employee satisfaction with benefits is important to the success of their company.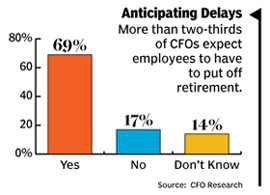 So what's a CFO to do? The survey suggests that finance executives are exploring new ways to manage those financial risks that pose threats to both a company's bottom line and an employee's nest egg. This year's survey found an increase in the percentage of companies likely to transfer DB plan risk to a third-party insurer. Because pension plans are guaranteed, employers have to pay extra if the investments underperform. With that in mind, "we are figuring out a way to move future risks off of our company's balance sheet," said the CFO of a health-care company. While only 5% of respondents had transferred DB plan risk to a third-party insurer, 43% said they were likely to do so within two years, up from 30% in 2010.
Finance executives in the study also said they will explore products that can dampen the market's volatility and encourage employees to keep their own investments in defined-contribution plans intact. These executives are becoming more interested in exploring how using strategies such as target-date funds, stable-value products, and guaranteed-income products might help bolster employee retirement investments.
To download the report, "The Future of Retirement and Employee Benefits," go here.