U.S. and European-based companies will soon begin to offshore fewer business-services jobs to India, China, and other regions. Why?  Not because they're keeping those jobs onshore, as many hope, researchers at The Hackett Group, a global strategic business advisory firm, predict.
By 2016, U.S. and European companies will start to simply "run out of jobs that can be moved offshore," says Michel Janssen, chief research officer at The Hackett Group. "There's a point where you can't offshore the CFO himself or some of the key staff, and you can't necessarily move the auditors or any of the client-facing business analysts abroad either," he says.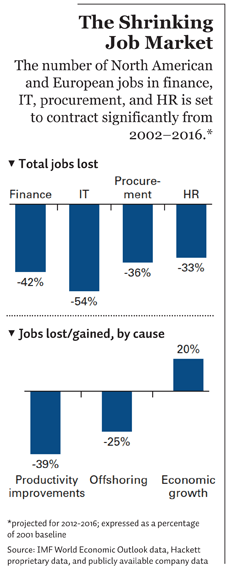 That doesn't mean any jobs are coming back to the United States. In fact, Hackett predicts, by 2016 there will be about half as many North American and European jobs in finance, human resources, information technology, and procurement as there were in 2002.
Partly to blame for the drop in available jobs are game-changing technological advancements, Janssen says. By facilitating global communication, the Internet and new technology have given offshoring a boost, he says. "In early incarnations of offshoring, companies would have to physically ship a whole batch of invoices and send a courier to the Caribbean or Mexico," Janssen says. "But now with the Internet, you can just scan them electronically if you need to and move them anywhere in the world."
Technological advancements such as automation, along with the spike in productivity demanded of employees after companywide layoffs, have also eliminated the need for many jobs, domestically and abroad, says Erik Dorr, senior enterprise research director at Hackett. "Companies took the recession as an opportunity to trim a lot of fat," he says. "Except they didn't bring those jobs back when the economic outlook started to look a little bit rosier."
As companies continue to look for ways to cut payroll costs, they may begin to offshore jobs in fragments, divvying up responsibilities into higher-cost and lower-cost areas based on the skill sets required, Janssen says. For instance, a company may divide traditional financial planning and analysis among employees in different regions, assigning report-creation duties to workers in lower-cost locations and leaving staff members in the United States to do the analysis for a higher salary, he says.
If American and European companies do experience growth within the next few years, they will likely expand their foreign operations rather than add staff at home. "That's where there may be a little bit of a silver lining for India," Dorr says.  
Hackett predicts that American and European companies will offshore about 750,000 more business-services jobs between now and 2016.