The Presidential election is over, and the Affordable Care Act (ACA) is a fact of life. But despite the complex nature of health-care reform, providers are finding that small changes in health-care operations can make a big difference in quality of care and the bottom line.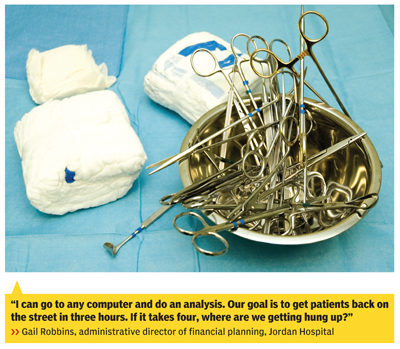 At 155-bed, not-for-profit Jordan Hospital, in Plymouth, Massachusetts, Gail Robbins, the organization's administrative director of financial planning, understands that sometimes, all it takes to improve quality and contain costs is a frank conversation or a tiny tweak.
For example, in Jordan's operating rooms, "scrub nurses put tools in a basin, put the basin on a cart, stick the cart in the elevator, and send it down to the sterilization team," says Robbins. Seemingly a simple process, but at some point it began to create hard feelings and inefficiencies.
"Everyone was frustrated," Robbins says. "The [operating room] was getting surgical kits back from sterilization and things were broken. The sterilization team was saying it was getting stuff from [the operating room] in a bad state, with heavy instruments tossed on top of delicate stuff."
Robbins, leading an efficiency initiative, got everyone together, and the sterilization team asked the surgical staff to do something for them: Would they please roll the cart into the elevator so the handle faced out? When the handle faced in (as it often did), the sterilization team struggled to get it out — a huge waste of time. "That saved five minutes a case," Robbins says. "Added up, it saves time, it saves money."
Why is a finance director playing negotiator in a dispute over what appears to be operational minutiae? Because as hospital revenues are affected by the sluggish economy and the ACA, taking costs out of operations becomes a priority. The pressure of health-care reform on the health-care value chain is only increasing, as states curb the rise of Medicare reimbursements and Medicaid payments. According to a recent Moody's Investors Service report, revenue growth at not-for-profit hospitals is low by historical standards: median growth in fiscal 2011 was 5.3%, only a slight uptick from 4.2% in 2010.
Consequently, hospital finance executives need to forecast revenue more precisely than ever — no easy job. "Revenue in the health-care environment is terribly complex," Robbins says. "You have multiple insurers paying differently for the exact same service. One insurer may pay $200, another $500."
In addition, the population is aging. Older patients typically receive more medical than surgical care, and medical-care reimbursements run lower than surgical ones, says Josh Gray, managing director of the financial leadership council of The Advisory Board, a health-care and educational consultancy. "This places incredible pressure on hospital margins while costs are increasing," Gray says.
Hospital margins are already grocery-store thin. At 2%, Jordan Hospital's margin is relatively robust, with a total 2011 surplus of a little more than $4 million on net patient-service revenues of $194 million. But Jordan Hospital is part of the Jordan Health System, which also includes a 50-physician network, a hospice, and a wellness center. As a whole, Jordan Health System's margin was below 0.5%, and its surplus was $900,000.
Shifting Revenue Streams
Under the ACA, hospital revenue streams will shift as insurers begin to pay providers based on what it costs to take care of patient groups, rather than on an individual, fee-for-service basis. As a result, CFOs must develop "different business processes and tracking mechanisms," says The Advisory Board's executive director, Zachary Stillerman.
Jordan Hospital, for example, became 1 of 27 national Medicare accountable care organizations (ACOs) in April. ACOs have contracts with insurers to manage the care of certain groups of patients, such as Medicare beneficiaries, says Robbins.
Under the terms of the new Medicare Shared Savings Plan, if Jordan spends less than a prenegotiated level on the Medicare-eligible recipients in its ACO (while meeting a list of patient-quality indicators), it will keep a percentage of the savings. If the hospital exceeds the level, it will continue to be reimbursed at traditional Medicare rates for the first three years. After that, reimbursements will depend on whether it improves patient-quality outcomes compared with the first year.
To reduce the risk that it will exceed its base-year level and be on the hook for the difference, Robbins needs to know "what's being used to excess, where physicians are operating out of bounds of reasonable utilization rates." In other words, she needs to get operational. To do that, she has to have the cooperation of Jordan's physicians and a single view of the patient.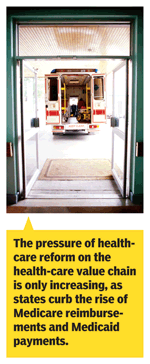 A Profitable View
To get that single view, in 2010 Robbins implemented new business-intelligence software on top of a software-as-a-service analytics and business performance system that had been deployed at Jordan Hospital since 2007. The products, both from PowerHealth OnDemand, enable hospitals to pull information from their various legacy systems into one source and analyze it. With a single view of the patient, executives can begin to zero in on profitability and margins.
Robbins, for example, knew insurers were reimbursing for digital mammography at a higher rate than for analog exams, and that digital images could result in earlier tumor detection. That, in turn, could save the insurer long-term expenses in patient care. She created a business plan, conducted a capital-expense analysis for the equipment, and decided it would make financial sense (and serve her community) to create a women's breast-health center. As you walk down Jordan's corridors, the breast center is prominently bannered.
Operationally, Robbins says the PowerHealth system allows her to run queries on what's happening, for example, in the Emergency Department, a huge cost center. She can see how long it takes for a patient to be seen by a doctor, and what tests have been ordered.
"I can go to any computer and do an analysis," she says. "How long did it take Dr. Smith to get to the patient's bedside? Was it longer than Dr. Bob? Why? What can we learn from that? Our goal is to get patients back on the street in three hours. If it takes four, where are we getting hung up?"
"If you can't measure it, you can't change it," says Robbins. For hospitals faced with slower growth, operational change may not be a cure-all, but it can alleviate the pain.