If there's one thing America's privately owned companies have learned over the past five years, it's how to make the most of their sales in a shaky economy, according to new data from Sageworks, a financial-information company.

Private companies in 2012 continue to strengthen their net profit margins, which on an average annual basis are now more than triple their rates during the depths of the recession when they hit lows of 3.09%, 3.05%, and 3.05% again in December 2009, January 2010, and February 2010, respectively. The average annual net profit margin for U.S. private companies that filed financial statements within the past three months is 9.1%, according to the Sageworks Private Company Indicator. And average margins are more than three percentage points higher than before the recession, an increase of more than 50%.
That means the average private company is generating more profit per dollar of sales than it did five years ago. In fact, net margins have continued to climb in 2012 even as private companies' sales growth has slowed slightly.
Sageworks analyst Robb Granado believes this is due to the fact that privately held companies cut their costs as the recession hit, and kept fixed costs low on a relative basis as their sales recovered. And that generates sustained growth in net profit margins.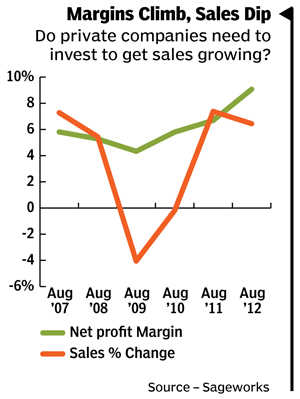 Sageworks's data shows that manufacturing, retailing, and health care and social assistance are among the sectors that have seen the most margin expansion relative to prerecession levels. Privately held manufacturers' net margins averaged 4.4% in 2007 and are averaging 6.5% so far this year. Margins in the health-care and social-assistance sector have improved from almost 11% in 2007 to more than 15% year-to-date. And retailers have nearly doubled their net margin rates, to 4.1% this year from 2.1% in 2007.
Granado believes private companies' margin trends exemplify the classic more-with-less scenario.
After a sales slowdown or recession, managers don't increase their costs again as quickly as sales recover. U.S. government data show that, for example, employee compensation as a percentage of GDP has dipped in recent years. This could be because companies are doing more with fewer workers, and that could be one factor in the improvement of private-company net margins. But eventually, companies will have to make additional investments — in space, marketing, or staffing, for example — in order to continue to grow sales.
Private-company sales continue to increase from a year earlier and outpace the general economy, but sales increases have slowed in recent months. The average annual sales growth for companies that filed financial statements within the past three months is 6.4%, slightly below the 2011 rate for the same period. Sageworks's historical data shows that private-company sales growth often slows from May to July. It's unclear whether the recent dip reflects that trend, growing uncertainty about the economy, a leveling-off of growth at around prerecession levels, or the effect of tighter expense control. The latter could reflect a negative impact of belt-tightening.
Sageworks collects financial statements for private companies from accounting firms, banks, and credit unions. Net profit margin has been adjusted to exclude taxes and include owner compensation in excess of market-rate salaries. These adjustments are commonly made to private-company financials to provide a more accurate picture of operational performance.
Mary Ellen Biery is a research specialist at Sageworks, a financial-information company that collects and analyzes data on the performance of privately held companies and provides financial forecasting software. She is a veteran financial reporter.