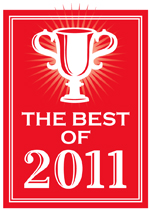 This year, CFO inaugurated its growth companies beat to focus on the companies that give hope to the country's economic future: those that are increasing sales, staffing up, and moving into new markets with enthusiasm. Since chaos tends to accelerate approximately as fast as revenues – or perhaps faster – our coverage centers on how finance executives in those companies can put the right structures in place to support the business without stifling it.
Of all the structures a CFO might consider, capital structures dominated the headlines this year, as the government raced to open up more avenues for growing companies to access debt and equity. During the summer, the Small Business Lending Fund was doled out to community banks; Congress is currently considering proposals that would allow companies to take an "IPO Lite" route or "crowdsource" some equity offerings.
Another key theme in our coverage this year was how to overcome some of the day-to-day challenges with good internal structures: creating the right processes, automating certain tasks, and helping employee development keep up with the overall progress of the company. Here, we present some of our best-read articles across all those categories.
How Not to Grow 
Successful growth strategies often turn on saying "no" to the right things.
Smoothing the IPO Path
A new SEC committee is trying to help smaller companies find less costly ways to raise capital.
Crowd-Funding Draws New Attention
Why a new format for raising seed rounds is in the news – and on the SEC's agenda.
FASB as Private-Company Standards-Setter?
A proposed new council would report to FASB, an idea at odds with another recent high-level recommendation.
The Trouble with DSO
DSO isn't as versatile as it might seem, experts say.
Offshore Outsourcing: For Smaller Companies, Too
Why some smaller companies are starting to send work overseas.
Seven Easy (and Cheap) Ways to Develop Employees
A seasoned CFO offers tips from his playbook, which has helped propel at least eight of his former staffers into their own CFO roles.
How to Become a Portfolio-Company CFO
A recruiter offers tips for getting a shot with private-equity-backed firms.
The Price of Being a Private-Company CFO
Why do CFOs at private companies make less money than those at public companies?