In their company's most recent spate of insurance renewals, many CFOs found workers' compensation the toughest line of insurance coverage to buy at the right price. To deal with the stiff pricing and underwriting of such coverage, some have been focusing on keeping claims down. But with the market hardening, such efforts may have little impact on rates.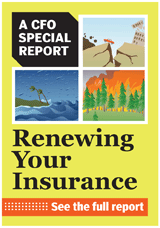 Indeed, 53 CFOs, or 37% of the 146 finance chiefs responding to a question in a CFO.com insurance-renewal survey in February and March said their company faced the toughest sledding in workers' comp.  Perhaps counterintuitively, especially during a period when heavy weather has been hitting corporate-owned property hard, that was 11 percentage points more than the portion of respondents who found reasonably priced property/catastrophe coverage hardest to obtain. (See Figure 1, below.)
The sharp rise in workers' comp premiums stems from a number of factors that have made insurers wary of writing the business. In a keynote speech at the Advisen Casualty Insights Conference in March, David Bidmead, chief executive officer, United States, of Marsh, a big broker, noted that price increases for workers' comp are predominantly driven by the "unrelenting movement in medical costs as a percentage of the overall claim."
Further, carriers are "reassessing their overall appetite" for risk and, more specifically, their yen to take on aggregations of risks in concentrated urban areas, partly because they fear the federal government may cut its involvement in backing terrorism coverage, including workers' comp, according to the insurance-brokerage executive.
Another reason for uncertainty in the workers' comp market is new, more stringent capital models that are curbing carriers' risk appetite and hence their renewal positions, Bidmead said.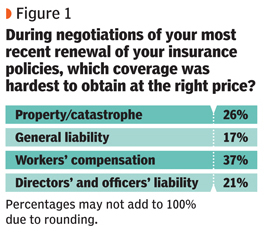 Lining up with those scenarios is a general relative pessimism of finance chiefs about workers' comp insurance costs. On their company's next renewals, 32% of finance chiefs expect workers' comp to be the toughest insurance line to negotiate. But they do expect the gap to narrow between it and property/catastrophe coverage. (See Figure 2, below.)
One takeaway from comments made by finance chiefs responding to the CFO.com survey may be that small-to-midsize businesses (the survey included CFOs working for companies in the $10 million to $500 million in annual revenues range) are finding it tougher to get workers' comp coverage that reflects their company's workers' comp claims experience than bigger companies — with greater financial and safety resources at their disposal — may find it to be.  
One finance chief of a manufacturer in the $50 million to $99.99 million revenue range who delegates insurance buying to the company's broker, for instance, cited "brutal [workers' comp] price increases that don't align with our experience modification."
Experience modification is the alteration of a company's annual workers' comp premium based on its previous loss experience. "As a manufacturer, our mod rate can change pretty frequently. [Workers' comp] insurance, more than any other, seems to swing wildly in cost from year to year and from provider to provider," says a finance chief of a company that takes in $50 million to $99.99 million a year in sales.
Similarly, the CFO of a business-services company in the $100,000 to $499,000 revenue range who functions as the company's insurance buyer reported that workers' comp  "is by far the most expensive component of our insurance program."
Although the company has had very few losses, it pays "hundreds of thousands in premium annually," the finance chief complained. "The cost always seems disproportionate to the historically demonstrated low risk. However, we are not large enough to effectively self-insure this risk."
More People, Better Results
Larger companies might find it easier because they have the resources to manage workers' comp claims more closely. Ruby Tuesday, a Knoxville, Tennessee-based company with more than 700 corporate-owned restaurants and 35,000 employees that took in about $1.5 billion in sales in its last fiscal year, for example, has found that good risk management is critical to keeping rates down at renewal time.
In fact, Belinda Sharp, vice president of human resources, expects only a "modest increase" for its renewals in June. How will the company manage that? "We negotiated a two-year deal last year that included a fixed increase," she says. While the company does some self-insurance and self-administration, the secret to keeping rates down is aggressive risk management via workers' comp injury prevention and return-to-work programs.
Sharp, who works closely with Ruby Tuesday's CFO Michael Moore on renewals, explains, "The least costly injury is one that never happens, so we see our biggest opportunity in prevention. We constantly monitor claims to identify where there is frequency and then put together a targeted program to address that issue."
The company has also had success with its safety-kit program. "We auto-ship certain supplies, such as cutting gloves and goggles, so the restaurants always have them on hand," she says.
Such risk-management efforts prevent injuries from happening, and therefore curb the claims that can push workers' comp rates up, Sharp contends. For example, Ruby Tuesday's safety programs take the climate of the locales of its restaurants  into account. High humidity, frequent rain, or icy conditions can dictate the type of flooring, cleaning procedures, and supplies that are used, Sharp says.
If an injury does occur, on-staff claims adjusters "contact the team member that day or the following day" to check on medical progress and to schedule his or her return to work. When possible, network physicians are used, and the company has "an aggressive light-duty work program" to keep the number of days missed at a minimum.
The company has a two-year deal on its primary workers' comp coverage with Safety National Casualty Corp., "so I'm expecting an easy renewal," says Sharp.
Within that arrangement, the company has taken steps to keep premiums down by taking on its share of the financial risk and insurance-administrative costs. Ruby Tuesday thus assumes a $500,000 deductible per workers' comp claim, does some self-insurance, "and quite a bit of self-administration in the workers' comp area," Sharp adds. "In some states we are able to do more [than in others], depending on regulations. In Georgia, for example, we do some self-administration." (Workers' compensation, like property-casualty insurance overall, is regulated on a state-by-state basis. Self-administration requirements can thus differ from state to state.)  
For its workers' comp program, Pinnacle Entertainment, a $1.2 billion Las Vegas–based gaming company with 9,500 employees, has tackled high rates by adding enterprisewide safety programs. "Enterprise risk management is about building a culture where everyone understands their role and the risks they are taking every day on their job, and what those risks mean to the company," says Jim Cunningham, vice president of enterprise risk management for Pinnacle.
He explains that traditional safety programs focus on training employees, inspecting work areas, and auditing for compliance. At some point, organizations examine their historical losses and try to build a program aimed at diminishing them. He observes, however, that "no matter how it is presented, at its core that approach is reactive."
In contrast, he contends, Pinnacle's goal is to prevent accidents before they happen. For example, in the course of looking for the sources of potential repetitive-motion injuries, Pinnacle reviewed the method employees used to empty laundry from the company's commercial washing machines.
"As the load spins it can get knotted, making it difficult to untangle and empty the machine. We observed the position of the employee as they did this task. They would pull a rolling hamper up to the washer, which limited their access to the machine. Then they would stand to the side of the hamper and reach over it and into the machine and pull out the laundry," he explains.
This meant that those employees' backs were being placed in awkward positions, exposing them to back strains. After working with the laundry team, however, the company made a change in how those machines are emptied. "We now keep the hamper behind the attendant, who stands directly in front of the machine and removes the laundry. They then pass the laundry behind them into the cart. This is one of hundreds of examples where we were able to be proactive and reduce, if not completely eliminate, worker injuries," Cunningham says.
That was a "radical change from past practices," he says. The result? "Unprecedented levels of reductions in accident frequency and severity." Accident frequency was decreased by more than 40% and severity by more than 30% the first year, he says.
Although this is only the second year of the program, "the downward trend continues and we are achieving double-digit declines over last year's . . . performance." He adds, "We continue to train every employee to learn to recognize and correct hazards before they cause problems."
Yet despite all of Pinnacle's efforts, the company saw a small increase in its rates for 2012. However, for its August 1 renewal, Cunningham is encouraged by the signals he is getting. "Our carrier has committed to a rate and premium reduction if we can sustain the performance over last year," he says. "This year we are not only sustaining it, we are clearly beating it."