Valentine's Day is normally an auspicious day for Avon Products, the $11.3 billion cosmetics and perfume seller. But this February 14 was a gloomy one for the iconic company, as top executives had bad news to discuss during that day's quarterly earnings call. The company revealed a $400,000 loss for the last quarter of 2011, compared with a $229.5 million profit for Q4 2010. Avon attributed the loss to restructuring charges and an impairment charge for its acquisition of Silpada Designs, a jewelry company.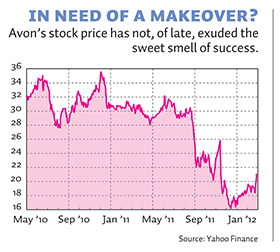 Joining CEO Andrea Jung for her first Avon earnings call was new CFO Kimberly Ross, who started in December. Ross is no stranger to companies in transition: she came to Avon from Dutch supermarket operator Royal Ahold, where she helped move the company beyond its 2003 accounting scandal. She faces similar challenges at Avon, whose finance department has also been tainted by scandal, and whose leadership has been accused of incompetence.
Ross's predecessor, Charles Cramb, was fired in January, a move related to Avon's ongoing internal investigation into whether the company violated the Foreign Corrupt Practices Act in China several years ago. The company recorded $96 million in costs related to the probe in 2010, nearly double what it had recorded the previous year (Avon's figures for 2011 won't be available until it files a 10-K with the Securities and Exchange Commission). Cramb was one of several executives let go since the company began its investigation in 2008. Meanwhile, the Department of Justice and the Securities and Exchange Commission are investigating the company.
As for the alleged incompetence, Avon has been hurting from expansion mishaps, inventory issues, rising wages, and commodity inflation, as well as the ongoing regulatory probe. During the company's Q3 2011 call in October, analysts bluntly suggested the company needed a major reworking. "Why should investors believe management and the board have any control over the business at this point?" wondered Mark Astrachan, an analyst at Stifel, Nicolaus & Co.
"We're not standing still," Ross said during the February call. "I am helping drive the business review, and I have seen obvious operational and cost-cutting opportunities that we can realize in the short and medium term." But long-term changes will have to wait until a replacement is named for Jung, who announced the end of her 12-year tenure as CEO in December. (She will remain chairman for two years.) Both Ross and Jung described Avon as a company that will be in transition throughout the year.
Ross is also considering making changes to the finance department, "specifically in the way we work and some of our processes." She is particularly keen on improving the company's forecasting abilities, albeit without having to invest in a new computer system. A related focus is cost-cutting, and a head-count reduction appears imminent, although Ross indicated that the cuts won't be as extensive as some of those made in Avon's past.
"The challenges are such that progress will be measured in quarters, not months," Ross said. "However, what I've seen so far gives me the confidence that these are fixable issues."