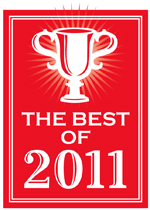 Senior executives charged with overseeing risk management faced a mix of pressing issues in 2011 that threatened to distract them from their core business. Political uprisings in the Middle East, broken supply chains from the Japanese earthquake, and the eurozone crisis made focusing on their home turf a challenge for U.S.-based executives.
CFO followed the unfolding risks all year long and provided strategies to finance chiefs for improving their risk-management work from headquarters. At the same time, we kept tabs on the unfolding implementation of the Dodd-Frank Act, which has wrapped up its first full year. Regulators still have hundreds of rules to finalize, and CFOs have hundreds of questions about the few completed rules, as well as those pending. Does the new whistle-blower bounty discourage securities-fraud informants from going through internal channels before running to the feds? Will the cost of complying with a new disclosure proposal for supply chains outweigh possible benefits, which involve the delicate matter of human-rights violations?
We also reported on the more juicy compliance stories of the year. These articles involved CFOs in trouble with the law, whose cases could have a lasting effect on others in the profession.
The selection of stories below reflects the most interesting risk and compliance issues that faced finance chiefs in 2011.
RISK
A World of Risk
In emerging markets, the clash between politics and profits poses multiple threats.
Managing Euro Exit Risk
What treasurers need to address before the departure of a eurozone member draws any nearer.
Where There's Smoke, There's Fraud
Sarbanes-Oxley has done little to curb corporate malfeasance. Therefore, CFOs should implement a range of fraud-prevention measures.
Very Big, Yet Hard to See
More companies are incorporating strategic risk management into their broader risk programs.
A Reason to Revisit Your Cybersecurity Risk
New guidance from the SEC nudges public companies to consider how forthcoming they should get about the costs and overall effects of potential and actual IT breaches.
COMPLIANCE
Can CFOs Be Whistle-blowers?
A new House bill could leave finance chiefs out of an SEC bounty program that rewards informants.
Sources of Misery
A controversial new rule requires companies to peer deep into their supply chains to see if they are unwittingly supporting violence in Africa.
Once Facing a Prison Term, Ex-CFO Could Go Free
Elizabeth Monrad, former CFO of General Re Corp., hasn't served a day of her 18-month prison sentence and recently saw her conviction overturned.
Guilty of Being a CFO
An appeals court's reversal of a CFO's fraud conviction challenges prosecutors who suggested his professional expertise implied fraudulent intent.
Why You Should Protect Your Employees' Twitter Accounts 
Make sure your company puts safeguards in place so that employees can't take these valuable assets — including any followers — with them if they leave.