Not so long ago, there was a small software-as-a-service (SaaS) company called Plannr. It sold an e-mail-based calendar, plan-maker, and event-coordinating tool that automatically sent updates and alerts to both desktops and mobile devices. Since the tool was a SaaS application, customers accessed it through a browser, and Plannr took care of the rest: hosting data on their (or someone else's) servers, maintaining the application, automatically installing patches and upgrades — all for a low-cost subscription and monthly usage fee.
The product was marketed as a Google alternative for businesses that may have felt uncomfortable with the thought of all of their e-mails — containing who-knows-what proprietary information — splashing about in the unfathomably deep data pool of the world's largest advertising agency.
In September 2010, Plannr's customers received a message from the company's founders, Ben Eidelson and Jason Prado, thanking them for their patronage and informing them that Plannr was shutting down. (It had, in fact, been purchased by Google.) The message contained a file "with a copy of your plans that you should be able [to use] to import to most other calendar programs." The founders apologized for the "inconvenience," and noted that the company would "completely remove/delete all data in 30 days."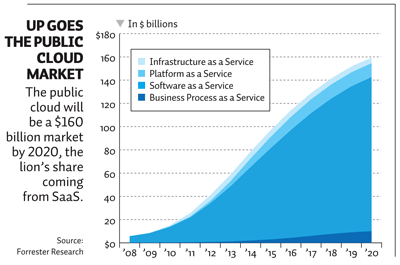 In short, have a nice day. The note did not italicize the words "should" and "most," but even without that emphasis the message no doubt triggered plenty of anxiety among loyal clients.
The Plannr story is far from unique. Dozens of SaaS providers have closed up shop abruptly for any number of reasons; some were successful enough to attract buyers, while others stumbled due to fundamental problems with their technology or business strategies. According to Forrester principal analyst Liz Herbert, "a flood" of cloud storage services, to pick just one niche, have gone dark in the past year, including SaaS lines at storage giants Iron Mountain and EMC.
The lesson, Herbert says, is always to "have a plan for where you'd go if your provider shut down."
The larger lesson for CFOs is to approach SaaS as one would any business investment. As Mark Linden, CFO of Intacct, a cloud-based provider of accounting and financial-management tools, says, "You're buying software to automate some business process, so you've got to understand the changes to the process and the benefits you're looking for, and you've also got to document, document, document, so you can understand what you're getting."
That, of course, is true for any software purchase, "regardless of the delivery vehicle," Linden says. "It doesn't matter if the barriers to entry are lower with SaaS. You have to focus on the business benefit: Are you achieving it or not?"
Sneaky SaaS
The fact that SaaS companies go out of business doesn't mean the SaaS market is unhealthy. Quite the contrary. Gartner reports that SaaS sales in 2010 reached $10 billion and are projected to increase 20%, to $12 billion, this year. According to a recent SaaS benchmarking report by OPEXEngine, the SaaS industry showed revenue growth rates from 2009 to 2010 of "30% for the smallest vendors and an average of 20% for the largest companies."
What's more, renewal rates are rising as churn declines. OPEXEngine founder and CEO Lauren Kelly points out that because SaaS vendors, unlike traditional software vendors, don't get a big upfront payday, they "can't take the money and run," and therefore have to build strong customer relationships. "Customer support and renewals go hand in hand," says Kelly.
But the SaaS model's virtues — low upfront costs, ease of implementation, transfer of application-support work and costs from customer to provider, and potential head-count reductions — can lead the business to purchase and deploy SaaS applications without considering their long-term impact on the enterprise. As Kelly says, "It used to be that you couldn't make an IT purchase without going through the IT department. Now you can."
But what's easy for the business unit can ultimately prove difficult for the C-suite, due largely to a lack of transparency.
As KPMG lead partner Greg Bell notes, CFOs have historically assessed IT expenses based on how the CIO planned to support the company's strategic goals. That is, they looked at the IT budget together, and it encompassed pretty much all of a company's spending on technology. Today, small investments in SaaS may not rise to the CFO suite. "CFOs are seeing capital requests decrease because SaaS is captured as [an operating expense], not capex." That, according to Bell, can hamper the CFO's ability to budget and forecast, because "the financial-planning staffers aren't aware of some of these expenditures until they hit a certain dollar level, and by then the investment may be more difficult to corral or change."
SaaS vendors play a role as well, by emphasizing the ways in which the low cost and easy implementation of their service obviates the need for IT involvement. The net effect can be uncoordinated, nonstrategic spending that throws off the planning and forecasting process. A related risk is that business units fail to properly vet contracts that contain hidden or obscure cost-escalators, or otherwise prove to be more expensive than the buyer anticipated. As one finance executive explains, "You buy a sales-support service and it's only $50 per user, but soon you have 200 people using it and you need to hire a consulting firm to optimize that use, and now it's a $50,000 investment."
And although subscribing to a SaaS application may be easy, getting out may be harder than you might think. With short-term leasing, the option to drop one product for another is, in theory, a core advantage the SaaS model has over traditional, on-premise, heavily capitalized IT. In practice, however, once a company has developed processes, workflows, and an infrastructure that fit a particular SaaS product, switching to another may suddenly seem a lot less attractive.
A Governance Primer
In an August survey of 1,400 U.S. finance chiefs conducted by Robert Half Management, 15% said that over the last three years their responsibilities had expanded more in IT than in any other functional area outside finance, and a number of other studies have shown a steady increase in the CFO's oversight of IT.
At HID Global, an identity and authentication vendor, IT reported to former CFO Will West and, although he admits that despite that supervision "in some cases we had rogue applications [procured without approval from either IT or the CFO office]," he worked to avoid them. "We viewed technology questions as business questions, so those went to the CFO," he says. (Following West's departure, IT now reports to the CEO.)
At Best Buy, Mathew Watson, senior director of external reporting and corporate accounting, recently implemented the BlackLine SaaS global account-reconciliation tool. When it comes to cutting deals for SaaS applications, he says that Best Buy has a procurement service team that discusses "prices, key terms, and service-level agreements" for all such purchases. With that discipline in place, he says, the company feels confident in pursuing SaaS options even for a function as critical as account reconciliation, because "with a short-term lease, it doesn't feel like a purchase. It's more like rent: you expense it as you pay for it."
Intacct CFO Linden, who "owns" IT, runs 14 different SaaS applications. He emphasizes the importance of both procurement discipline ("We've seen people making decisions on SaaS based on the fact that they don't have to write a big upfront check. You don't want that to be the deciding factor for something core, like financial management") and vendor management ("You're outsourcing the operational aspects of the SaaS software. The vendor becomes your outsourced IT department. Therefore, the nature of your relationship with the vendor changes. It becomes closer and more interactive").
At the same time, Linden argues that the SaaS model is a boon to CFOs. "It frees me up from thinking about IT-delivery issues," he says. "Like, 'It's time for another Microsoft upgrade, and what's that going to cost, and what's the value I'm going to derive?' SaaS clears the air. I get a bill. All I have to do is read the bill. That makes the cost-benefit analysis a lot easier. I can ask, 'This thing is expensive. Here's what we expected. Are we getting it?'"
Implicit in Linden's argument, of course, is the notion of the CFO getting the bill, as opposed to a business-unit head, and making sure that the expense it entails matches the benefits the SaaS application delivers. If a CFO is involved with IT management on that level, it certainly helps, but he adds that, "even if a CFO doesn't own IT, [the SaaS model works] because it strips away the day-to-day stuff and allows you to focus on the business benefits. That gives the CFO the ability to get involved and drive the discussion."
Nonetheless, he says, "you do need real procurement controls in place against approved budget. If your only control is IT project control, you probably want something better than that."
With SaaS, "it boils down to governance," says KPMG's Bell. "The model that works best is the steering-committee approach, with the CFO, CIO, and representatives from tax, legal, and procurement all on board. The idea isn't to create undue bureaucracy, but to manage IT in a way that aligns with organizational goals, not business-unit goals."
Even a system in which IT rides herd on business units may not be enough, Bell says. "If the only oversight is on the IT side, that can create too much risk. We recommend a multidisciplinary process, with the CFO playing a major role."
David Rosenbaum is senior editor for technology at CFO.
---
SaaS Procurement and Governance: What to Focus On
"The model that works best is the steering-committee approach, with the CFO, CIO, and representatives from tax, legal, and procurement all on board." Also bear in mind that, "if the only oversight is on the IT side, that can create too much risk." — KPMG lead partner Greg Bell
"It doesn't matter if the barriers to entry are lower with SaaS. You have to focus on the business benefit: Are you achieving it or not?" — Intacct CFO Mark Linden
"Have a plan for where you'd go if your provider shut down." — Forrester principal analyst Liz Herbert