The Securities and Exchange Commission hedged its bets when finalizing one of its most controversial rules more than a year ago. The regulator had granted shareholders both the right to nominate directors and the ability to formally suggest that companies change their bylaws to allow for investor-nominated director elections.
It's the latter change that will likely stick, even as the SEC backs off its original plan following a federal court ruling that vacated its more expansive proxy-access rule. Shareholders could, on a company-by-company basis, campaign for a process change for elections this coming proxy season. And if their proposal is approved, they could get their hands on the director ballot the following year.
Under the commission's initial plan, some shareholders could have skipped the campaigning for a bylaw change to make director nominations. But on Tuesday, the regulator announced it would not appeal the decision made in July by the U.S. Court of Appeals in Washington, D.C., that threw out this proxy access for investors. The rule would have let investors who have held 3% of a company's shares for three years to nominate board members. The appeals court had found issue with the SEC's cost-benefit analysis and determined the regulator had not quantified how much it would cost companies to protest investor nominations.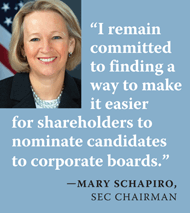 In the statement, the SEC noted the existence of a lesser-known change the commissioners had also approved when they passed the proxy-access rule in August 2010. They had amended SEC rules that allowed companies to reject shareholder proposals related to director elections. Scheduled to go into effect September 13, the change (known as Rule 14a-8) now requires companies to include shareholder proposals seeking procedural changes for nominations on their proxies. Only shareholders holding at least $2,000 worth of the company's securities for one year can make these proposals.
Investor advocates likely won't view the new allowance as adequate. Last month the Council of Institutional Investors, for example, implored the SEC to appeal the D.C. court's decision, and cited Rule 14a-8 as only a "supplement to a uniform proxy access rule." In fact, companies will be less likely to see proposals stemming from Rule 14a-8 than they would have if full proxy access had survived, predicts Thomas Murphy, a partner at law firm McDermott Will & Emery.
To be sure, observers of the proxy issue say it's too early to tell how Rule 14a-8 will affect the next proxy season. But they note the relationship between companies, boards, and investors has shifted significantly in recent years as majority voting has become more prevalent at large-cap companies, and as the say-on-pay rule has finished up its first year. Both of these fairly new voting rights give investors a way to indirectly express grievances with the way a company is run. "[Proxy access is] a tool that investors would like to have, but I don't think it would have been used as much as either side, pro or con, would have you believe," says Matthew Orsagh, director, capital markets policy, at the CFA Institute Centre for Financial Market Integrity.
Still, companies should prepare themselves for the possibility of new shareholders proposals because of Rule 14a-8, suggests Don Keller, a partner in PricewaterhouseCoopers's Center for Board Governance. "The rumors of the death of proxy access have probably been exaggerated," he says. "There is still potential for shareholders and the SEC to take further action."
Indeed, SEC chairman Mary Schapiro left the door open for the commission to revisit the topic someday. "I remain committed to finding a way to make it easier for shareholders to nominate candidates to corporate boards," she said in Tuesday's statement.
In the meantime, Keller recommends companies consider extending their advance-notice requirements for proposals if they are less than 120 days; review company bylaws for director qualifications, age limits, and term limits; and increase engagement with shareholders, if they haven't recently. "Board members and companies are spending more time communicating with investors, and this is another reason to do so," he says.