Blame it on the U.S. economic slowdown, the European debt crisis, and the continued lack of job growth. For many reasons, risks managers are feeling ill at ease these days. 
By nature more prone to consider worst-case scenarios, risk managers are keeping a close watch on the unfolding developments in Europe as Greece risks defaulting, banks are faltering, and concerns rise about any ripple effect on the United States. "One of the primary concerns is that the markets are going to freeze like they did in the United States [during its financial crisis]," says Chris Donohue, managing director of the Global Association of Risk Professionals (GARP), "and that counterparty risk will dominate, with everybody afraid of not knowing where everybody else stands."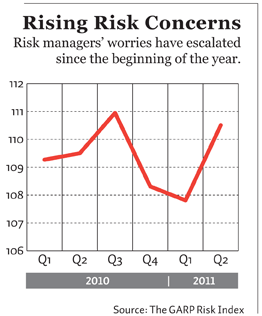 GARP's fairly new barometer of risk managers' sentiment shows their concerns rose during the second quarter of this year, even before the European crisis was escalating and just after they experienced a brief period of a more positive outlook. The survey was done in late June and early July. The index, which began in 2010, had hit its lowest level so far at 107.81 at the beginning of this year (see chart). It now sits at 110.51, close to its high of 110.95 during the third quarter of 2010. The third quarter of this year could have a similar poor showing, Donohue predicts.
The trade association's survey asks risk managers to rate the current effect that eight risk factors could have on a systemic risk crisis in the United States. They were significantly more concerned about macroeconomic issues and banks' financial health than in Q1. Nearly half of the respondents – most of whom work at financial-services firms – wondered about the sufficiency of regulatory capital in the United States. They were less concerned about commodity prices compared with the beginning of the year.