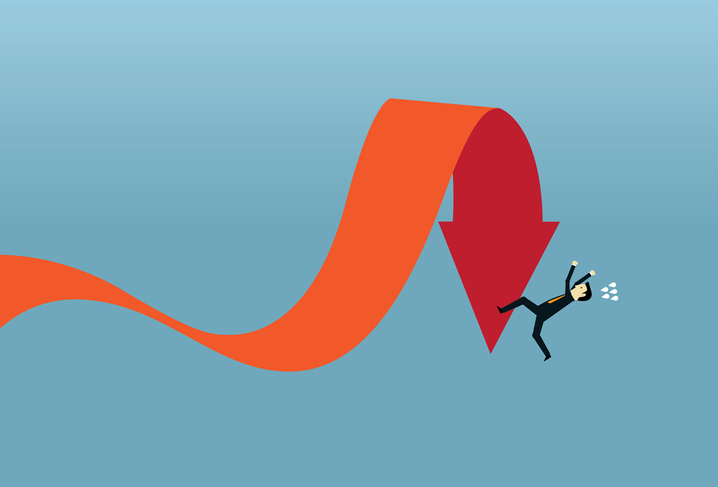 FDIC-insured U.S. banks recorded net income of $70.4 billion in the second quarter, down 8% from the first quarter but more than double the profits of a year ago. Reduced provisions for loan losses drove a large part of the quarter's income, as credit quality improved. However, loan growth continued to lag, net interest margins fell to historic lows, and the aggregate return on assets dropped.
Here's what drove the second-quarter performance of the 4,951 banks:
Low interest rates sting. Banks' average net interest margin contracted 31 basis points from a year ago to 2.5% — the lowest level on record. That led to a decline in net interest income of $2.2 billion, or 1.7%. The exception were community banks, which normally have a higher net interest margin (3.25% in the second quarter). Their total net interest income rose $1.4 billion (7.2%), in part due to fee income from the payoff and forgiveness of Paycheck Protection Program loans.
For all banks, though, "the year-over-year reduction in earnings asset yields continued to outpace the decline in average funding costs," said the FDIC.
​​Loan growth stagnates. Not only are banks earning less on each loan, but demand for loans is also decreasing in some categories. Total loan and lease balances rose $33.2 billion (0.3%) from the first quarter, driven by credit cards and auto loans. But total loan volume fell slightly, led by a 13.4% decline in commercial and industrial lending. According to an August 11 Fitch Ratings report, "During their earnings calls, many of the large banks discussed the continued pressure on C&I balances due to the lack of [credit] line utilization; however, they expressed some optimism around demand, especially if supply chain issues abate over the rest of the year." Despite the pandemic, consumers have high levels of liquidity, which means that at some banks, loan paydown levels are historically high.
Deposit growth continues. Deposit growth hasn't let up, so banks face historically low loan-to-deposit ratios. What are they doing with the excess liquidity? "Many large banks have substantially built their held-to-maturity securities portfolios, especially as the 10-year U.S. Treasury rate increased [in the second quarter]." For example, Bank of America's securities portfolio was bigger than its loan book in the second quarter, said Fitch analysts.
Credit quality holds up. It even improved in the second quarter. Loans 90 days or more past due fell $13.2 billion, or nearly 11%, from the first quarter. Net charge-offs fell 53.2%, or $8.3 billion. The total net charge-off rate fell to 0.27% — another record low. Consumer credit quality, in particular, outperformed expectations, says Fitch, as payment rates on credit cards remained strong.
Noninterest income stays healthy. Fees and other noninterest income rose 7% ($5 billion) compared with a year ago due to increased income from service charges on deposit accounts and fiduciary activities. However, noninterest expenses remained high, rising 3% ($3.7 billion).
The earnings outlook for future quarters is uncertain. Sums up Fitch: "As long as loan demand remains tepid in wholesale and consumer asset classes and interest rates remain extremely low, the [first quarter 2021] earnings performance will likely represent the peak for the foreseeable future. "