Payroll is a critical business process that requires coordination and teamwork to run effectively. Even if much of the process is digitized, automated, and outsourced, manual touchpoints can still exist. Employees may have to enter and submit their hours, managers approve them, and payroll staff gather and submit data to process the payroll. This month, we explore cycle times for this process and note four areas where organizations can intervene to avoid cycle time delays.
Based on data from more than 3,000 organizations in APQC's Open Standards Benchmarking database, it finds that organizations in the 25th percentile process payroll in three days or less, organizations at the median take five days, and those in the 75th percentile take seven days or more. These cycle times vary slightly across industries, but not by much. For example, health care organizations are one day faster at the 25th percentile, but at the median and the 75th percentile their cycle times mirror the all-industry averages.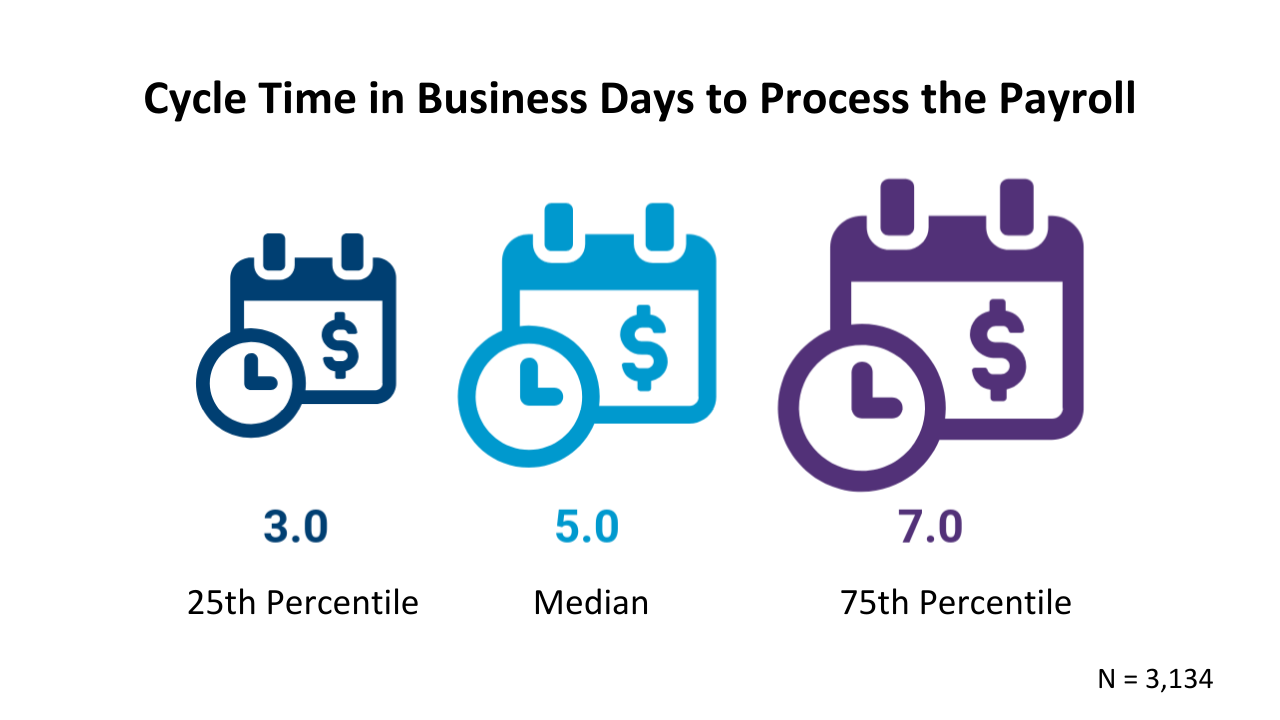 The companies that take seven days to process their payroll shouldn't be considered "bottom performers" since they aren't necessarily doing anything wrong. There are plenty of reasons why it might take a company a few more days to complete payroll — from the technology tools it uses to how it sets up and schedules the process. However, this does not negate the importance of both internal and external benchmarking. Especially in a large company with dozens or even hundreds of employees that work on payroll, cutting down cycle times by even a day can free up employees to focus on more value-added activities or allow the company to re-skill and redeploy employees elsewhere.
Streamlining Manual Touchpoints
Many companies have already digitized, automated, and outsourced at least parts of their payroll process. Doing so helps finance avoid the manual interventions and number crunching that are sure to cause errors and delays. If an organization is still using mostly manual processes for payroll, digitization and automation are always the first step in adopting best practices.
But there may still be parts of the process where an employee has to physically do something to add data to the process or move it through an electronic workflow. Without good coordination and oversight, these manual touchpoints become process bottlenecks that cause headaches for the employees who process payroll. We discuss four such areas below, along with recommendations for how to make sure these areas aren't a drag on cycle times.
Time Record Completeness
Time record completeness — or lack of it — is one of the most common reasons for delays. To avoid delays from missing or incomplete payroll data, encourage employees to fill out time records on a regular schedule and submit them at least a few days before the cutoff date. We also recommend that you maintain a company policies and procedures manual that includes information about the payroll process, employee classification, and employee reporting responsibilities. Direct any employees with questions to this resource first. It may very well answer their questions and save the payroll department some time as well.
Manager Approvals
Manager approvals represent another potential manual touchpoint in the payroll process. Communicate clear expectations to managers about when time-record review and approval needs to begin and end so that your payroll staffers aren't spending time following up. Use incentives (rather than punishments) to drive the behaviors you want to see in managers as well as employees.
Employee Change Requests
Before APQC implemented a self-service employee benefits portal, our payroll team had to manually process requests to change everything from retirement contributions and tax withholding to bank account numbers. Having to enter and double-check these changes added a lot of time and stress to the payroll process. Now, employees make these changes themselves, and any changes are directly integrated into the payroll system. Consider a benefits portal if you don't already have one to cut down on the amount of time these requests consume.
Pay Type Consolidation
Some organizations, like hospitals, can have dozens of pay types to cover any conceivable type of employee and pay rate. Codes for overtime, double-time, night/day shift, and other situations can quickly proliferate and add complexity. There may be good reasons for these pay types to exist in the payroll system, but it's always a good idea to simplify where the organization can by shortening the index of pay types. Fewer buckets to sort employees and hours into means fewer errors and delays.
Optimizing and streamlining manual parts of the payroll process can help ensure that payroll staff doesn't have to spend time chasing down employees for their timesheets. Added efficiencies might also deliver savings on overhead costs and allow the CFO to move finance talent to other parts of the organization. Knowing where the organization stands through internal and external benchmarking is a first step toward achieving those gains.
Perry D. Wiggins, CPA, is CFO, secretary, and treasurer for APQC, a nonprofit benchmarking and best practices research organization based in Houston, Texas.