U.S. employers added 201,000 jobs in August, according to the Labor Department, which reported wages increased 2.9% year-over-year, up from 2.7% in July. The large annual jump in wages, the best since 2009, could prompt the Federal Reserve's Open Market Committee to raise the federal funds rate more sharply to head off higher inflation.
"If we continue to see wage growth move higher, it puts the Fed in play for a fourth rate hike [in 2018], absent tariff concerns," Quincy Krosby, chief market strategist at Prudential Financial, told CNBC.
"I don't think this is going to be the beginning of a downturn in the market, but the fact is there had been other reports leading up to this suggesting wages had been moving higher."
By sector, the most job gains were in professional and business services, which saw 53,000 new jobs. Healthcare saw 41,000 new jobs, and construction saw 23,000 new jobs. Transportation and warehousing produced 20,000 new jobs, while leisure and hospitality saw 17,000 new jobs. Manufacturers lost 3,000 jobs.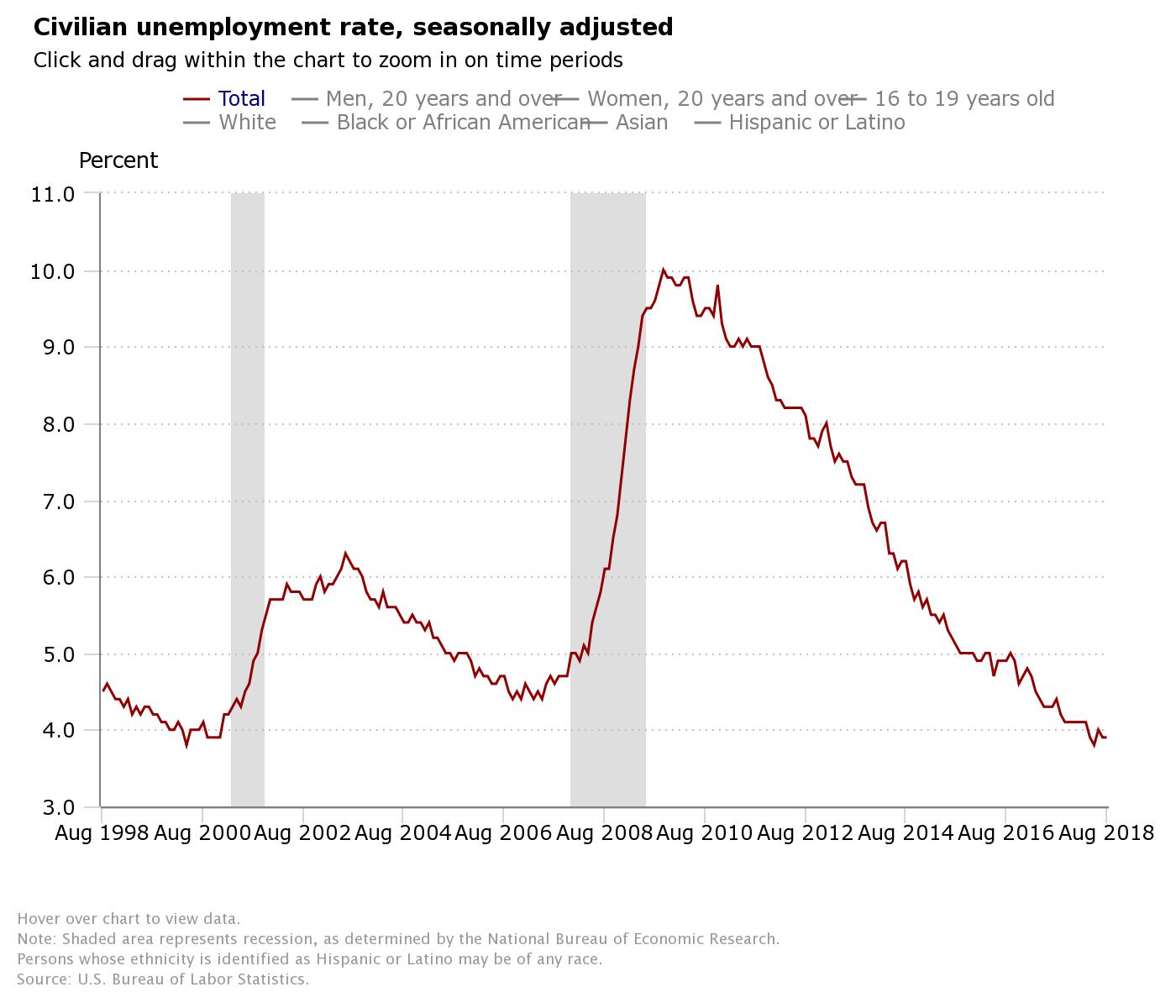 Overall, businesses added 204,000 jobs while federal, state, and local governments lost 3,000. Economists surveyed by Bloomberg had forecast an increase of 195,000 jobs. Job gains for June and July were revised down by a total 50,000.
"The economy is on an adrenalin rush," Ryan Sweet, senior economist at Moody's Analytics, told Reuters. "Given the amount of fiscal stimulus that the economy is benefiting from, it's going to take a lot to get it off that high."
The unemployment rate among African Americans fell from 6.6% to 6.3%, the second lowest on record. Overall, the unemployment rate was unchanged at 3.9%.
Hourly wages increased 10 cents to $27.16 on average.
"The continued strength of the labor market keeps the Fed firmly on track to raise interest rates twice more this year," Andrew Hunter, an economist at Capital Economics, said.
Homepage photo: Getty Images