Industrial production rose 0.6% last month, according to the Federal Reserve's latest figures, exactly meeting analysts' estimates, and has increased 3.8% over the past year.
The measure includes output at factories, mines, and utilities.
Manufacturing activity has gained some momentum since the beginning of 2017, helped by rising energy prices and the Trump tax cuts.
Manufacturing output moved up 0.8% in June, according to the Fed's numbers, bolstered by a 7.8% rise in motor-vehicle production. Motor vehicle production had fallen 8.6% in May after a serious fire at a supplier.
Mining output increased 1.2% in June versus 2.2% in May, and utilities output fell 1.5% versus 0.7% in May.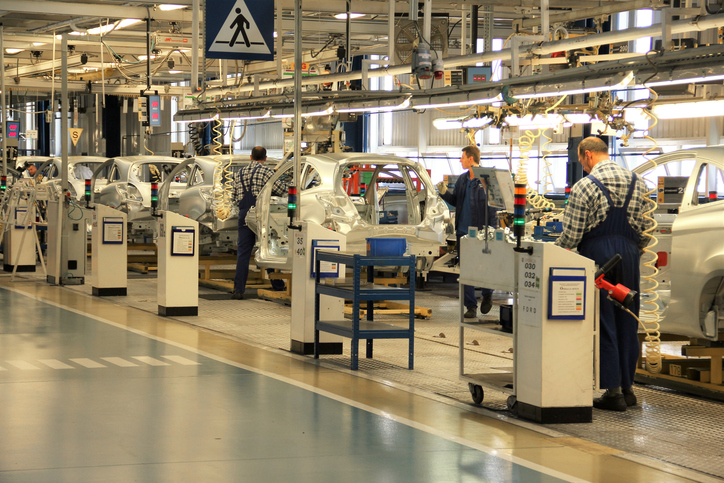 "The results were mixed for major market groups that [were] not directly affected by swings in the production of motor vehicles and parts," the Fed said in its report.
The capacity utilization metric, used to describe whether factories run at full speed, increased to 78%, from 77.7% the previous month. That is still 1.8 percentage points below its long-run (1972–2017) average, the Fed noted.
Manufacturing accounts for about 12% of the U.S. economy. The positive industrial numbers support the notion that the U.S. economy grew at a robust pace in the April-to-June period.
Researchers at Bank of America Merrill Lynch estimate that U.S. GDP growth could have reached more than 4% for the second quarter, Bank of America Chief Executive Brian Moynihan told CNBC.
"We get good insight into the consumer," Moynihan said in an interview on CNBC. "So, for the first six months of the year, our consumer spending, which is checks written, cash out of the ATMs, cash out of the tellers, bill payments, debit and credit cards, wires, ACH, [and] Zelle payments, is up 9% over the first six months of last year."
Still, escalating cross-border trade tensions could hurt business spending and derail the global economy, the International Monetary Fund warned on Monday. The IMF said the U.S. economy was especially vulnerable to a slowdown in exports.
"Our modeling suggests that if current trade policy threats are realized and business confidence falls as a result, global output could be about 0.5 percent below current projections by 2020," wrote IMF Chief Economist Maury Obstfeld. "As the focus of global retaliation, the United States finds a relatively high share of its exports taxed in global markets in such a broader trade conflict, and it is therefore especially vulnerable." Анкеты проституток. Тюмень Лучшие проститутки города у нас!
According to the IMF's World Economic Outlook, in the next few years U.S. growth is projected to decelerate, "as the long cyclical recovery runs its course and the effects of temporary fiscal stimulus wane."
Photo: Getty Images