We combed through websites, interviewed tech experts, and researched a host of product categories to assemble, once again, the roster of 20 companies that make up our annual "Tech Companies to Watch." We uncovered a wide range of technologies and products that would be valuable to finance chiefs, and we also discovered a wealth of innovation going on in "traditional" finance-related tech categories.
The entirety of the list appears in the April/May 2018 edition of CFO magazine. We will reveal the first 10 companies on CFO.com, one per day, beginning May 1. Links to other companies on the list appear at the bottom of this story.
Pymetrics

MATCHMAKER
Data seems to be the backbone of most corporate decision-making these days, so why not throw the hiring process into the mix? Pymetrics, a growing startup that landed its first clients in 2015, is on a mission to displace the résumé as the first point of contact between a job candidate and a potential employer. Why? Because, Pymetrics says, résumés trigger biases in those reviewing them and hinder employers from hiring the best candidates for the job's duties.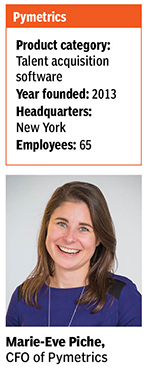 Here's how the Pymetrics process works. First, a client company decides what types of positions it wants Pymetrics to help it fill. Then the company selects at least 50 of its existing best performers in each of those role types to play a series of 12 online test games. (The games are based on well-established neuroscience research.)
Instead of answering questions, the employees engage in various activities designed to assess cognitive and emotional traits like risk tolerance, reaction time, pattern recognition, impulsivity, focus, memory, and fairness.
Then, candidates for the positions the Pymetrics client is trying to fill play the same test games. Finally, artificial intelligence algorithms match up the traits displayed by the client's star performers with those exhibited by candidates to determine which job seekers are best suited for particular roles.
"We believe there are multiple roads to success and multiple kinds of intelligence," Pymetrics CFO Marie-Eve Piche tells CFO. "What makes a great accountant is very different from what makes a great salesperson. Having perfect grades and scores does not mean you're a perfect fit for all jobs."
By applying artificial intelligence to the test results, she adds, Pymetrics "can filter through thousands of data points, whereas someone looking at a résumé can only pick up on a few." Hiring biases related to a candidate's name, age, previous employers, and colleges attended can be overcome via the system.
A person could be a great fit for a role he or she has never had before, notes Piche. That's important today, as employers typically believe there aren't enough qualified candidates for their vacant positions. "Résumés reflect only past information, so they don't help in those situations," the CFO says.
The requirement that clients have 50 high performers in each role to be filled play the test games is necessary for building the behavioral profile that correlates with success in that role. That means Pymetrics is targeting large companies — clients include Accenture, Burger King, and Unilever — but not just large ones. For example, even midsize companies commonly have call-center staffs numbering in the hundreds.
Interestingly, the test games are not tailored to specific role types. Every candidate for any position plays the same 12 games.
While Piche notes that Pymetrics is growing fast, collecting enough data to be confident that good results can be replicated over time requires patience. To date, the company has worked most extensively with Unilever, and very successfully, she says. "But people are asking us, 'What will it look like five years down the line?' We don't have that information yet."
Squeezing bias out of the hiring process serves a social purpose as well as a business one, of course. Under a partnership with the Rockefeller Foundation, four companies have agreed to use Pymetrics to find job candidates from pools of unemployed young people.
Selling companies on a brand-new way of doing something is always a challenge, especially when it's an activity that's steeped in traditional practices. But with many companies reinventing their business models, the climate might just be right for open-minded thinking on the talent-acquisition front.
Other 2018 Tech Companies to Watch