Anyone who has spent more time than they care to waiting in an emergency room or doctor's office — and who hasn't — probably wouldn't be surprised to hear that hospitals and medical groups don't operate very efficiently.
The shortcoming extends to these organizations' finance operations, new research suggests. Medical-industry CFOs report that they're struggling to keep pace with the demands placed on their organizations by the transformation the industry has been undergoing for the past decade.
Macroeconomic forces have created strong momentum to reduce health-care costs, notes Kaufman Hall, a management consulting firm with a health-care practice. At the same time, "new technologies and competitors are offering consumers and other health-care purchasers improved value through new care settings, connectivity, and delivery models," the firm writes in its survey report.
In the firm's survey of 361 health-care finance leaders, 88% of them employed by hospitals, only 15% of respondents said their organizations are "very prepared" to manage evolving payment and delivery models with current financial planning processes and tools.
Also, just 25% of those surveyed said they are "very confident" in their team's ability to quickly and easily make adjustments to strategies and plans. Further, only 8% of participants said they were "very satisfied" with the performance management reporting at their organizations.
The data are particularly disturbing given that they are similar to the results of a survey the firm conducted a year ago, indicating a lack of progress. "Limited confidence among CFOs with their organizations' ability to manage the financial impact of changing business conditions, and dissatisfaction with performance management reporting, are red flags that should be of serious concern to all health-care organizations," the report says.
"As the mix of [payment and delivery] models evolves, health-care leadership teams must know how they are performing in managing populations and reducing costs, with increasing accountability for value in both inpatient and outpatient settings," Kaufman Hall writes.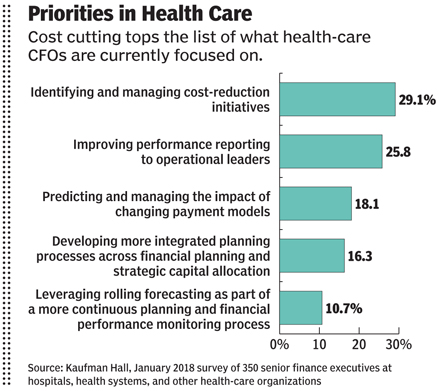 But while reducing costs is the top financial priority for almost a third of hospital CFOs (see chart), 70% of survey respondents said their cost measurement tools are too simplistic or provide data that can't be trusted.
A reliable cost-accounting solution is crucial for hospitals, the survey report notes. It should:
Provide flexibility and transparency of costing-model elements and a fluid ability to support strategic and financial planning.
Enable modeling and forecasting of utilization, labor, and other costs, and provide insights into current costs at a patient or service-line level.
Include productivity modeling and measurement.
Another area of concern is the budgeting process. Among those finance leaders surveyed, 69% said their process takes more than three months from initial rollout to board presentation. And 47% said their budget cycles did not leave ample time for value-added analysis that can inform strategic decisions.
"Budget assumptions often are outdated by the time budgets are published," the report says. "Management reporting against budgeted targets tends to be retrospective, based on plans that are not easily adapted to changing market conditions."
On the plus side, 41% of survey respondents reported that they are using rolling forecasts to complement or replace the traditional annual budgeting process. And an additional 31% said they have plans to implement rolling forecasts in the near future.
"Rolling forecasting offers a way to stay agile in a dynamic environment," the report says.