Finance professionals, except for CFOs, got higher base pay raises than the average U.S. worker in 2016, according to the latest data from the Association for Financial Professionals.
Finance team members received an average increase of 3.5% in base pay in 2016, slightly less than their increase in 2015, but still higher than the average U.S. increase for all workers of about 3%.
Management-level finance staffers enjoyed the largest average salary raise of 4%, according to the AFP. Staff-level professionals earned average pay increases of 3.4%, and executive-tier professionals, including CFOs, average base pay raises of 2.7%.
CFOs saw their base pay increase 2.8% last year, but they were outpaced in the executive tier by controllers, who garnered the highest average base salary increase of 3.3%. Within the management tier, both managers of treasury/finance and financial reporting specialists saw an average salary hike of 5.1%—the largest increase for all 20 titles tracked. Accountant I and Accountant II positions both earned the highest increase at the staff level (3.9%).
The data comes from the AFP's 2017 Compensation Report, released on Wednesday. The AFP surveyed about 3,100 U.S. finance professionals in February 2017.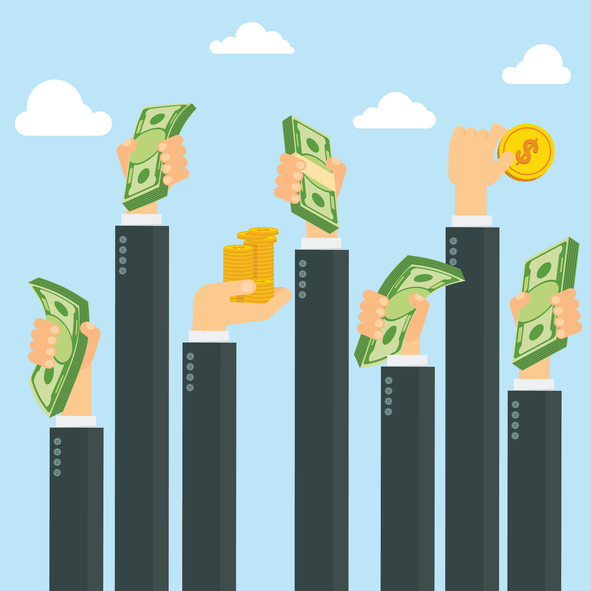 According to the survey, CFOs earned an average base salary of $211,439 in 2016, with an average 2016 bonus of $89,618. Treasurers earned an average of $192,584, with an average bonus of $78,043, and controllers earned $126,869 on average, with a bonus of $26,945.
As might be expected, executive-tier finance professionals, which include CFOs, treasurers, vice presidents of finance, and controllers, received the largest average bonuses as a percentage of base salary — 36%. The average bonus for management-tier professionals was $20,804 — equivalent to 19% of base salary. Staff-tier bonuses averaged $5,048, or 8% of base salary.
Of those organizations that gave bonuses to their finance professionals in 2016, 94% awarded cash bonuses and 31% awarded stock options.
The most popular factors determining performance bonuses were operating income or EBITDA targets (chosen by 64% of respondents), completion of specific projects (49%), profit or increased profit targets (48%), sales or increased revenue targets (32%), cost control or cost reduction targets (28%), cash flow or increased cash flow targets (26%), and customer satisfaction (15%).
The AFP's study also covered some of the skills and competencies that allow finance professionals to climb the ladder and earn larger pay packages.
Over half of survey respondents (54%) said strong analytical skills are a critical competency for finance professionals. Also mentioned were leadership and people management skills (cited by 48% of respondents); communication skills with internal and external stakeholders, 34%; interpersonal skills with colleagues and vendors, 28%; and effective verbal and oral presentation skills, 26%.
The survey also found that despite the fact that leadership and "people skills" are considered important competencies by finance professionals, a large share of survey respondents — 40% — believed that finance professionals at their organizations are lacking those skills.
Other titles included in the survey were director of treasury/finance; assistant treasurer; assistant controller; director of risk management; FP&A director; FP&A manager; financial reporting specialist; accounting manager; cash manager; senior accountant; and FP&A analyst.
Twenty five percent of respondents worked at companies with $1 billion or more of revenue, and 29% at companies with $100 million to $999.9 million in revenue.
Image: Thinkstock