Who is responsible for profitability? Increasingly, concern about managing a company's profit margin is no longer confined to finance and the C-suite, but is shared across the enterprise. For this reason, finance teams feel a growing responsibility to serve up the timely data and targeted insights that can help businesses meet profitability targets.
To find out more about finance's role in catalyzing profitability improvement, CFO Research recently surveyed 104 senior finance executives from U.S. firms with more than $1 billion in annual revenues. In this survey, sponsored by Vendavo, respondents confirmed that margin management is indeed a challenging task.
A strong majority of survey respondents (73%) agree that it will become increasingly difficult to improve margins over the next two years. This will be just as true for companies that have recently been successful in making margin improvements as for companies that have recently fallen short. Nearly 6 in 10 respondents (57%) report that their companies are more profitable this year than last, while 43% say they either have gained no ground (18%) or have slid backwards (25%).
Finance executives also recognize that they need to step up their efforts to weave profitability tightly into the corporate fabric rather than focusing only on cost control. The corporate head of a media/entertainment firm writes, "We are crash dieting to fit into a wedding dress, rather than thinking about what sort of life we want to live in the future."
CFOs are optimistic that finance is up to the task of supporting profitability improvement. (See Figure 1, below.) More than 8 in 10 (84%) respondents say they are likely to see their finance functions serve as key players in enterprise profitability improvement, and 7 in 10 (70%) say they believe their current finance teams have the expertise and knowledge needed to support profitability improvement.
Data-Driven Impact
The first challenge for finance is developing an understanding of what information will have the greatest impact on profitability when it is shared across the business. An increasingly complex business environment generates enormous volumes of data, and companies are increasingly looking to the finance function to help them sift through the data, identify critical trends, and develop effective responses that will help protect and improve margins.
Survey respondents say that finance teams will have to become more flexible, responsive, and forward-looking to manage the data challenge, and to do so they will need to rely on advanced information-management capabilities. IT systems and tools must be able to handle "an environment highly influenced by F/X rates, inflation, and market volatility," as a controller from a large manufacturer says in the survey. An executive from the financial services sector underscores the importance of having the right tools when he writes, "Improved IT systems have helped profitability. The reduction in staff has not worked as well."
And while a majority (56%) of respondents say that their finance functions have the technology and information they need to support enterprise profitability improvement, finance chiefs representing the largest companies surveyed (i.e., $10 billion +) are more likely to indicate that technology and information to support profitability improvement are lacking. Likely this is because the larger the firm, the more data that is generated by and stored in multiple systems across multiple business lines, subsidiaries, or separate companies.
Finance leaders also recognize that responsibility for profitability extends beyond the finance function. One respondent describes the most effective action his company has taken to improve profitability: "The establishment of a dedicated enterprise analysis team has enabled company leadership to learn more about the company margins."
And an enterprise-wide understanding of the drivers of profitability is grounded in the accuracy, reliability, and relevance of the information that the finance function can provide. Two-thirds of respondents (66%) say that their companies are effective at accessing and analyzing relevant data to discover profit opportunities. But they believe they can do even more: Nearly three-quarters (74%) agree that using data more effectively could make a substantial difference in their companies' ability to improve profitability.
Empowering Sales
Placing the right information in the right hands is critically important, and a majority of finance executives believe that the "right hands" belong to their sales organizations. A large majority (85%) of the executives in the survey say that a close working relationship between the finance function and the sales organization is important for optimizing their company's profitability.
Survey respondents point to a key reason. Overall, nearly 4 in 10 (39%) say that their sales organizations rely more on their own skills and experience than on information systems and data tools to make profitable sales. At the same time, nearly three-quarters of respondents (74%) say that "providing better customer information to the sales force would go a long way toward improving my company's profitability."
Finance executives taking the survey feel that their sales and marketing organizations would benefit from additional help in understanding their companies' profitability drivers. Most respondents (63%) say that their sales forces should be emphasizing profitability more than they do currently — despite the fact that two-thirds (67%) say that profitability already is one of the metrics used to evaluate their sales forces.
In fact, 6 out of 10 finance executives (60%) give their sales organizations a grade of C ("average") or lower in terms of their understanding of their companies' profitability drivers. (See Figure 2, below.) They rate their marketing functions just as low, with 62% of respondents assigning them a grade of C or lower.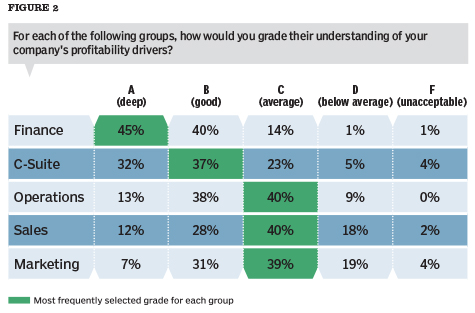 Interestingly, only about two-thirds of respondents (69%) believe that their corporate leadership has either a good or a deep understanding of profitability drivers. For some companies, the need for education may well extend into the C-suite.
Finance executives see themselves as one of the best resources for that kind of education. Respondents rate their own finance functions the highest, with 45% saying they have a deep understanding of their company's profitability drivers and 40% saying they have a good understanding.
Given their confidence in their own understanding of profitability, finance executives feel some responsibility for working with their sales organizations to provide them with the information and tools they need to make decisions that support profitability goals. In fact, in our survey, a stronger working relationship between finance and sales is associated with companies that have been more successful in making profitability improvements.
So, in answer to our opening question, everyone in an organization is responsible for profitability. But finance will remain at the center of margin management across the enterprise, using new tools, capabilities, and technology to lead the way.