A muddled outlook for the global economy emerges from the latest quarterly Duke University/CFO Magazine Global Business Outlook survey. In the United States, the confidence of finance executives in both the domestic economy and their own companies remained relatively strong in the fourth quarter of 2014. U.S. confidence levels were matched by the outlook from Asia, but Chinese companies continued to show evidence of a slowdown, while the Japanese outlook took a step backward.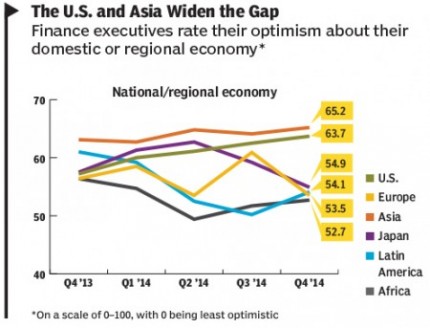 In Europe, finance executives appear to have had something of a reality check following a burst of optimism in the previous quarter. And in Latin America, Peruvian confidence somewhat offset the pessimistic outlooks persisting in Brazil and Chile.
For the fourth quarter of 2014, we collected responses from 517 CFOs and other executives at U.S. companies; 159 executives from a range of European countries; 159 from Latin America, concentrated in Brazil, Chile, and Peru; 160 from Asia, including 40 Chinese firms and 39 in Japan; and 54 from Africa (primarily South Africa).
The United States: Health Care Concerns
U.S. economic optimism continued its year-long rise, reaching a rating of 63.7 out of 100 on the heels of last quarter's bump to 62.5. However, executives' confidence in their own companies fell to 66.4 from the previous quarter's 68.9, the high for the year.
The 12-month outlooks for growth in full-time employment (2.9%) and wage increases (3.4%) remain weak by historical measures. Still, they modestly outpace expectations for inflation (a 2.4% increase).
Mandated health care coverage under the Affordable Care Act may be contributing to finance executives' concerns, as a third of U.S. respondents cite the cost of benefits as a significant risk to their financial performance. Only concerns over government policies (45%) and regulatory requirements (38%) — which may themselves be partially attributable to ACA implementation — are ranked higher. The concerns over cost of benefits are most prevalent among companies with less than $500 million in revenues.
The Rest of the World
Finance executives in Asia (excluding China and Japan) are even more optimistic than U.S. CFOs about the economy, with an optimism rating of 66.8. In China, however, the economic outlook shows some signs of cooling down, with economic optimism dipping to 61.4 out of 100. This change is driven largely by the 60% of Chinese executives who say they are less optimistic this quarter about their country's economy. The effect on own-company optimism is even more severe: it dropped to 59.9 after reaching a 2014 high of 66.9 in the third quarter. Still, the absolute levels of confidence in China remain among the highest in the world.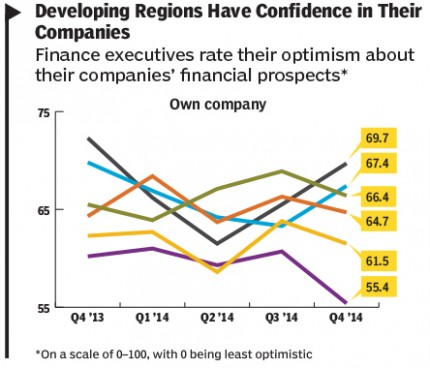 The outlook for the Japanese economy is decidedly worse, plunging to 54.9. Own-company optimism fell at a comparable rate, to 55.4, and the number of Japanese executives who were less optimistic about both the economy and their own companies' prospects was at the highest level seen in 2014.
In Europe, economic optimism remains below long-run averages, perhaps reflecting worries about the ineffectiveness of governmental actions in promoting economic recovery. Capital spending may rise by an anemic rate of about 4%, but employment growth remains grim, remaining near zero.
Latin American economic optimism remains well below the levels seen a year ago. Peru and, to a lesser extent, Mexico have stronger outlooks than some of the other countries in the region.
Director Diversity
The global outlook survey for the fourth quarter also examined corporate goals for diversity on boards of directors, focusing in particular on the inclusion of women on boards. Nearly all of the companies in the survey (96%) reported that they have no specific goals or guidelines for board diversity. In fact, diversity ranks only seventh among the qualities that U.S. firms are looking for in directors, trailing a more concrete set of skills, experiences, and capabilities. (See chart, below.)
In expanding on their companies' thinking on board diversity, respondents most often made comments such as "We select board members based on qualification — sex and race have nothing to do with qualifications" and "Minority status was not a first consideration — it would only be looked at if there were a tie in qualifications." One respondent's comment summed up the prevailing sentiment: "We select those best suited for the role regardless of gender."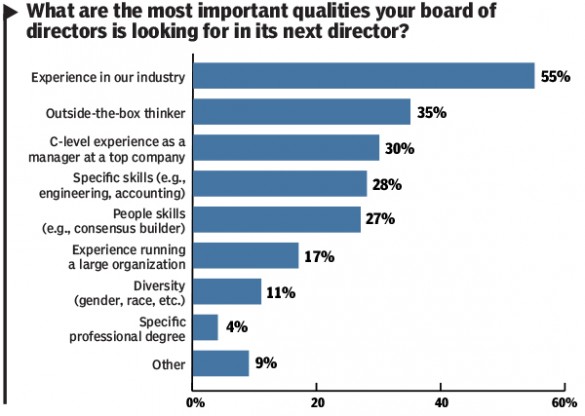 U.S. survey respondents did cite challenges, such as: few available women with desired industry experience (41%), lack of desired skill sets (14%), lack of board experience (19%), and lack of C-suite experience (17%). But nearly 30% of these firms indicated that before they can appoint a woman to their board, a current board member must retire.
When asked to cite the specific reasons their companies had added their most recent female board member, U.S. respondents again tended to focus on specific skills and capabilities rather than on gender. Sample responses include "experience marketing in China," "IT expertise," "strong financial background," "character and ethics," "influence," and "C-suite and industry experience." The desire to create a board with gender diversity was mentioned infrequently.
The key takeaway from these survey findings is that finance leaders are thinking in terms of finding board members that will help their firms manage in difficult economic times, generally without regard to the optics of board composition. However, these responses do raise the question of whether current board compositions — 80% male, according to respondents — reflect the expanding role of women at the top levels of corporate leadership.