More businesses today are learning to leverage large sets of fresh data — Big Data — to better understand customer needs, desires and influences. But some observers contend that finance has been late to the party. That's a problem. Leveraging Big Data without getting finance involved to analyze the likely financial outcomes of competing scenarios will inevitably lead to Big Disasters.

Consider this imagined scenario: a group of product marketers at a major clothing retailer tap into their company's Business Intelligence (BI) dashboard. This is where Big Data lives. Looking at data patterns, the group concludes that they should double-down on marketing and customer support for people who like the color yellow.
If a financial planning and analysis (FP&A) team member were part of the conversation, that person might suggest that a good first step would be to look at the cost and profitability patterns of people who like yellow. It could be that they are in fact a very low-margin segment that does not warrant any investment at all.
Admittedly, that's a simplistic scenario. The point is that FP&A can help to improve the execution of operating plans. Unfortunately, new APQC research paints a worrisome picture. In October 2014, APQC fielded a survey that drew responses from 130 executives currently working in financial management at large, global organizations. The survey reached a wide range of industries. The goal was to examine what CFOs and controllers are doing to strengthen their FP&A capabilities and what barriers are holding them back. The results show that two-thirds of survey respondents are too buried in basic financial management duties to work on boosting their FP&A capabilities.  (See Figure 1, and click on it to see full size.)
Figure 1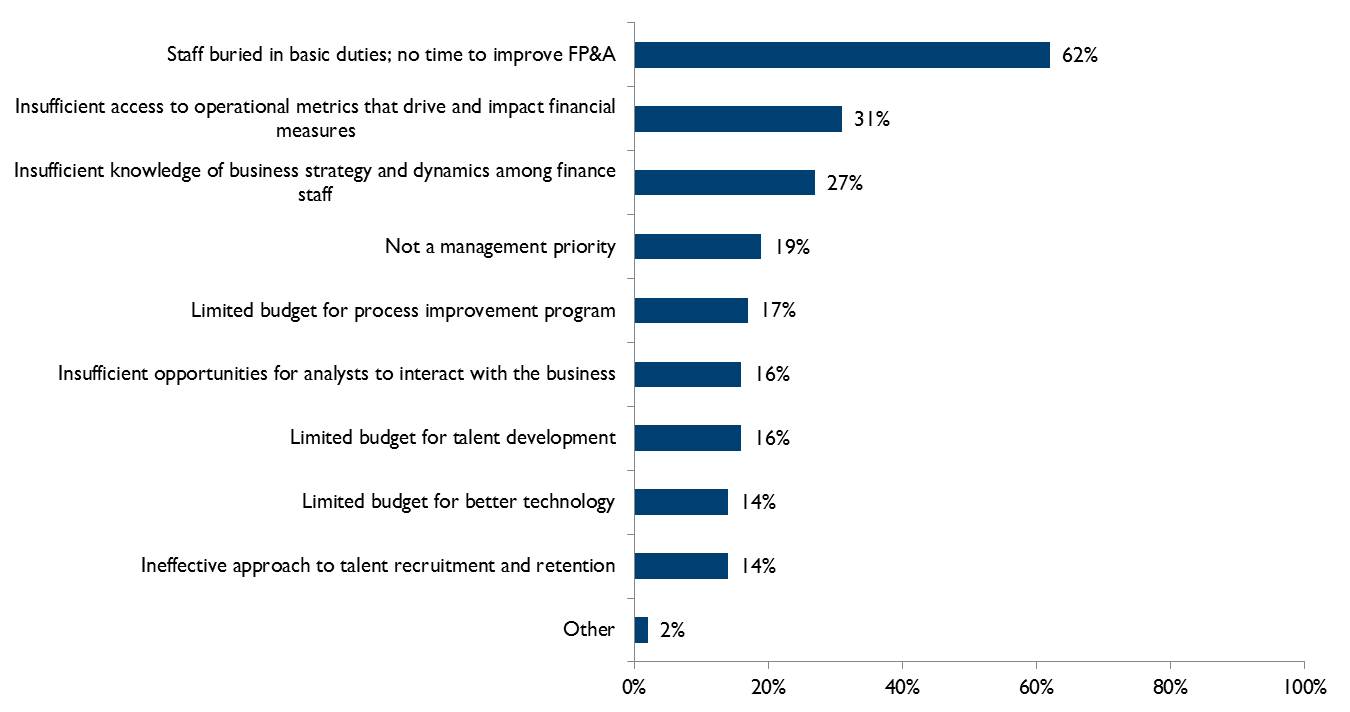 The research also indicates that CFOs today are keen to invest in financial management information system upgrades but are reluctant to invest in FP&A talent development, business knowledge and business partnering skills.
There's a plausible reason. It's not that difficult to build a case for, say, automation of travel and entertainment reimbursement processing when one can be fairly sure the investment will deliver a decent return on investment in 24 months or less by way of staff reduction. But it's far harder to guarantee a sustainable hard-dollar return from long-term FP&A talent development programs.
It's not easy to persuade one's C-suite counterparts that investing in FP&A talent will in fact lead to better business decision-making, and therefore generate incremental shareholder value year over year. That leaves CFOs struggling with the conundrum: build talent now and hope there will be demand or wait until the operating leaders ask for better business analysis from finance?
FP&A and Cultural Preparedness
The APQC survey found that many companies are not culturally prepared to deploy stronger FP&A talent. Only 50%  of organizations currently use rolling forecasts. As a yardstick, the rolling forecast is preferable to the static annual budget because it provides the business with a continually refreshed view of opportunities and challenges.
The game changes from "how do we meet the base-level targets in the annual budget?" to "how do we navigate around unexpected barriers and exceed plan targets?" Once this technique is implemented and embraced by the operating culture, then well-developed FP&A people can make headway in helping line managers to examine previously opaque drivers of performance. But it may be some time before the majority of companies discard the annual budget as their primary performance management tool.
Still, the CFO has to start somewhere. And with the growing embrace of Big Data, the CFO ought to get the FP&A talent development train moving.
Mary C. Driscoll is a senior research fellow at APQC, a non-profit business-research firm.