Mobile payments in the U.S. will almost triple to $142 billion in five years, with Apple's new mobile wallet fueling growth in the segment of in-person payments, according to a report from the research firm Forrester.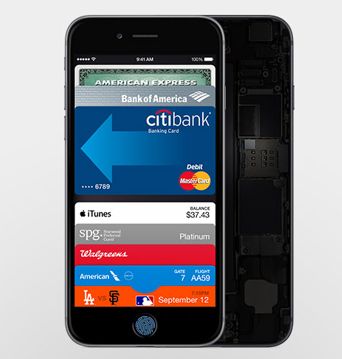 The report acknowledges that mobile payment spending in 2019 will still only be "just a drop in the ocean of total U.S. consumer spending," which is expected to reach $16 trillion over the next five years. But Forrester analyst Denee Carrington believes there is "still tremendous opportunity for mobile payment growth."
"It's not just that we have smartphones. It's that we're increasingly dependent or rely on or expect them to deliver more," she told The New York Times.
Carrington noted in a blog post that 66% of U.S. consumers now own smartphones, up from just 19% five years ago, and their increasing reliance on mobile technology "has ushered in the emergence of mobile moments in which businesses can find new opportunities to meet or surpass customer expectations in payments and commerce."
Forrester forecasts $52 billion in mobile payment spending this year, with in-person mobile payments of $3.74 billion trailing the $5.26 billion expected from peer-to-peer transfers and $42.56 billion from remote payments.
But in-person payments are expected to grow faster than the other two segments, hitting $34.2 billion in five years at a compounded annual growth rate of 56%.
"The category is marked by tremendous investments and experimentation," Carrington told MarketWatch, noting that mobile-payment options already account for 16% of U.S. transactions at coffee giant Starbucks.
Carrington predicts that 2015 will be the "Year of Apple Pay," noting that the new mobile wallet service "is already dominating the air space such that it is impossible for a conversation about payments and commerce to conclude without at least a mention of Apple Pay."
According to the Times, some retailers are already seeing spikes in in-store mobile payments activity, much of which is attributed to the introduction of Apple Pay.
Featured image: Thinkstock