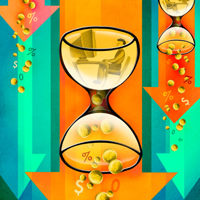 The study of the UK market by Pierre Audoin Consultants showed that the average pay rates for most IT services skills, including application management, increased less than 1 percent to 2013 from 2012, reported TechRepublic's Toby Wolpe. IT consulting rates increased less than 2 percent.
"In the short term, cloud is having an overall positive impact in the rates – it's pushing them up. But as cloud implementations actually increase, the activities that are being pushed to the cloud include things like deployment automation and testing, which then starts to drive the price down," said Pierre Audoin's UK director, Duncan Brown, to TechRepublic."So it's a short-term uplift and a medium to long-term flattening or depression."
The average daily rate for application management in the UK was $645.
Pierre Audoin sells a UK database of IT services rates for 10,000 Euros, which it launched this month, and it has similar price databases for France and Germany. It also sells reports with quantitative analysis for IT services in each of the three countries for application services, including application management, and infrastructure services.
Here is the TechRepublic article, and here is the Pierre Audoin press release announcing the launch of the UK database.