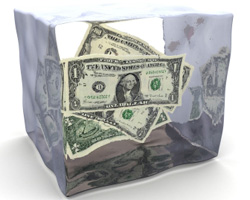 According to Gartner's polling of more than 2,000 CIOs in the fourth quarter of last year:
"When asked which digital technologies would be most disruptive, 70 percent of CIOs cited mobile technologies, followed by big data/analytics at 55 percent, social media at 54 percent and public cloud at 51 percent. The disruptiveness of each of these technologies is real, but CIOs see their greatest disruptive power coming in combination, rather than in isolation.
Of the top 10 technology priorities of the CIOs, cloud computing was ranked third.
Here is the press release summing up the survey results: http://www.gartner.com/newsroom/id/2304615