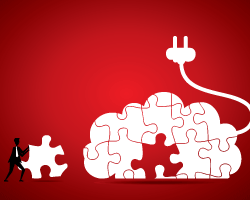 That's according to Gartner Inc., the helpful technology consulting firm with legions of analysts, in its "Top 10 Technology Trends, 2013: Cloud Computing and Hybrid IT Drive Future IT Models" (subscription may be required).
Gartner describes how the role of large-company IT departments will change, as they manage hybrid models of cloud services and internal computing:
"Most enterprises that consume cloud services will operate in a hybrid model in which they must secure, manage and govern what is in their environments, as well as external cloud services — including those that have been acquired without IT involvement. Enterprises must deal with application development, delivery and integration patterns that need to be modified to safely exploit this hybrid internal/external, cloud/noncloud environment."
IT departments will have to take on more responsibility when companies use hybrid models, Gartner says.
"Hybrid IT requires that the relationship between the IT department and the business evolve and expand. IT becomes the trusted broker for most, if not all, IT-based services, regardless of provider sourcing or the style of service delivery. In this ITaaSB model, IT takes responsibility for service delivery and service levels, even when those services are delivered by other providers."
And in what could be a corresponding trend for smaller companies, Gartner sees an increasing role for "cloud services brokers," or CSBs.
"As the use of multiple cloud services increases, enterprises should look to CSBs to facilitate consumption as part of an overall hybrid IT strategy," the Gartner report states. "As cloud computing adoption proliferates, so does the need for consumption assistance. CSB refers to the market model and roles that support the intermediation between cloud services and cloud consumers."