U.S. banks are missing a significant opportunity by not issuing "contactless cards" — and if they did so, not only banks but also retailers and consumers would benefit, according to a new report from management consulting firm A.T. Kearney.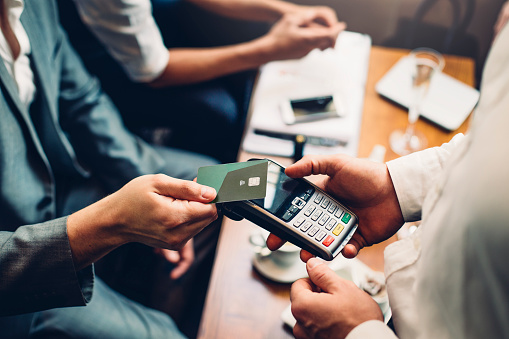 A contactless card is a card embedded with both a chip and a near-field communication (NFC) antenna that allow the cardholder to make a quick and efficient "proximity payment" when near a retail point-of-sale system.
Contactless cards in recent years have achieved significant penetration in a number of countries, most notably Australia, Canada, South Korea, and United Kingdom. In each of those, in 2016 the cards were used for more than 20% of card-based point-of-sale transactions, led by Australia at 27.6%, according to A.T. Kearney. The consulting firm drew information from several central banks and other sources and then layered on its own analysis.
In the United States, the corresponding figure was just 0.32%. Only 3.4% of U.S.-issued payment cards were contactless-enabled. Since 2016 that figure has risen only slightly, to about 5%, the consultancy estimates.
U.S. banks could generate $2.4 billion in incremental card-related earnings over the next five years by introducing contactless cards, according to the report.
But the advantage for the banks could go way beyond that. They could also potentially achieve $22 billion of cost savings from reduced cash-handling.
"Banks that move early to roll out contactless cards may strengthen their market leadership and innovator position, benefit from market share gains and increased loyalty, and prevent disintermediation by alternative payment providers," the report claims.
For both consumers and merchants, "a strong case exists for the benefits of a faster, more convenient, more efficient, and more secure means of retail checkout process. Contactless cards … represent the best near-term solution."
To understand how the rollout of contactless cards could impact U.S. consumer behavior, A.T. Kearney assessed the experience in six countries — Australia, Canada, Ireland, New Zealand, Switzerland, and United Kingdom — where payment behaviors before the cards were introduced were similar to those in the United States currently.
Such behaviors included the percentage of point-of-sale transactions via card vs. cash and the percentage of the population that owned payment cards.
The analysis looked at the year the first contactless cards were issued in the countries and the year their usage began to accelerate. It found that the U.S.-like countries experienced 20% to 30% lift in the number of payment-card transactions in the three years following the acceleration of contactless.
Contactless card adoption translated into 5 to 40 new transactions per card per year (depending on the pre-contactless mix of card vs. cash usage and the average number of cards per person).
In the six countries, four merchant categories account for the majority of contactless card transactions: food and grocery, quick-service restaurants, restaurants generally, and drugstores/pharmacies.
"In the United States today, those four merchant categories account for about 60% of cardholders' cash transactions, suggesting a large opportunity for improved convenience and migration to card payments," says A.T. Kearney.
Some observers, the report notes, believe the introduction of mobile NFC payment solutions, such as Apple Pay, has held back the usage and growth of contactless cards, given the potentially overlapping consumer use cases.
However, in the U.S.-like countries, contactless card penetration ranges from 21% to 82% of card payments at the point of sale, while mobile payment penetration contributes no more than 3% in those countries, according to the report.
"Our review of the relevant global experiences provides strong evidence that contactless cards' simplicity, convenience, speed, and security drive consumer adoption, contributing to the accelerated displacement of cash at the point of sale and providing benefits to all parties: consumers, merchants, and banks," A.T. Kearney says.
For contactless cards to become mainstream, the report notes, three conditions must be met:
Merchants need to have point-of-sale terminals and infrastructure to accept contactless payments, including customer-facing terminals with appropriate contactless signage.
Consumers need to embrace contactless cards as a better form of payment than their current experience with EMV, which stands for Europay, Mastercard, and Visa. EMV is a global standard for chip cards and the technology used to authenticate chip-card transactions.
Card issuers need to issue contactless cards and drive awareness and usage through extensive marketing campaigns.
Those conditions may seem to point to what the report calls a "chicken-and-egg dilemma" thwarting contactless card growth in the United States.
That is, "Merchants will not deploy contactless terminals until they know consumers want to pay using contactless options; consumers will not adopt and use contactless cards until they can use them everywhere they want to; and banks will not incur the incremental cost of issuing contactless cards until they are confident they will get a positive return on that investment."
But, argues A.T. Kearney, the dilemma is far less imposing than it may appear.
Regarding merchants, the reality is that to a large extent, the infrastructure to accept contactless payment is already in place in the United States, according to the report.
It states that about 48% of Visa transactions take place at contactless-enabled merchants; 70% of locations have hardware capable of accepting contactless payments; and more than 95% of new terminals shipped are contactless-capable.
Regarding consumers resisting new ways of paying, "contactless is not a new way to pay, but rather a faster and more convenient way of paying using payment cards, a method that is already popular and well-understood by consumers today."
Given those realities, the missing piece is banks' issuance of contactless cards. But those U.S. issuers that have rolled out contactless cards "are already seeing a double-digit contactless share of face-to-face transactions," the report claims.
For that reason, A.T. Kearney is forecasting big changes, and very soon:
U.S. banks will start rolling out contactless cards at large scale no later than 2019.
By early 2020, all top 10 banks will have launched contactless card programs.
In that same time frame, 70% of U.S. banks ranked 11 to 50, and 50% of those beyond the top 50, will follow the larger banks.