Global junk-bond defaults will reach the highest level in seven years in 2016, reflecting the prolonged slump in commodity prices, Moody's Investors Service said in a new report.
The credit ratings agency forecast that the junk default rate will be 4% this year, up from 3.5% in 2015 and the highest level since 2009. It also expects defaults to reach the historical annual rate of 4.2% by January 2017.
The default rate for all Moody's-rated corporate issuers is estimated to rise to 2.1%, also a post-financial crisis high, from 1.7% last year. A 2.1% default rate implies 138 defaults, a 30% increase on 2015.
"Persistently low commodity prices, slowing economic expansion, and widening high-yield spreads will send default rates higher in 2016," Sharon Ou, a Moody's vice president and senior credit officer, said in a news release. "The prospect of further interest rate hikes by the Federal Reserve could also lead investors to become even more risk-averse."
The metals and mining sector had the highest default rate in 2015, at 6.5%, followed by oil and gas, at 6.3%, according to Moody's. (See chart, below.) Commodity prices have fallen near the lowest levels since at least 1991, according to the Bloomberg Commodity Index.
Credit quality weakened in 2015 and that weakness has continued into this year, with Moody's U.S. high-yield credit downgrades outstripping upgrades by more than four-to-one, on pace for the worst quarterly ratio since the financial crisis, according to data compiled by Bloomberg.
"Although credit quality declined throughout 2015, the magnitude of ratings downgrades widened significantly in the fourth quarter," Ou commented. "These factors, combined with the sharp increase in defaults and rising investor caution, indicate that the credit cycle is turning."
There were 109 defaults in 2015, almost doubling the prior year's 55. Default volume rose 37% to $97.9 billion, including sizable defaults by Caesars Entertainment ($20.5 billion), Alpha Natural Resources ($4.5 billion), and Samson Investment Co. ($4.2 billion).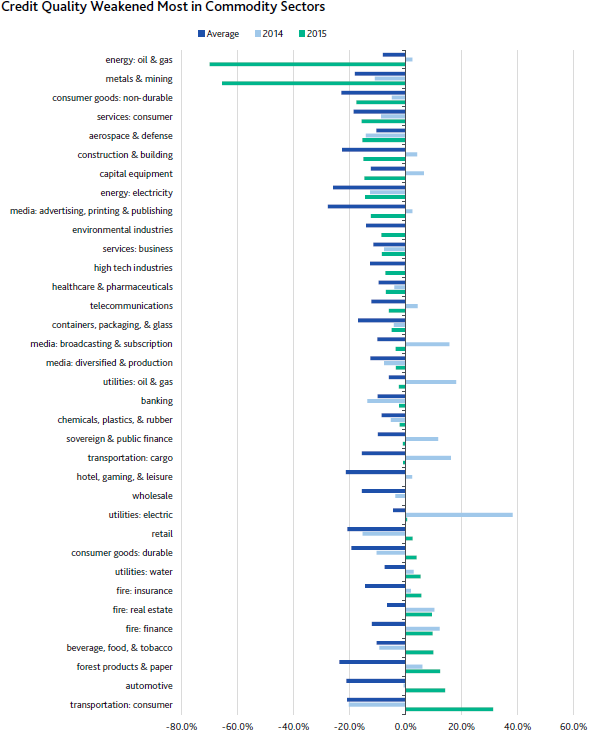 Graphic: Moody's