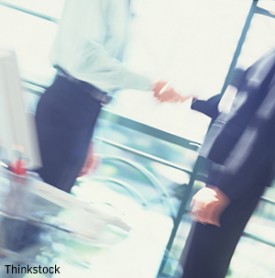 If 2014 was the best year for mergers and acquisitions since before the financial crisis, 2015 may turn out to be even better, market watchers say.
The year started auspiciously, with Q1 becoming the strongest opening quarter for both U.S. and global M&A transactions since 2007, according to Phil Isom, head of KPMG Corporate Finance. Over the first five months of 2015, deal value (ranking value, including net debt) in the United States rose 9% from the same period last year, to $875 billion, while deal volume dropped 5%, according to PwC.
The spike in transaction value was due to a spate of billion-dollar-plus deals, including a number of megadeals (those valued at $10 billion or more). The latter accounted for 58% of total deal value in the first five months, according to PwC. The biggest of these were the $55.1 billion merger of cable companies Charter Communications and Time Warner Cable and the $45.8 billion combination of H.J. Heinz and Kraft Foods. (See "What's the Big Deal?" at the end of this story.) Such transformational deals — where companies significantly enlarge their footprints, acquire new technologies, or change their business models, for example — tend to energize the M&A market, say experts.
Several factors have fueled the ongoing rush of dealmaking. One is the continuing availability of cheap capital. "Companies are eyeing the Fed, wondering when it's going raise interest rates — likely by the end of this year," observes David A. Brown, a partner in Alston & Bird's Washington, D.C., office who advises companies on M&A transactions. "So they're trying to get deals done now."
Another factor is the superabundance of corporate cash — $1.43 trillion at nonfinancial S&P 500 companies in January, according to FactSet Research Systems. Investors have pressured companies to return more cash in the form of dividends and buybacks, but increasingly, "shareholders are willing to accept and even advocating that strategic growth is a viable way to spend that cash," says Brown.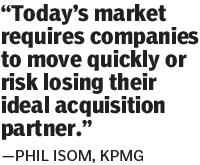 Activist investors also want companies to evaluate their portfolios and divest businesses that no longer have strategic value, particularly given the strength of the stock market. According to PwC, divestitures accounted for 27% of deal volume and 21% of deal value in the first five months of 2015.
Growth, of course, is another reason why companies are making so many acquisitions. With the economy in stutter-step mode, "organic growth can be hard to come by," points out Brown. Dealmaking by strategic buyers "was bubbling up in 2014," he says, "and the tidal wave seems to have hit in the first and second quarters of 2015."
Corporate buyouts drove more than three out of four (77%) of deals in the first quarter, according to KPMG's Isom. Big deals made a difference: while the volume of corporate transactions increased just 1% from the first quarter of 2014, their total value grew 48%, according to KPMG. Companies are willing to wait until the right target becomes available and to pay a premium for it when it does, says Isom, thus driving up pricing, collective deal value, and competition.
"Today's market requires companies to move quickly or risk losing their ideal acquisition partner," he says. Adds Brown, "It's either fish or cut bait with respect to some of these deals."
In several industries, such as semiconductors and health insurance, consolidation is driving M&A activity (see below). At the same time, companies continue to make "bolt-on" acquisitions, to fill gaps in products or channels, or acquire talent and technology, says Isom.
Still another factor behind recent M&A activity has been the sky-high stock market, which has resulted in higher valuations for sellers and greater buying power for acquirers that use their stock as acquisition currency. And the strong dollar, a bane for U.S. firms doing business abroad, has been a boon for companies seeking to make acquisitions overseas. According to PwC, U.S. investment abroad is up 80% through May 31, to $139 billion from $77 billion a year ago.
Hot Sectors
It's hard to find an industry that hasn't witnessed substantial M&A activity over the past six months. Dealmaking has been particularly robust in the following sectors:
• M&A activity in the technology, media and telecom sector saw an increase in both volume and value in the first quarter, compared with Q1 2014, says Isom. In particular, companies are pursuing cloud, mobile, and data and analytics targets. "These technologies are strategically enabling new business models," he says, "and in virtually all sectors of the global economy, companies are eyeing technology targets to drive innovation and transform businesses."
Meanwhile, consolidation continues in the semiconductor industry, as companies strive to meet demand for wireless and other types of chips and to stay competitive in a prohibitively expensive business. Megadeals announced so far in 2015 include Avago Technologies' $35 billion acquisition of Broadcom, regarded as the largest technology deal in history; Intel's $16.3 billion purchase of Altera; and NXP Semiconductors' $11.8 billion acquisition of Freescale Semiconductor.
• Deal value in the health care sector grew by 96% in the first quarter, says Isom, as four deals worth more than $10 billion were announced, including UnitedHealthGroup's $12.8 billion acquisition of Catamaran, a pharmacy-benefit manager. The increasingly complex health care business environment is causing companies in this sector — from insurers to device makers to pharmaceutical companies to care providers — to rethink their business and growth strategies, says Isom, and as a result, "many of these organizations are turning to M&A."
Merger mania struck the big five health insurers in June. Anthem made a fourth bid for Cigna, valued at $54 billion, while Aetna made a takeover proposal to Humana, according to The Wall Street Journal. Aetna itself was the object of takeover bid from UnitedHealth Group, the Journal reported.
The pharmaceutical industry continues to make acquisitions large and small, to diversify product lines and keep drug pipelines flowing. Two such megadeals announced in 2015 were Valeant Pharmaceuticals' $11.1 acquisition of Salix Pharmaceuticals and AbbVie's $19.5 billion purchase of Pharmacyclics, the latter announced just months after AbbVie ended its attempt to acquire U.K.-based Shire in a so-called inversion. (Brown of Alston & Bird notes that inversions have dropped sharply since the Obama administration cracked down on the tax-saving tactic last year.)
Also driving health care deals is the aging population, including the ongoing retirement of the large baby boomer cohort, says Brown: "Companies are looking at the demographics and seeing opportunities down the road."
• In the energy sector, deal value grew 47% in the first quarter, according to KPMG. "With crude oil prices nearly 60% below their highs, oil companies absorbed a number of smaller strategic targets," says Isom. The oil and gas industry continued to heat up in the second quarter, says Brown, "as oil prices settled down and companies gained more visibility into the market." According to KPMG's Energy Outlook Survey, more than 50% of oil and gas executives plan to allocate capital over the next two years for acquisitions, facilities expansion, and business model transformation, says Isom.
Private Equity's Part
Aside from the megamerger of Kraft Foods Group and H.J. Heinz, which is backed by 3G Capital and Berkshire Hathaway, private-equity firms have ceded big deals to strategic buyers in 2015, says Brown. That's in contrast to the mid–2000s, which saw a number of large club deals, buyouts sponsored by two or more private-equity firms. (NXP Semiconductors, mentioned above, was acquired in a 2006 club deal.)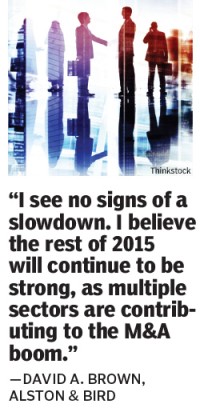 Overall, private-equity buyers accounted for 23% of total U.S. transactions in the first quarter, a decrease of 2% from a year ago, according to Isom. While the disclosed value of private-equity deals rose 27% in the first quarter, from $88.4 billion in 2014 to $112.1 billion, the number of deals fell 6%, from 625 deals to 590. There are several reasons for the decline in volume. One is pricey valuations, a result of high share prices and competition from strategic buyers. Another reason is the growing focus on finding quality targets, says Isom.
But vibrant M&A markets need sellers as well as buyers, and Brown notes that private-equity firms have made a significant number of exits in the past two years, either by selling portfolio companies or taking them public. "You've seen a sort of rebalancing of the overall private-equity model," he says. "There's still a lot of confidence in private equity, a lot of desire to do deals." High levels of dry powder and access to cheap capital continue to favor private-equity buyers, says Brown.
Brown and other experts expect M&A activity to remain strong in the second half of the year. "I see no signs of a slowdown," he says. "I believe the rest of 2015 will continue to be strong, as multiple sectors are contributing to the M&A boom."
Conditions continue to be ripe for M&A, agrees Isom, "given strong corporate balance sheets, anticipation that interest rates will remain low in the near term, and increased CEO and consumer confidence."
What could disrupt the rosy scenario? Either a drop in the stock market or a higher-than-expected rise in interest rates could have an impact, Brown says. "CEO and investor confidence appears to be fairly strong, as evidenced by the market," he says. "If confidence starts to ebb significantly, or if the market starts to slide, then M&A activity may slow down."
Edward Teach is editor-in-chief of CFO.
---