Although U.S. companies still trail their European counterparts in using the Chinese currency renminbi for cross-border deals, the frequency has nearly doubled in the past year, according to a recent HSBC study, as reported by the publication Treasury & Risk.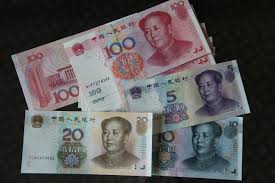 The study polled 1,304 financial decision-makers at companies that do business in mainland China and companies in China that do business abroad. Among U.S. companies, 17% said they currently do business in RMB, a sharp increase from 9% the past year.
French and German companies were much more likely to use RMB (26% and 23%, respectively).
"We're seeing a lot more interest in the RMB," Martin Brown, executive vice president and head of large corporate banking at HSBC," told Treasury & Risk. "People are understanding more about how the renminbi trades and the liquidity."
According to a recent release from SWIFT, a banking communications cooperative, the RMB was the "second most used currency for cross border payments with China and Hong Kong in May 2014," although "it still represents only 1.47% of all global cross-border trade and just 12% of cross-border payments with China and Hong Kong."
In other findings from the study, 20% of survey participants said they expect to start trading in RMB within three years. Among those respondents, 66% said using the Chinese currency will help them win more business; 55% said it will help reduce prices on goods they buy; and 61% said it will lower foreign-exchange risk. And here's another thought-provoking tidbit: 63% said that "a trading partner has asked to transition to RMB-denominated deals."
Nearly a third of respondents said they expect the RMB to become a "truly global" currency. That sentiment is not shared in the United States or the U.K., where just 6% and 9% of respondents, respectively, said that within five years foreign companies will start using the RMB for non-China-related transactions.
The biggest obstacle to wider use of RMB right now is concern about "documentation and other restrictions on currency exchange in China," said Brown, according to Treasury & Risk. According to the study, 13% of participants conceded that their company has "little or no understanding of relevant issues or where to turn for information" about RMB, while 31% said they have some understanding but not enough to take any action."
Source: To RMB, or Not to RMB
Image: Wikipedia