Most investor relations officers who see their jobs as a springboard to other corporate posts hope for roles in corporate finance more than they do any other job, according to a survey on trends in the IR profession released Wednesday.
Of 85 IROs reporting that investor relations is a transitional role for them, 32 percent aspire to become a finance chief at some point in their career, according to the survey by the National Investor Relations Institute (NIRI) and Korn Ferry International, the C-suite headhunting firm. Twenty-seven percent hope to have an unspecified role in corporate finance.
Another 20 percent are interested in being chief strategy officer; 12 percent would like to be chief communications officer; and 6 percent aspire to be a chief executive officer or president.
In another finding, 55 percent of the entire sample of 790 IR pros responding to the survey report to the CFO, a rise of five percentage points since 2012. Twenty percent each report to the CEO or president and to the head of IR. Almost 10 percent report to more than one position.
At the same time, the percentage of IROs with major corporate finance experience has dropped precipitously, according to the study. In 1999, the top three IRO backgrounds were corporate finance (49 percent); corporate communications and public relations (24 percent); and corporate marketing or sales (21 percent). (See bar graph, below.)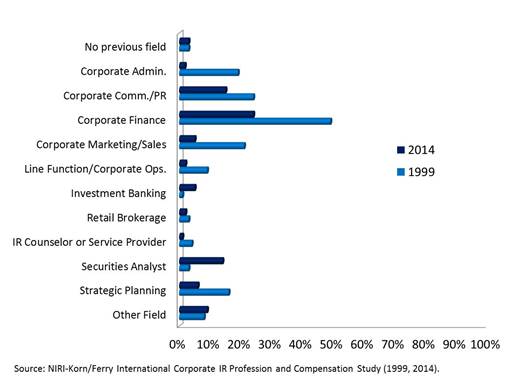 In 2014, by contrast, only 24 percent of IROs reported corporate finance as the background in which they had gained the most professional experience. Fifteen percent reported corporate communications/PR, and 14 percent reported securities analysis as their main area of experience.
The amount of time CFOs, CEOs and IROs spend communicating with Wall Street hasn't changed significantly in the last six years. In 2014, IROs continued to spend the largest percentage of time (59 percent) doing so, while their CFOs and CEOs spent 19 percent and 14 percent of their time talking to investors, respectively.