To gauge the outlook for hedging currency risk in 2014, some recent historical perspective is in order.
The CFO blessed with perfect foresight had some reasons to pull back on hedging such risk the last two years. Knowing that the value of the U.S. dollar would be range-bound versus major world currencies, that CFO would have declared the cost of foreign-exchange volatility bearable, and the overall risk less, even if the exposure were large.
There are no CFOs with absolute knowledge of future currency movements. Still, many companies didn't hedge currency risk. Those with invoices to pay in foreign currency, especially, seem to have taken a wait-and-see stance with U.S. dollar pairs.
A study of 1,075 companies by Chatham Financial found that 76% had forex exposure in 2012, but only 48% hedged it using financial instruments. Data from the Bank for International Settlements, meanwhile, showed, as of September, a 12%, two-year decline in forex-transaction dollar volume for nonfinancial customers. CFO's own recent survey of 148 finance executives found that 51% of respondents don't expect to hedge forex or commodity-price risks in 2014.
A relative lack of volatility in the value of the U.S. dollar against other currencies and the possibility of its appreciation last year turned some companies off hedging. With the Federal Reserve's quantitative easing program expected to end, experts anticipated higher demand for the U.S. dollar from the euro and G8 countries' currencies. The inflows didn't rise — QE didn't end — but more important for 2014, institutional investors' confidence in the United States eroded because the government was seen as "destabilizing and divided," says Guido Schulz, chief strategy officer at Associated Foreign Exchange. "Investors think that the U.S. government potentially won't be able to react to crisis with this deadlock [in Congress]."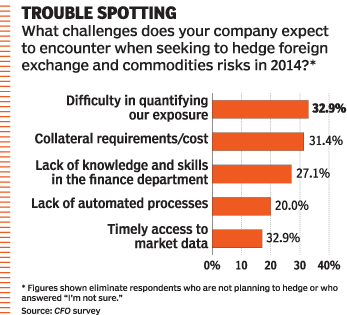 On the flip side, "the euro has really weathered anything and everything," says Schulz — in particular, declarations that it was overvalued and renewed concerns about euro-zone members like Spain and Italy. "The U.S. dollar has not been able to capitalize on that, and the deadlock has lulled many companies into a feeling of predictability," says Schulz.
Low and stable interest rates and relatively balanced economic growth rates across the G20 calmed foreign-exchange markets for a while, says Mark Frey, chief market strategist of Cambridge Mercantile Group, a forex and payments services company.
A Wild Ride to Come?
But the stage is very possibly set for more-erratic forex in 2014. Part of the reason: national monetary policies and interest rates of the major developed economies are diverging. While the U.S. economy has yet to pick up a full head of steam, it could gain momentum next year, pushing the Federal Reserve into altering monetary policy and pulling back on QE. "We do expect we will see interest rates, from a monetary-policy and a market-determined perspective, creep back up, and that has implications," Frey says.
At the same time, while the euro zone is technically exiting its recession, with gross domestic product in the third quarter up 0.1%, it's still digging out of its financial and fiscal crises, and a strong euro is not helping.
In Japan, the government has adopted significant monetary and fiscal expansionary policies — even more aggressive than those of the Federal Reserve — "in an attempt to revive an economy that's been in a generational malaise," Frey says. "They are throwing every tool in the tool kit at the economy, and if doesn't work there is nothing left to fall back on." Add in some emerging economies actively managing their currency prices by stepping into the forex markets to stem selling pressures, and the currency markets "are entering a period where there are a lot of unknowns."
When there's a prolonged period of relative quiet, "a socioeconomic or political event can create a pretty exaggerated reaction in the market, whereas if there is a prolonged period of momentous events the market tends not to react in a knee-jerk fashion," says Schulz.
Adds Frey, "We saw the violent reaction [last September], when the market believed the Fed was going to begin tapering QE. The market reaction was swift and sudden because we were all surprised."
Not All About Volatility
What if developed-economy currencies are relatively stable in 2014? "Microfluctuations can be just as harmful to a company," says Schulz. A study released in October by Fireapps, a vendor of software that helps companies manage forex exposure, said currency-related losses by U.S. companies totaled $7.7 billion in the relatively stable first half of 2013.

If a U.S. company agreed to pay a European supplier $1 million euro for a parts order last July 14 and didn't hedge against a euro-dollar currency move, it experienced pain 90 days later when it had to pay. On Oct. 13, in U.S. dollar terms, those parts would have cost the company 6% more than when it signed the contract.
While a small, single-currency movement may not have a huge impact, when a company is exposed to multiple currencies, all of them can move unfavorably at once. In its October earnings report, French manufacturer Michelin, which is trying to expand outside Europe's ailing economy, said its growth was stunted by currency swings in the United States, Japan and South America. Marc Henry, a group CFO for the company, said he expected exchange-rate fluctuations to "burden" full-year operating profit by about 250 million euros, a 100 million-euro increase from the impact Michelin forecast in the previous quarter.
Other companies are preparing for greater volatility. While the euro may have traded in a tighter range versus the U.S. dollar for some of 2013, some U.S. companies view European currencies as increasingly volatile. During its October earnings call, data-center services provider Equinix said that "given the volatility of the European currencies" it initiated a cash-flow hedging program to limit its future exposure to fluctuations in the British pound, the euro and the Swiss franc. By doing so, said CFO Keith Taylor, the company expects to reduce forex volatility on 40% of its revenues and adjusted EBITDA from its Europe, Middle East and Africa business. Revenues from that business are growing close to 20% a year.
Meanwhile, although U.S. companies may have a lower total-dollar exposure to emerging-market currencies, the extreme volatility of those currencies increases the risk to cash flows and, in some cases, balance sheets. "Finance departments may become more attuned to currency fluctuations the rest of 2013 and 2014 due to currency devaluations in Latin America and high volatility in emerging-market currencies like the Indian rupee and the Russian ruble," says Amol Dhargalkar, managing director for corporate advisory at Chatham Financial.
A lot of companies just ride out the wave in emerging-market currencies, says Schulz, because they can be tougher to hedge due to the lack of a market for currency forwards. But emerging-market exposures can be managed. To deal with volatility in markets like Russia and Brazil, consumer-goods company Unilever, for example, hedges emerging-market currencies in three-month-to-six-month periods. The length of the hedges is the time it takes for Unilever to pass through higher product prices in the local currency, part of its strategy for covering forex losses.
The Cure or the Disease?
Many companies won't hedge in 2014. Some see their forex exposure as not warranting the cost of hedging, as CFO's survey found. There may be "negative" reasons also. "What keeps companies from hedging is one, they have a risk tolerance that is greater than they ought to have; two, they can't get the credit they need to hedge; or three, they don't have the knowledge or data necessary to place the hedge," says Ryan Gibbons, managing partner of GPS Capital Markets.
The credit issue arises because "banks are becoming increasingly more stringent" about underwriting hedges, Gibbons says. A hedge exposes a bank to credit risk, market risk and settlement risk, he explains. If a bank underwrites a $150 million forex hedge over 15 months, for example, "there are real dollars at stake should the company it underwrites not be able to perform on it."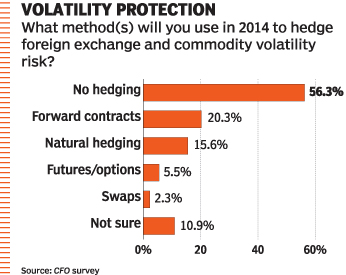 Somewhat ironically, the complexity of hedge accounting can prevent a less sophisticated finance department from hedging forex risk, says Dhargalkar. And hedge accounting is absolutely necessary if a company is hedging.
"If a business doesn't apply hedge accounting, it actually can introduce more volatility into earnings," says Dhargalkar. "The business might enter into the right set of hedges that reduce cash-flow risk but actually increase its earnings at risk, because of the volatility of the derivative showing up in earnings per share." That could lead to the CFO having to provide a lengthy explanation on an earnings conference call.
Explaining hedge accounting itself can be just as difficult. In conjunction with its third-quarter earnings call, search giant Google posted a video tutorial on its investor relations website to explain why its hedging costs addressed by ASC 815 (the accounting standard for derivatives and hedging, formerly known as FAS 133) were so volatile quarter to quarter.
The most dangerous situation companies get into comes from thinking they are hedged when they are not, experts say. For example, in many emerging-market transactions, the foreign supplier is happy to accept payment in U.S. dollars, so the U.S. company may assume it has negotiated away the forex impact, says Schulz. But in reality it has not. "If a [U.S.] company imports manufactured goods from Brazil and sends U.S. dollars, then the Brazilian counterparty is taking on the risk, so it is likely to quote a price structure that is padded," he says.
In other instances companies may assume they are "naturally" hedged and thus have eliminated forex risk. On its October earnings call, for example, Michelin's Henry talked about the company's eventually having "a natural hedge through a balanced geographic portfolio."
But natural hedges can be deceiving, says Frey. If a U.S. company has $20 million in equity in a foreign currency, it may borrow in that currency to net its forex exposure. In reality, though, the company is just swapping one risk for another. That may be especially true in 2014, when volatility across global markets is likely to come in many forms. "The company may be mitigating a portion of its forex risk but then taking on some kind of cash-flow, liquidity or interest-rate risk by borrowing in the foreign currency," Frey says. "You have to evaluate: is my cure worse than the original affliction I was trying to treat?"
But assuming that a company is naturally hedged isn't the biggest sin in forex. The biggest offense? Being reactive. "In many cases we get brought into a conversation when a business has already taken a 10% write-down on a significant position and they want to talk about forex risk management," Frey says. "CFOs need a plan. Even if they're making a proactive decision to do nothing, at least they are actively looking at it."
---