A little over four years ago, like other companies connected to the building industry, Lennox International was feeling the effects of the recession. Sales were down, and a growing number of customers who bought heating, ventilation, air conditioning and refrigeration equipment from the Richardson, Tex.-based company were having trouble paying their bills. "Each one of the business-unit presidents and general managers was well aware that past due and bad debt had become an issue for us," recalls Peter Jackson, vice president of finance for business development, planning and analysis at the $2.9 billion (2012 net sales) HVAC and refrigeration firm.
At the time, Jackson was finance chief of Lennox's residential segment, while Joseph Reitmeier (now executive vice president and CFO of Lennox International) ran finance for the commercial division. "All of our customers were challenged," says Reitmeier. "Commercial HVAC and refrigeration markets have a tendency to trail residential markets by 12 to 18 months, but during the recession it was more like six months, if not sooner."
It was then that Reitmeier and Jackson decided that a complete overhaul of credit and collections was necessary. "We had made some progress in reducing bad debt and delinquencies, but we hadn't gotten anywhere near where we wanted to be," says Jackson.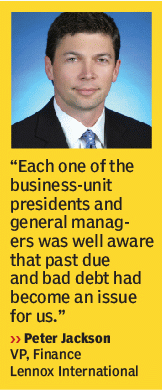 They asked REL Consultancy, a working capital advisory firm, to do a pilot analysis of the function and processes. Using REL's blueprint, Lennox set out to reengineer credit and collections for its residential and commercial divisions. "We wanted to make sure that the way we manage credit risk wasn't one-sided—that it was a win-win situation both for the company and for our customers," says Reitmeier. "We viewed it as a way to further solidify our relationship with our customers, improve our processes, better utilize our internal resources and enhance our cash flow.
"We accomplished all of those."
Segmenting the Customer Base
The project began with an analysis of the customer base and accounts-receivable portfolio. Lennox's customers are for the most part small HVAC dealers and distributors, often just one person with a truck, working out of home. On the residential side, a typical order comes to about $1,200, says Jackson, while orders for the commercial division are substantially higher. In all, the project covered about 25,000 customers who had purchased from Lennox within the previous 12 months, says Jackson.
Using custom algorithms that Lennox tweaked, REL segmented customers based on historical sales and risk, says Randy Dacus, who joined the company as director of customer financial services at the beginning of 2010. "Sales was straightforward," he says. "If a customer was in a high segment of sales, it would be coded A. The code for a medium segment of sales was B, and C was smaller-dollar sales."
Developing a risk profile for each customer "was more complex, because we used internal and external information [from credit agencies] to compute risk," says Dacus. The numbers 1, 2 and 3 indicated low, medium and high risk respectively. "So A1 would be high sales, low risk, and A3 would be high sales, high risk."
REL finished the customer segmentation in a couple of months, says Dacus. The result wasn't a classical 80-20 situation—where 20% of the customers would be responsible for 80% of the past-due receivables—but a fairly small percentage of customers were responsible for "the lion's share, by a long shot," says Dacus.
In the meantime, REL also performed a thorough evaluation of the function's staff and recommended a new organizational structure, says Dacus, who was hired to lead the change-management initiative.
Building New Habits
Once the customer base was segmented, Lennox was ready to implement new, standardized collection processes for each segment. The priority: A3 and B3 customers who accounted for a large percentage of past-due dollars.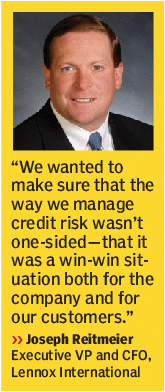 With these high-risk customers Lennox now takes a more proactive approach. "We assume every customer will pay on time," says Dacus, but in some cases the company will call a high-risk customer before an invoice is due. The calls, made by some 25 collectors in the residential group and six on the commercial side, are meant to be constructive, not threatening.
"We want to help customers build new payment habits," explains Dacus. "It's really more of a problem-resolution call. We say, how can we help you? Do you have any billing issues or disputes that we can help you with? We have different statement cycles; would you prefer to get invoices on a weekly basis?" More than 70% of Lennox's customers have adopted electronic invoicing; the company would like to increase that share.
Lennox's standard terms are 15 days from statement date, "but many of our customers prefer to pay by invoice, in which case it's net 30 days," says Dacus. The difference between the two averages out to a couple of days, he says. The company does not offer carrots to speed up payments such as special terms or dynamic discounting. "We don't want to sacrifice profitability for the sake of cash flow," comments CFO Reitmeier.
Instead, says Dacus, "we go through the process of finding the root causes of why customers aren't paying sooner, addressing those root causes and creating a rhythm for payment. We want everyone to be treated equally across the board."
Closer Collaboration
Essential to the project's success was closer collaboration between collections and sales. "It wasn't simply about us developing processes where we go out to our customers and seek payments," explains Reitmeier. "It was about working cross-functionally, collaborating with our sales force. It was about adopting a philosophy in which our sales folks on the front lines, who deal face-to-face with customers every day, own the complete relationship with the customer."
Sales and collections weren't always in sync. Before, collectors were "very independent, and as a result they solved problems very differently," says Jackson. "Creativity and flexibility are wonderful in certain contexts"—but not when a fairly large sales team is involved, where one collector supports multiple salespeople and some salespeople are supported by multiple collectors. The lack of a standard approach to collections "created a tremendous amount of confusion," says Jackson. "It made things very difficult and, frankly, argumentative at times."
With guidance from REL, finance and sales hashed over the challenges of creating standard, simple-to-understand guidelines. For those occasional times when a salesperson and a credit manager can't see eye to eye on a customer, a new escalation protocol was devised.
That protocol was an essential part of the process redesign, notes Jackson, because "if you create the process so tightly that you never have an exception or you don't have a way to address that special situation, the process will fail in some way. So we made a point that there was a pressure-release valve. There was a way to get a customer treated in a certain way outside of policy as part of our process."
Now, there is enough exception capability "where we can continue to do the right thing to support the sales team where it makes sense," says Jackson. "And even if we have to say no, people understand why and what the obstacles are."
"A Big Opportunity"
Changing collection processes wasn't the only part of the reengineering project; Dacus also tackled what he saw as "a big opportunity" in the area of credit risk. He formed a separate group to handle credit for new customers and manage existing portfolio risk. The group created a new credit limit scoring model, which reduced the average credit-approval turnaround for new customers from two weeks to four hours. Additionally, Dacus and his team came up with creative ways to help customers increase their credit lines, through secured financing or personal guarantees, for example.
Thanks to these efforts, Lennox increased its annualized gross margin contribution from new business "well in excess of $400,000," says Dacus.
Good Processes Make Good Customers
Underlying the credit and collections transformation, say Lennox executives, is a desire to maintain good relations with its customers. "Everything we do here is about the customer," says Reitmeier. "We always keep that in mind."
"We don't get into these [customer] relationships easily," comments Jackson. "The investment required to train someone on the brand, to introduce them to the way we do business—it's expensive. We're looking for partners in the long run."
During the past three years the company has done more workouts than ever before, adds Dacus. "It may sound clichéd, but we want to be there with our customers in good times and bad," he says.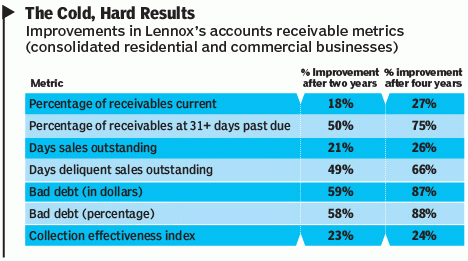 The freeing up of collectors to do such workouts is one of the biggest benefits of the reengineering, notes Jackson. "When I first got here, I got a steady stream of complaints about the 'Angel of Death' over there in credit and collections," he recalls. "The organization's job was to say no, and to say no in a way where the customer would never want to talk to them again." Fortunately, that's no longer the case.
For new customers, Lennox provides a "very soft-spoken" introduction to the order-to-pay process, says Dacus, and is even producing a video explaining the process. "We want to demystify credit and collections and personalize it," he says.
The Payoff
Today, Lennox has replaced its former decentralized approach to credit and collections with standardized, simplified, and largely automated processes. Every month, customers' credit-risk grades are automatically updated based on sales behavior and past payment performance. Among other things, that has enabled the company to reduce order holds for low-risk customers, says Dacus.
The quantitative payoff from the reengineering is reflected by significant improvements in a range of metrics, from percentage of receivables past due to days sales outstanding to collection effectiveness (see chart above). But the qualitative results are just as important, if not more so. Dacus says he's received thank-you notes from customers that Lennox has helped through tight situations. Morale in collections is up. And the cooperation between sales and collections has never been closer.
"Let's put it this way," says Dacus. "I actually get along better with the sales organization than I do with the finance and accounting organization. Notwithstanding Peter Jackson here, I think he's the greatest, but—"
"Oh, here we go," interrupts Jackson. "Make sure you put that in the article, too."
—Edward Teach is Executive Editor of CFO.