Fashionable footwear company Crocs may have thought it had an urgent problem on its hands earlier this month when a racy, unauthorized ad featuring Crocs' shoes popped up on YouTube. But that incident required nothing more than a straight denial that the company was involved.
Now, though, Crocs and its investor relations team have a slightly more complex controversy on their plates.
Sounding more like an activist investor than a Wall Street brokerage firm, Sterne Agee published a client note on Crocs (Nasdaq: CROX) Thursday that downgraded the shares to underperform. The report heavily criticized the senior leadership of the casual footwear company and questioned an undisclosed distributor relationship that the Niwot, Colo.-based company had with BackJoy.com, a company largely run by ex-Crocs executives.

Crocs, a publicly held company that has been featured in CFO, missed second-quarter earnings estimates by about 25%. On the company's June 24 earnings call, Jeffrey Lasher, Crocs' CFO, said that "various challenges" affected the company's results, challenges "that we did not expect when we had the Q1 call guidance." They included lower margins, unfavorable foreign exchange, macroeconomic forces and "ongoing expenses associated with [an SAP implementation] and marketing investment."
Also on the call, Sterne Agee analyst Sam Poser, one of the note's authors, did not get a direct answer to a question about how many more stores Crocs planned to open in 2013.
On Aug. 8, Poser and fellow analyst Ben Shamsian came out with guns blazing. They told investors to sell their positions in Crocs because "we believe that key factor that has led to the poor performance at CROX is the lack of senior leadership." The report pointed out that managers of the company's operations in Asia, Latin America, and North America had left the company, and that Crocs had "burned through" three marketing directors in three years.
The reason? A "rigid internal structure" at Crocs where there is a "very tight group loyal to the CEO" and all major decisions come from the top. The dynamic has caused "numerous, talented people" to leave the company, the analysts said. "We sensed this internal pressure on the 2Q13 call when management had clearly decided to reduce its [2013] store openings from 90 to [about] 60 but refused to come straight out and acknowledge the change," Poser and Shamsian wrote.
The other major problem Poser and Shamsian have with Crocs management is that they believe Crocs and BackJoy.com — a retailer of posture improvement products — "are too close for comfort." The analysts said they recently discovered that Crocs was licensing its insoles to Backjoy.com — or at least it appeared that way on the BackJoy website. A Crocs' 10-K from 2012 disclosed that there is one-third party licensee for Crocs insoles but did not identify BackJoy.com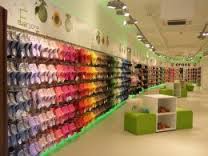 The chairman, CFO, head of sales and marketing, and the vice president of operations and IT of BackJoy.com are all ex-Crocs senior executives, the analysts pointed out. The analysts' concern was that in choosing to sell or license insoles to BackJoy — a strategy that management had said was not on its list — senior management had "preempted the search for the best deal." That best (most profitable) deal would be to sell the insoles through the mass drugstore channel, said the Sterne Agee analysts.
At a little after 5 p.m. on Thursday, Crocs issued a response that addressed some of the accusations. "We've seen the report from Sterne Agree Group earlier today and there are factual inaccuracies," the statement started off. As regards management, the company denied a leadership vaccuum, and said it had "general managers or interim general managers in place in all regions except Asia, where our regional GM left the company."
The issue of BackJoy seems to be more complicated. Crocs admitted that it "had an immaterial relationship with them [BackJoy] when they first started," but that it "never had a licensing agreement with them and no longer have an ongoing commercial relationship with them." But it appears BackJoy was doing something that may not have been totally above-board. "We were not aware that BackJoy was using the Crocs brand in [its] marketing materials and we've asked them to cease," Crocs said in its statement.
As to Crocs' leadership dynamic, what could the company say? The relationship with BackJoy clearly wasn't handled well, so management deserves criticism for that. But how do you prove your internal management structure is not "rigid"?
"We believe the fundamentals of our business remain strong," Crocs noted in the statement. "We operate a diverse global business with a strong experienced management team and continue to focus on our strategies for profitable growth."
Meanwhile, Sterne Agee reduced its expected earnings for the company by about 2 percent for 2013 and by nearly 10 percent for 2014.
This is no YouTube video created by a rogue London ad production company. Perhaps investors will discount the accusations because they came from a privately held, not-so-well-known brokerage firm. If they don't, Crocs might have a real problem on its hands this time.
Image courtesy of  Elin B on Flickr, under license of Creative Commons.