Like the entrepreneurs on Kickstarter trying to raise money to sell hot-chocolate cubes or cut an album, later-stage private companies may soon be finding investors online. But will crowdfunding for more-established companies be the bonanza it is for some start-ups?
It's possible, given that the Title II section of the Jumpstart Our Business Startups (JOBS) Act gives companies and their broker-dealers the ability to market Regulation D Section 506(c) private placements on a widespread basis. In fact, some broker-dealers are launching online portals to do just that.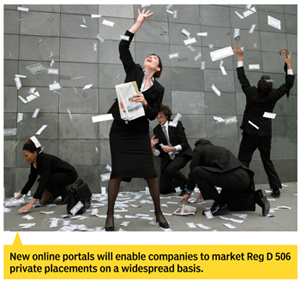 Reg D offerings, which exempt the issuer from securities-registration requirements, are a popular form of raising capital from accredited investors — sophisticated players such as hedge funds and angel-investor networks. Companies and broker-dealers were not allowed to advertise to them until the JOBS Act passed.
In launching ConfidentCrowd, an online portal for these transactions, middle-market broker-dealer Dinan & Co. is betting it can make the market bigger by bringing Reg D placements from multiple broker-dealers to the attention of more investors and collecting them onto a single platform.
Currently, "a broker-dealer is significantly handicapped because it is limited to speaking to only accredited investors with which it has a preexisting relationship," says Dinan chief executive Mike Dinan. Companies are even further removed. "There's not really a place [for issuers to go] to know which investors are accredited," says Mike Hermsen, a partner at law firm Mayer Brown.
To be sure, ConfidentCrowd may lure more investors to a company's securities offering, but it is not necessarily going to bring the company any closer to the end investor. The only way to get on the portal to raise capital is to be sponsored by a broker-dealer (although companies will be able to advertise their offering to accredited investors directly).
The bar for a Reg D private offering will be just as high as it ever was. Dinan looks for established, more-mature companies with at least $2 million in trailing-12-month operating income. It handles placements ranging from $5 million to $50 million. ConfidentCrowd may form a committee to ensure that participating broker-dealers adhere to its standards for investing.
Meanwhile, broker-dealers and ConfidentCrowd are in limbo until the Securities and Exchange Commission finishes the rule-making process surrounding private placements. The stickiest issue is how broker-dealers, issuers, or both are going to verify that an investor is accredited. Currently, investors self-certify, but the JOBS Act calls for "reasonable steps" to verify an investor's status, putting the onus on the issuer and the broker-dealer.
"We are hopeful [the rules will come out] before the end of the year," says Dinan, "but with significant changes at the SEC, we're concerned it may not happen until 2014."