Is this the quarter that U.S. companies finally break open their piggy banks?
For only the second  time in more than two years, the corporate-cash indicator from the Association for Financial Professionals shows more finance executives (28%) anticipate cutting their cash hoard in the first quarter than are planning to add to it (23%). It's the first time finance professionals are forecasting lower cash reserves for a quarter since January 2011, when the AFP began conducting the study. If the forecast is correct, it would suggest companies are becoming less wary of parting with their cash.
A forecast, of course, is just a forecast. Quarter-over-quarter and yearly, corporate-cash balances are still climbing. Forty-seven percent of organizations answering the survey said they had larger year-end cash balances in 2012 (versus 27% with smaller balances) than in 2011. And from the third quarter of 2012 to the fourth quarter, 37% of respondents increased balance-sheet cash, compared with 32% that depleted their reserves.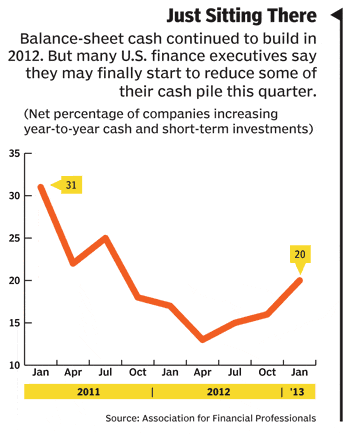 More important for the U.S. economy (and corporate earnings) is what companies are doing with their cash. Although some are spending on acquisitions, more are paying down debt, buying back shares, and issuing dividends, according to Jim Kaitz, the AFP's president and CEO. Although that suggests companies aren't reinvesting in their businesses much, those activities are still better than keeping money in low-return cash-investment vehicles.
Finance professionals told the AFP  they are neither "more aggressive nor more conservative" with investment selection in the current quarter. That's a change from last October, when the difference between the net percentage becoming more aggressive and those becoming less aggressive was +5. 
"Some finance pros commented that they were now focusing exclusively on U.S. Treasury money-market funds and overnight deposits," according to the AFP, which would be a decidedly conservative stance. Others may be seeking more yield than those investments can earn, "moving unneeded cash to longer-term reserves or moving international cash 'further out on the curve,'" says the AFP.
Meanwhile, it appears that at least large companies have no impediments to adding to their liquidity positions through the debt markets. High-yield bond issuances reached $307 billion in 2012, up 39% from 2011, according to Fitch Ratings. Leveraged loan issuance increased 17% to $664 billion.