Revolving lines of credit are on a pace to drop in 2012, as macroeconomic and regulatory concerns have dampened the market for new issuance and companies have found other sources of funding. As of November 14, the dollar volume of corporate credit lines issued in the loan market stood at $787 billion, while total issuance for 2011 was $1.28 trillion, according to Thomson Reuters LPC.
"The conventional wisdom is that everyone was waiting to see what happened with the [Presidential] election," says Richard Pollak, practice group leader in lending and structured finance at Troutman Sanders LLP. With the election over, volume has picked up some, he says, but now the conventional thinking is that the fiscal cliff could be keeping down activity.
But companies are also finding other sources of funding.
The corporate bond market is still booming. Global corporate bond issues hit $242 billion in October, bringing the year's 10-month total to $2.5 trillion. That means global bond sales surpassed 2011's total of $2.4 trillion with two months to go.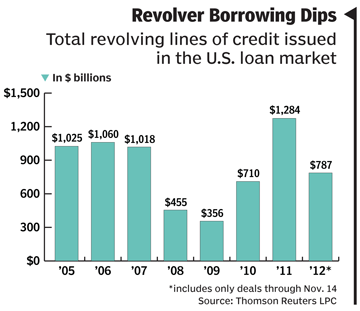 Many companies are using at least some of the proceeds from public bond offerings to repay all or a portion of the debt outstanding under their existing credit facilities. The proceeds of long-term bonds can also be used to replace short-term commercial-
paper issuance, dampening the need for revolvers. The Walt Disney Co. may do that after issuing $3 billion in bonds this week, according to CreditSights. For any company, replacing all commercial-paper debt reduces the need for a line of credit, as the lines are often needed only as a backstop.
Loans do have advantages over bonds, of course. "There's more flexibility in the lending market," says Pollak. "[Most companies] can easily refinance, and you are not committed to a long-term payout to bondholders, bondholders that may not be as flexible with you if there is a hiccup in your performance."
The market for new credit lines is not exactly stalled. In early November, General Motors secured an $11 billion revolving line of credit, half of which matures in three years and half in five. It replaces a $5 billion facility that was maturing in 2015. 
Indeed, this year's dollar volume of revolving credit lines will surpass that of 2010. But if Congress resolves the fiscal cliff issue, Pollak says next year there will be real growth in the volume of credit facilities.
"What I've heard from  lot of my banking clients is that they are being encouraged to make loans in ways they weren't before," he says. Perhaps more important, companies are at the point where they are soon going to have to reenter the market. "They are going to have to go out and replace inventory, replace equipment; to be competitive, they are going to have to make capital investments, and quite often they look to the banks for those funds," Pollak says.