How did so many small businesses survive the worst of the pandemic? The Paycheck Protection Program helped. But it took more than that to keep many small businesses financially afloat.
On Wednesday, an analysis by the New York Fed provided some clues. By drawing on data from its Consumer Credit Panel and Equifax's commercial database, among other sources, the New York Fed's statistics and research group found that many small business owners turned to personal credit to ride out the storm. In particular, their home mortgages.
Small business owners were more likely to enter forbearance on their personal mortgage, a difference especially pronounced in harder-hit industries, the New York Fed found. And small business owners were also more likely to borrow against their home's equity.
The take-up rate for mortgage forbearance (established by The Coronavirus Aid, Relief, and Economic Security Act in March 2020) among business owners reached 11% in May 2020, four percentage points higher than the overall average among U.S. homeowners. From February 2020 to March 2021, 17% of small business owners with personal mortgages participated in the forbearance program at some point.
In the accommodation and food service industries and transport and warehousing, the rates were even higher — 23%. (See chart.)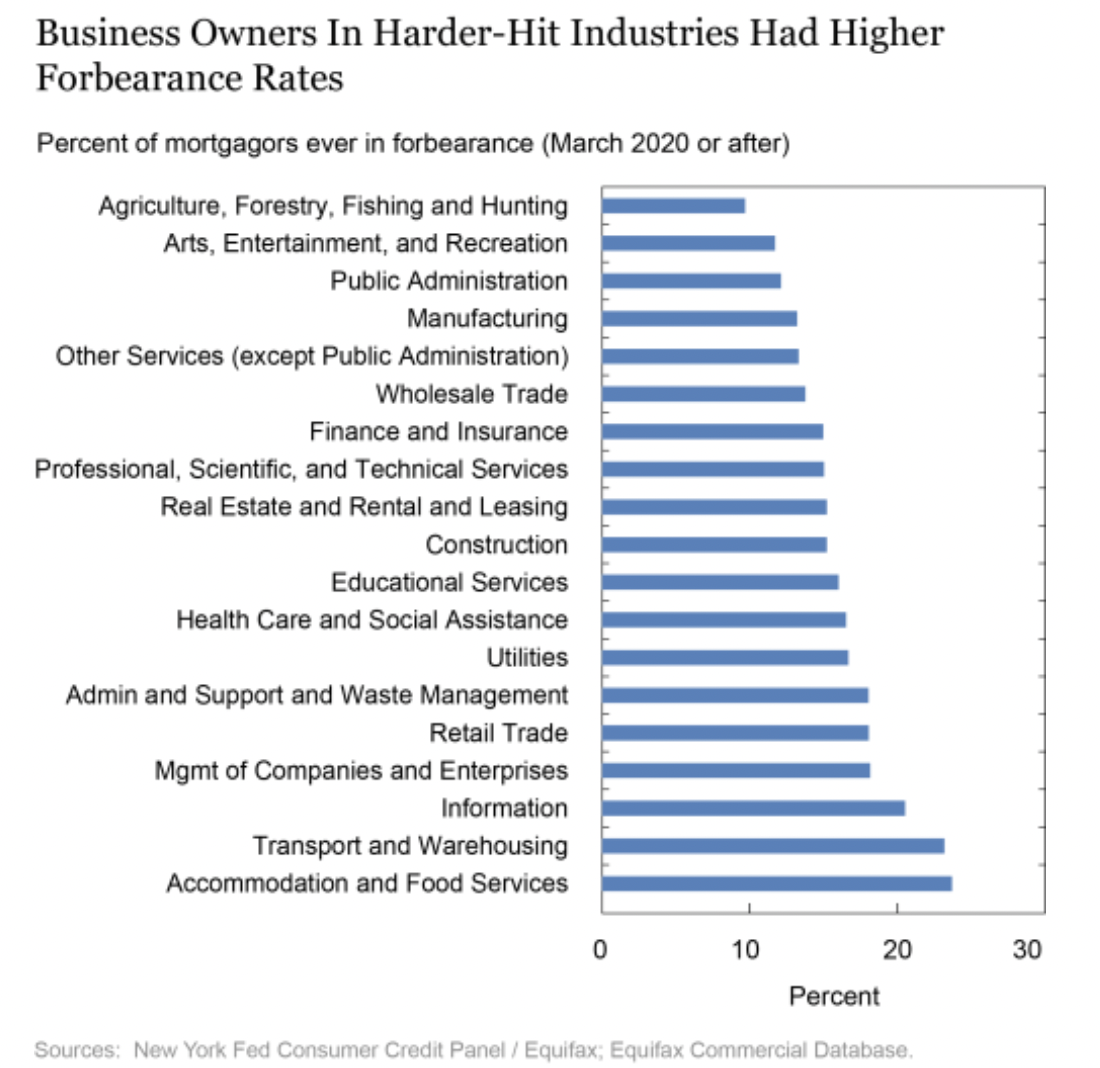 Some small business owners went further, tapping their homes as a source of capital.
Business owners were more likely to borrow against their home equity after the onset of the pandemic., according to the analysis. The average home equity line of credit (HELOC) balance of small business owners jumped 3.4% between February and May 2020, while that of the overall population declined 0.6%.
"The increase seen among business owners is remarkable considering that overall HELOC balances have seen steady quarterly declines for many years and [have] not seen such substantial growth in a three-month period since the Great Recession," the New York Fed researchers wrote in their blog post.
The HELOC balance gap persisted over time, with the general population outpacing business owners in HELOC paydowns by about 4 percentage points through March 2021.
"These coping strategies have likely helped businesses preserve cash flow and avoid delinquency and bankruptcy for their business and themselves personally," the researchers wrote. "Whether these forbearances are simply forestalling future trouble for strained business owners or if the post-pandemic economy will support the owners to catch up the lost months remains to be seen."
For homeowners that participated in the CARES Act forbearance program in its first months of existence, the forbearance period is ending. The program let homeowners delay payments for six months and then request a six-month extension.
A Facebook and Small Business Roundtable report found that 23% of small and medium-size businesses were still closed in February 2021.