Several large companies moved up smartly in the latest CFO EVA Momentum Ranking of corporate profitability performance, which covers the four quarters ended in September. The best-performing company with revenues of $5 billion or more was CF Industries Holdings, which advanced to No. 9 in the latest ranking from No. 41 the quarter before, and moved from No. 3 to No. 1 in the chemicals industry.  CF's EVA momentum in the latest four quarters was 23.5%, driven by both rapid sales growth and a huge expansion in its EVA margin (economic profit as a percentage of sales) from 6.1% a year ago to 17% in the latest four quarters.
Southern Copper, No. 2 among large companies, moved up from No. 63 to No. 27 in the overall ranking, and to No. 1 among metals and mining companies. Its EVA momentum of 16.3% came from a widening of its EVA margin from 23.4% to 28.6% on sales growth of nearly 40%.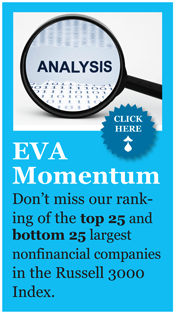 CFO and EVA Dimensions rank profitability performance on the basis of EVA momentum, which is the change in EVA in one period divided by sales in the prior period. It is the rate of growth in a company's economic profit (or EVA) calculated as a percentage of trailing sales. Dividing by sales converts EVA from a monetary measure to a ratio, and makes it possible to directly compare companies of different sizes. The measure also is the only one that can be used to compare and rank the performances of companies with both positive and negative EVA. A company that reduces a negative EVA by the same percentage of sales as one that improves a positive EVA will have the same EVA momentum score.
EVA momentum captures profitability performance, or the change in EVA relative to sales, while the level of a company's profitability is captured by EVA margin. A company's EVA momentum ranking tends to be loosely correlated to its EVA margin score, but there are some huge disparities, especially at the top and bottom of the performance ranking. That's because some of the best EVA momentum performers are companies that are turning around what has been pretty bleak EVA performance. 
Motorola Solutions, for example, ranks No. 44 on EVA momentum (and No. 4 among large companies) but way down at 1650 (out of 1,702 companies) on EVA margin. Motorola's winning EVA momentum in the latest four quarters came because it improved its EVA margin from minus 32.4% a year earlier to minus 16.8% in the latest four quarters. Similarly, MGM Resorts International moved into the top 25 large companies in the latest quarter with an improvement in its EVA margin from minus 13.8% to minus 6.6%.
Of the 5 new names among the top 25 large companies this quarter, the biggest upward moves in the ranking were made by Viacom, which jumped from No. 633 to No. 123, and Mastercard, which moved from No. 328 to No. 145 and displaced Visa as the No. 1 company in the IT services industry. 
As it happens, Viacom and Mastercard neatly demonstrate the two ways that companies can achieve EVA momentum — by boosting their EVA margin through efficiency gains or improvements in their business model, and by growing sales. Mathematically, EVA momentum is the sum of the change in EVA margin during a period plus a variable that EVA Dimensions calls profitable growth. EVA Dimensions calculates profitable growth by multiplying a company's sales growth rate by its concluding EVA margin.
Most of Viacom's EVA momentum came from improving its EVA margin. The total of 6.8% included 5.7% from the change in its EVA margin and just 1.1% from profitable growth. In contrast, Mastercard's 6.6% EVA momentum included just 1.3% from improvements in its EVA margin and 5.2% from profitable growth. Mastercard's revenues rose by only 19%, but the growth added so much to EVA momentum because its EVA margin was a whopping 27.5% over the last four quarters. Viacom's sales grew nearly as much (16.1%) but added much less to EVA momentum because its EVA margin was so much lower. In other words, growth matters, but how much it matters depends on how high an EVA margin the company earns on the added sales.
The bottom 25 among large companies include 8 new names this quarter, but only one of those — Sandisk — took a steep dive in the latest ranking. The other 7 new names were only marginally above the bottom 25 last quarter. Sandisk, however, dropped from No. 560 in last quarter's ranking to No. 1467 this quarter. The company's EVA declined by $65 million, of 1.4% of trailing sales, in the latest four quarters despite a 14.2% sales increase. The decline in EVA, and in EVA momentum, occurred because Sandisk's EVA margin shrank from 8.5% to 6.2%. The company's EVA margin still is pretty good — it's in the top 20% in the Russell 3000 — but not as good as it was a year ago.
Al Ehrbar, chief operating officer of EVA Dimensions LLC, writes a regular column based on the EVA Momentum Ranking for CFO.