A vast majority of benefits managers at large companies are dissatisfied with the pharmaceutical supply-chain model, which they consider to be complex, inefficient, and opaque.
With steeply rising drug prices being the single biggest component of overall health-care cost increases in recent years, that model has developed into a significant concern.
But pricing, per se, is not the singular cause of the dissatisfaction. Rather, large companies are highly critical of a pharma-supply feature that on the surface would seem quite attractive to them: volume-based rebates from drug manufacturers.
In a survey of 170 corporate benefits managers by the National Business Group on Health (NBGH), a coalition of 423 large employers, 91% of respondents said they'd welcome an alternative to the rebate-driven approach to managing costs.
The existing supply model, in place for decades, assumes that rebates are highly valued. And that used to be true. But trends in health-plan design over the past decade have resulted in what NBGH's president and CEO, Brian Marcotte, calls "a broken system."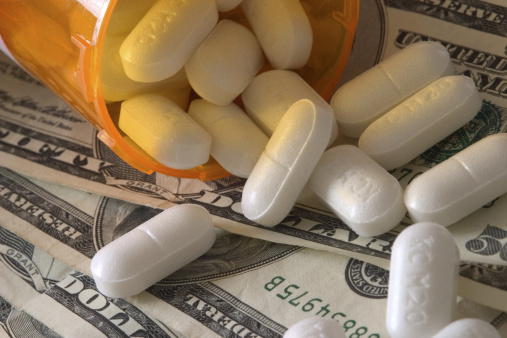 Back in the 1990s and the early years of the new century, most of the out-of-pocket pharma costs borne by health-plan participants were co-pays — often, $10 for generic drugs, $20 to $25 for name brands, and $35 to $40 for drugs not on the plan's formulary.
The way rebates worked, and still do, is that when a pharma manufacturer introduced a new drug that would compete with others already in the market, it would offer an employer/plan sponsor a volume-based rebate in order to get the drug on the formulary. Alternatively, the manufacturer would simply agree to rebate to the employer a certain percentage of all sales of the drug to plan participants.
Fast forward to today, where high-deductible health plans are very common. Most participants in almost all plans, in fact, are subject to some deductible amount.
"Even if you're not in a high-deductible plan, you have a deductible," notes Marcotte. "That means you have first-dollar responsibility for paying costs. Back when all you had to pay was a $25 co-pay, you didn't care that your employer was getting a rebate that it would use to lower the overall premium cost. But now, while you're often paying more of a gross price for a drug, the company is still getting a rebate. As a consumer, you might have a problem with that."
In response to disgruntled plan participants, employers have beseeched pharmaceutical-benefit management firms (PBMs) to provide alternative pricing arrangements. Employers are especially motivated to take such action because they're facing a labor market featuring record-low unemployment, making it a higher priority to offer attractive employee benefits.
Now, the PBMs have pulled a portion of the rebate pool forward to the point of sale, thus providing discounts directly to consumers, Marcotte observes. But they're still providing volume-based rebates to employers as well.
Sounds like companies and their workers should both be happy, right? Not exactly. Here's where the big increases in drug prices over the past several years come into play.
"Whenever a manufacturer raises a drug's price, every stakeholder along the path to a consumer getting that drug — the manufacturer, the distributor, the PBM, and the pharmacy — makes more money," says Marcotte. "That means the employer and the consumer are paying more money, even if the actual rebate amounts are the same or higher."
And there's still more to vex plan sponsors.
"I've had manufacturers tell me they have a brand-new drug within a certain class of drugs, but they can't get it on formularies because as soon as they do, the rebates for the other drugs in that class will drop," Marcotte says. That would effectively create a further cost increase.
"The bottom line is, the rebates have got to go away," he says. "It's a convoluted, opaque system that creates perverse incentives. You could argue that back in the 1990s it was an OK model, but it hasn't adapted to today's realities."
Meanwhile, the NBGH survey highlighted some other interesting trends:
Stable medical-cost hikes: For a sixth consecutive year, NBGH survey participants forecast that their overall health-plan costs will climb by about 5% the following year.
Then, in their actual experience, net cost increases have tended to settle at 4% to 4.5% higher than the previous year. The survey respondents are primarily with self-insured employers, which pay out claims directly to plan participants. They don't want to go over the amount budgeted for claims, "so they always build in a little margin above what they actually think costs will be," Marcotte notes.
While those cost increases are lower than what plagued companies through much of the previous decade, they "continue to outpace both workers' earnings and general inflation," Marcotte says, "making this trend unaffordable and unsustainable over the long term."
The total cost of health care among surveyed companies, averaging $14,099 per employee in 2018, is expected to reach $14,800 next year.
Pullback in CDHPs: Of course, many observers have said, for years, that health-cost increases were unsustainable. Yet companies are still offering health benefits. And in all likelihood, they will continue to do so indefinitely.
To maintain some measure of control over costs, one among many strategies companies have employed is offering high-deductible plans and other types of consumer-directed health plans (CDHPs). Such plans allow participants to select the level of benefits that makes sense for them, given their health-risk profile, but also shift costs from employer to employee.
In fact, in 2018, 39% of NBGH survey-takers offered only a CDHP. But in a notable twist, next year will bring the first pullback in the proportion of companies doing that since the concept was introduced. Just 30% of survey respondents said their companies will offer that single option in 2019.
Marcotte points to several reasons for the trend. Foremost, lawmakers continue to kick the Affordable Care Act's "Cadillac Tax" — a 40% excise tax on the value of health benefits over a threshold level — further down the road. It's currently slated to take effect in 2022, but there's little appetite on either side of the aisle in Congress to implement the tax.
"A lot of companies rushed to high-deductible plans to try to stay under the tax threshold or mitigate its impact," Marcotte notes. "Now they're beginning to think the tax will again be kicked down the road."
Also, he muses, deductibles are reaching a tipping point where a majority of workers can no longer afford them. Then there's the motivation, again, to provide attractive benefits in the face of a tight labor market.
More innovation: Whereas just 3% of companies have at least one direct contract with a medical provider or provider group this year, that number will almost quadruple to 11% in 2019.
Even with that spike, the proportion of companies doing so will remain fairly small. It's a market-by-market strategy, and a company must have a critical mass of employees in any particular market for the economics to be favorable.
Also, negotiating such a deal is "a lot of work," Marcotte says. "When it comes to health care every market is different, in terms of structure, the provider community, and the appetite for value-based purchasing arrangements."
However, many more companies — 35% of those surveyed — are implementing alternative payment and delivery models such as accountable care organizations and other high-performance networks. These are enabled by direct contracts too, although most are negotiated by health plans rather than employers themselves.
Virtual care at the fore: Where traditional telehealth services offered basic care options for common, low-cost conditions, virtual care has taken some major strides. More than half of surveyed employers (52%) believe virtual care will play a significant role in how health care is delivered in the future.
Virtual care has branched out to include digital health coaching, condition management, remote monitoring, cognitive behavioral therapy, and even physical therapy.
"The growth in virtual solutions largely reflects employers' frustration with the pace of change in how health care is delivered," Marcotte says. "Interestingly, 7 in 10 employers believe new market entrants from outside the health-care industry are needed to disrupt health care in a positive way. These disruptors include innovators from Silicon Valley and elsewhere."
Marcotte thinks mental health is a big area of opportunity, given the limited number of providers. "We're seeing a lot of growth in online cognitive behavioral therapy that is guided by artificial intelligence and can help people in the moment, when they need it, rather than not being able to get an appointment for three weeks."
In fact, a startling 30% of surveyed companies plan to conduct campaigns in 2019 to reduce the stigma associated with mental health conditions and treatment. This year, 18% of the companies did so.