Uncertainty about U.S. regulatory and trade policies is prompting some companies to put business expansion plans on hold, according to the second-quarter Duke University/CFO Magazine Global Business Outlook survey.
More than one-third of U.S. finance executives (36%) report that the level of uncertainty their companies face is currently higher than what they perceive as normal. Among the respondents who say their companies face increased uncertainty, nearly 6 in 10 (58%) say that the uncertainty will cause their firms to proceed at a slower pace with or even delay business expansion efforts.
What particular areas of uncertainty are keeping U.S. CFOs from pulling the trigger on growth initiatives? Health-care policy and regulatory policy are both cited by 33% of respondents, followed by uncertainty over economic growth (30%) and U.S. tax policy (28%).
U.S. finance chiefs were also asked which aspects of trade and tax policies are holding back their company's plans for expansion and new projects. International trade deals (28%) are most frequently cited, followed by the income tax rate for C-corporations and the income tax rate for pass-through businesses (both 27%). The proposed border tax comes in fourth (25%).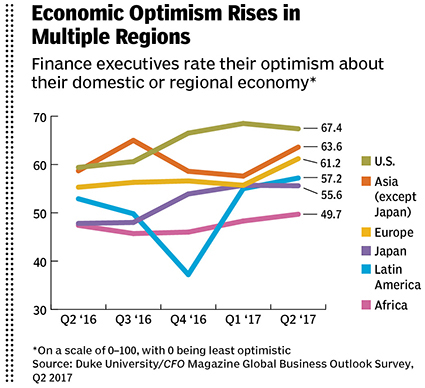 U.S. CFOs describe several ways in which uncertainty about the direction of federal government policies is putting a crimp in their growth plans. Several finance chiefs indicate that their plans for business expansion into Mexico have been cut back or put on hold. Others say that the delay in U.S. federal tax-cut legislation has led them to trim capital expenditures or adopt a more conservative stance toward spending in general.
Several respondents put forward a theme of pursuing core strategies built on their companies' strengths and focusing on things that are under their control.
But a company's choosing to pursue only core strategies can act to slow or stop new projects. And there are other factors holding back growth initiatives, the survey finds. When asked if their companies pursue all projects that are expected to earn a return higher than the hurdle rate they use to evaluate investment projects, for example, only 21% of respondents say "yes." About two thirds (67%) say "no."
What's preventing companies from pursuing these value-creating projects? Shortage of management time and expertise is the most popular answer, given by 51% of finance executives. That's followed by the project in question not being consistent with the company's core strategy (41%), the risk of the project being too high (39%), a shortage of funding (38%), uncertainty about specific project types (34%), a shortage of employees (32%), and overly optimistic projections of the return on investment (28%).
Optimism Still High
Although many growth initiatives may not see the light of day, so far the stagnation in Washington is not souring CFOs on the overall economic outlook. In addition, at the time of this writing, the global markets continue to reflect a similar mind-set.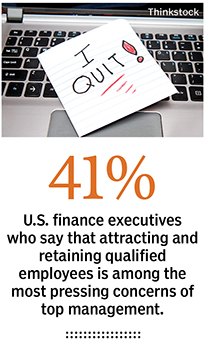 The Duke/CFO optimism index for the United States fell slightly in the second quarter, to 67.4 on a 100-point scale. That's down from 68.5 in the first quarter but still above the long-run average of 60. Hiring plans are stronger than one year ago, and U.S. companies expect to pay higher wages, with median wage growth of about 3%, over the next 12 months (finance chiefs in the construction and tech industries expect wage growth to be even higher).
The most pressing concerns of the top management of U.S. companies are difficulty attracting and retaining qualified employees (cited by 41% of respondents), government policies (36%), the cost of employee benefits (36%), economic uncertainty (32%), data security (31%), and regulatory requirements (30%). Interestingly, the least pressing concerns of top managers are inflation (cited by 2%) and deflation (1%).
CFOs in other parts of the world also remain optimistic, with some regions seeing a significant pickup in business confidence.
CFO optimism climbed to 61.2 in Europe, from 55.7 one quarter ago, lifted at least in part by political leaders' promises to introduce European-level reforms to spur growth. In the next 12 months, European finance chiefs expect capital spending to strengthen and employment to grow moderately (1.7%). The top concerns of Europe's CFOs include economic uncertainty, attracting and retaining qualified employees, and governmental regulations and policies, in that order.
Still, about one in five finance chiefs of European companies say they are delaying expansion until they get concrete evidence of regulatory reform and of an upswing in the European economy. Shortage of funding and of qualified employees is limiting the ability of European companies to pursue certain value-creating projects, European CFOs indicate.
In Asia, CFO optimism increased to nearly the same level as in the United States in the first quarter. CFOs of Asian companies project capital spending will rise 5% in the next 12 months and employment will grow 2.7%. The top concerns of finance chiefs in Asia are difficulty attracting employees, currency risks, and falling employee productivity.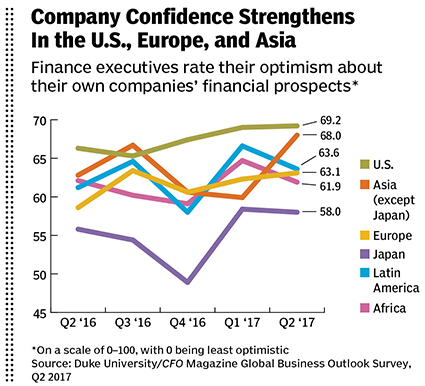 About one-third of finance chiefs in the region say uncertainty about economic growth and tax policy is greater than normal, but few Asian firms are slowing expansion plans in response. Too much uncertainty and overly optimistic projections are primary reasons that some value-creating projects are not always pursued, Asia's finance chiefs say.
Latin American CFOs are signaling moderate optimism, up from very low levels one year ago, as the region's economic optimism index climbed to 57.2. In Mexico, the optimism of CFOs has almost fully recovered from a significant drop in the fourth quarter of 2016, when the United States elected a president who promised to get tough on immigration from Mexico and vowed to renegotiate trade deals with the country.
Still, there are significant concerns about economic uncertainty and weak demand in Latin America. Business spending will be flat and full-time employment will fall in the next 12 months, according to the region's finance chiefs.
In addition, more so than in other parts of the world, CFOs in Latin American say they will delay or cancel expansion plans due to economic and political uncertainty. Shortage of funding is the top reason for not pursuing all value-creating projects.
At 49.7, business optimism in Africa is the lowest in the world. CFOs' outlook for employment is weak. The biggest concerns of the finance chiefs of African companies are economic uncertainty, volatility of the political situation, and governmental policies. Fifty-five percent say that uncertainty is worse than normal, and among those firms more than half are holding off on business expansion in response.
Shortage of funding limits the ability of companies in Africa to pursue value-creating projects, CFOs of African companies say, in addition to projects not being core to the firm and scarcity of management's time.
---
Source for all charts: Duke University/CFO Magazine Global Business Outlook Survey of finance and corporate executives, Q2 2017. Responses for the current quarter include 377 from the U.S., 49 from Asia (outside of Japan), 26 from Japan, 130 from Europe, 120 from Latin America (including 
Mexico), and 41 from Africa.