Are corporations going to deploy a chunk of their cash reserves this year? The Association for Financial Professionals' Corporate Cash Indicators index seems to indicate they will.
The quarterly survey of corporate treasury and finance professionals released Monday found that 30% of U.S. company respondents plan to reduce cash and short-term investment balances over the next three months, while 23% plan to expand those balances. That's a significant change from the October 2016 reading of the survey, in which the proportion of finance executives answering "expand" exceeded those responding "deploy" by four percentage points.
"It appears that U.S. companies are willing to loosen their purse strings meaningfully for the first time since January 2015," said the report accompanying the AFP survey.
"With new leadership in the White House and a Republican majority in Congress, there is more confidence that campaign promises of corporate tax reform, less regulation, and increased infrastructure spending will be fulfilled. Additionally, the Federal Reserve signaled signs of optimism by approving a rate increase late last year."
However, there are reasons to doubt finance professionals' projections of cash levels.
For one, in the AFP's quarterly survey, finance executives' projections of changes in cash balances are usually off.
For example, in the October 2016 survey, 27% of respondents said they would be increasing their cash reserves in the fourth quarter. But when AFP took the subsequent January 2017 reading, it turned out that 42% of companies added to their cash holdings in the fourth quarter. That was not a one-off trend: in general, the last few years, the percentage of companies building their cash reserves in a given quarter is larger than what finance professionals projected in the previous quarter.
Part of the reason for that might be that the finance professionals responding to the survey differ each month.
But there are other reasons to be skeptical about the direction of cash balances. Large companies, especially Fortune 500 organizations, sound very reluctant to give up their fortress balance sheets. That conservatism will definitely come into play if the policies of the Trump administration inject more uncertainty into international politics and cause volatility in stock markets.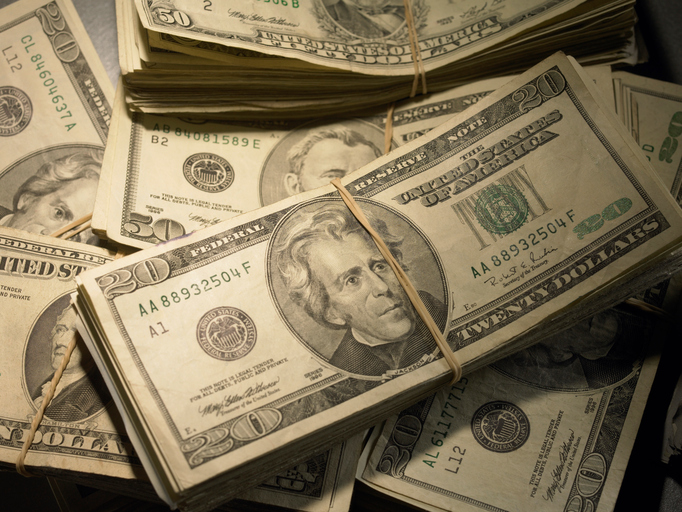 According to the AFP survey, 42% of companies surveyed had larger cash and short-term investment balances at the end of the fourth quarter of 2016 than at the end of the third quarter, and 39% had larger balances at the end of the fourth quarter than one year earlier.
What's more, large multinationals are reporting strong cash flows for the fourth quarter and forecasting even stronger ones, so their reserves will increase, assuming they hold the line on capital expenditures, share buybacks, and debt repayments.
For example, Boeing forecast operating cash flow to increase to $10.75 billion in 2017 from a record $10.5 billion in 2016. Scotts Miracle Gro's free cash flows are projected to increase to $272 million this year, up from $179 million in 2016. And Halliburton expects to generate about $1.2 billion in free cash flow in 2017, an improvement over 2016, despite an increase in capital expenditures.
With U.S. interest rates still relatively low, companies are also still tapping the debt markets. They are amassing more cash through debt issuance and lowering their ongoing interest expenses. Honeywell, for example, refinanced debt in the fourth quarter, cutting interest expenses by 8% but increasing the company's aggregate borrowing by $4 billion, according to CFO Thomas A. Szlosek.
Also in the fourth quarter, Northrop Grumman "took advantage of favorable interest rates" and issued $750 million of new low-cost debt, a portion of which was used to retire high-coupon debt, said CEO Wesley G. Bush on the aerospace and defense technology company's earnings call.
Companies are certainly planning to put some of their free cash flow to work this year, but they are also cautious.
Intel aims to reduce some of its outstanding float in the coming quarters. "You can assume that we have some maturities in 2017 that we'll take out," said CFO Robert Swan on the chipmaker's earnings call, reiterating that the company is working toward a net cash position of zero.
Executives are also confident that share buybacks will keep pace with 2017, despite already high share valuations.
On plans for mergers and acquisitions, though, senior managements have divergent takes.
EBay's CEO, for example, said there is "no doubt" the company will make an acquisition in 2017. "We'll be disciplined, but you can certainly expect M&A to be part of our story," Devin Wenig told analysts.
But Mark Costa, CEO of Eastman Chemical Co., said valuations are too high. "We have no intention of doing any large M&A at this stage," said Costa. "The multiple[s] being paid right now are way outside of the range to provide attractive return on capital to our shareholders."
Image: Thinkstock