With 2017 budgets now wrapped up, CFOs are preparing to kick off the new race toward financial performance targets. Why not take a moment to consider your organization's true philosophy toward investment in finance staff, analytical skills, and enabling technology?
Do operating executives really have your back? Or do they quietly sneer about overhead cost-creep when the finance team needs to grow?  In either case, CFOs will want to fight the good fight when it comes to investing in resources to boost the efficiency and the effectiveness of planning, budgeting, and forecasting (PBF). The trick is to build a convincing argument that smarter planning and forecasting can help them shine more brightly.
Maybe start by demonstrating that the PBF engine is not wasting company money. To aid in that effort, this column will draw on recent APQC benchmarking data from 1,257 companies in a variety of industries.
Our definition of PBF? In APQC terminology, "Perform planning/budgeting/forecasting" involves developing periodic plans, budgets, and forecasts to enable the achievement of organizational performance goals.
The category includes setting assumptions for organizational revenue and cost levels, as well as cash flows. It also includes preemptive resources control and comparing (and dissecting with managers) actual versus targeted financial results.
This process group may also include predicting financial results for the next four to six quarters on a rolling basis.  For a closer look at what the actual sub-processes look like, see APQC's Process Classification Framework® (PCF), a taxonomy of business processes (free download).
Turning to the cost of PBF, the top-performing companies spend 0.02% or less of their revenue on it. These organizations represent the top 25%—the most frugal—of all participants in the data test. Those that spend the most are investing .09% or more of their revenue on the process, compared with the median performers that spend .04% of their revenue.
Total Cost of Performing PBF, as a Percentage of Revenue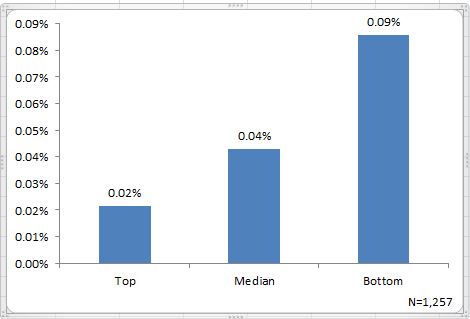 A common reaction to this might be, "Wow, the top quartile companies get PBF done for a fraction of what the laggards are spending! They must be doing something right." No doubt: My ongoing research shows that top-performing finance organizations have worked diligently to constrain PBF cost. And they continually pull all the right levers, including (but not limited to):
Enforcing enterprise-wide standardization for the chart of accounts and data model.
Keeping the number of budget iterations to a minimum.
Training budget owners in the basics of cost analysis.
Influencing the culture to think in terms of dynamic resource allocation, not "use-it-or-lose it."
Ensuring that planning and reporting are sufficiently enabled by technology.
What CFO wouldn't want performance management capabilities that are both lean and smart? But that can be a tall order when it's already relatively expensive to do the number one job: stewardship, or as one CFO once put it, "keeping the company legal." That suggests that some of the most cost-efficient companies in our data test are not necessarily the most effective when it comes to business analysis and decision support.
Control, audit, accounting, and reporting processes absolutely must be in good shape. Whether yours is a $20 million company or a $20 billion company, people are depending on you to ensure that the books are not just squeaky clean, but also transparent. There's no room for error in the world of Sarbanes-Oxley, where you don't get an A for being 95% percent accurate. If your accounting and reporting is anything less than 100% reliable, you flunk.
Guaranteeing the integrity of financial statements cannot be given short shrift. If a finance organization hasn't yet gotten to 100%, ideas such as moving up the maturity curve of performance analytics—and all the myriad investments that implies—probably won't survive long.
But the picture can be murky because this is an area where it's possible to cut off your nose to spite your face. The ideal is to put the right finance people in the right planning and analysis jobs at both the business-unit and headquarters levels with the technology they need. A best practice is to foster a company-wide center of excellence so these people can share practical knowledge about business operations and strategy and strive for excellence in performance management.
While the cost to conduct planning, budgeting, and forecasting is an important measure, it's no less important to enable people to do the job thoughtfully—and not force them to wear multiple hats.
Mary Driscoll is a senior research fellow in financial management at APQC, a nonprofit business benchmarking and research firm based in Houston.