In a market characterized by the mobility of capital and labor, businesses that establish, expand, or relocate facilities tend to go where they have the greatest competitive advantage. Among factors such as raw materials, infrastructure, and skilled labor, taxes are a major element that could enhance or harm an expansion or relocation. Even though tax is one of the biggest costs of operating a company, though, it is frequently overlooked by executives when evaluating major changes to operations.
Being the last to know about a major operations project can be frustrating for a tax department; more importantly, it can be costly. Tax departments can provide strategic tax planning to mitigate risk and minimize tax liabilities, secure business incentives, and provide executives with an accurate business model, thus allowing them to make more educated decisions regarding operations projects. "How?" you ask.
Highlighting Tax Differentiation
Companies are constantly planning, positioning, and repositioning. It is critical to perform an initial analysis of the existing facility's capacity with regards to the company's goals. Factors considered include the cost and availability of labor, equipment, raw materials, and infrastructure.
As an example, the project team should discuss:
What is the projected future production?
How can operations be configured to maximize efficiencies?
What labor skills will be needed?
How much labor will be needed?
Is there adequate infrastructure to support the projected production?
How will the supply chain be affected?
Once the initial analysis is complete, and it has been determined whether to expand, reconfigure, or move to a new facility, a cost analysis is prepared to establish the upfront and operational costs for all relevant options. (Below is an examples of the analysis of one kind of cost.)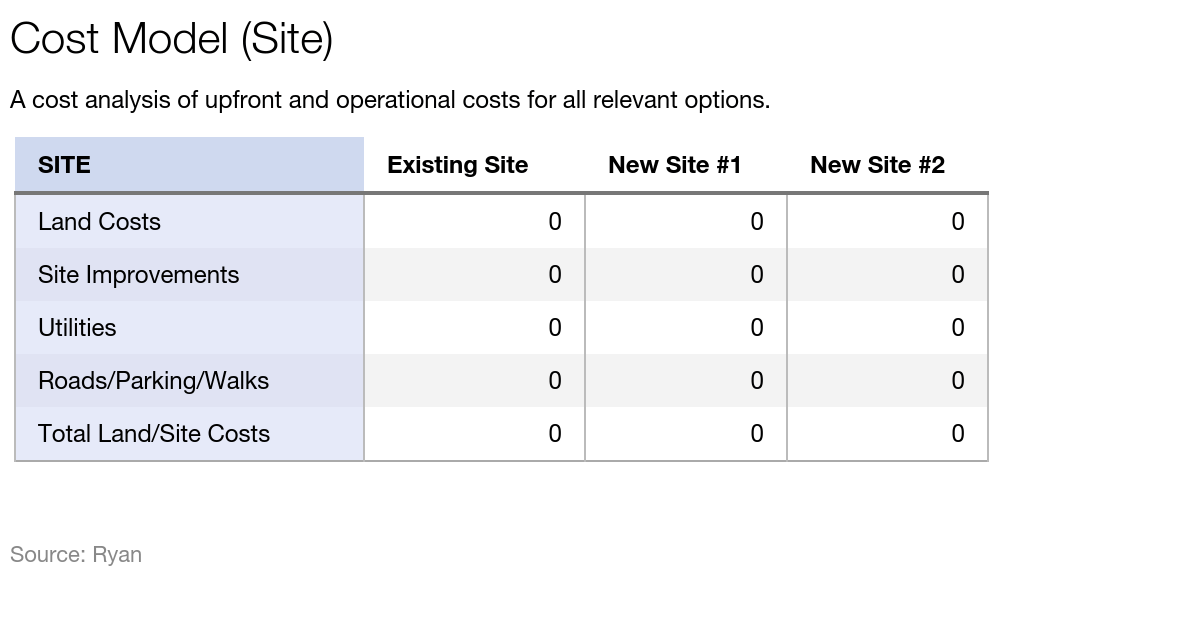 Obviously, building, M&E, and labor costs would also be included in any comprehensive cost model. Notably omitted from the typical model, however, is the tax liability related to each individual site. Because tax rates vary between state and local jurisdictions, project costs could change drastically once the tax department is able to project tax liability for each scenario.
As examples of the tax queries that should be addressed and built into the cost model, consider the following items.
Site and Building Considerations
While the Internal Revenue Service classifies land as a permanent asset that does not decay, wear out, or become obsolete, a taxpayer may often claim tax deductions for improvements, repairs, clearing, and maintenance fees when preparing land for business operations.
The property tax rate for the various sites being evaluated should be another consideration. For example, Site #1 may be slightly less expensive than Site #2, but the property tax rate may be substantially higher for Site #1. In this case, it might be more cost effective to choose the site with a lower property tax rate.
Additionally, many taxing jurisdictions have infrastructure improvement programs in place, which could include low-interest loans, tax refunds/credits, and property tax abatements. For example, a city could offer a low-interest loan to a company for extending a sewer line to a facility in its jurisdiction.
Machinery and Equipment
The tax analysis of machinery and equipment purchases can be particularly insightful if the taxpayer performing the analysis is a manufacturer. Each state has its own tax application regarding the treatment of manufacturing equipment and inputs. The application is particularly dependent on the items purchased and their specific use in the manufacturing process. For instance, many states offer sales tax exemptions for manufacturing equipment. If you are considering a site in a state with a high sales tax rate and no manufacturing exemption, the overall project cost may substantially increase.
Furthermore, many states allow for tradable permits and tax credits or exemptions for pollution control equipment, energy conservation, and alternative "green" energy utilization. If a facility remodeling or new construction is an option, these permits and credits or exemptions could become viable tax-saving opportunities.
Labor
The federal government utilizes Enterprise Zone Incentives and the Federal Work Opportunity Tax Credit (WOTC) to stimulate economic growth at a federal, state, or local level. By determining if a potential site is near a renewal community, empowerment zone, or enterprise community, as well as analyzing the kinds of jobs being created, the tax department can add value to the project by securing either the Enterprise Zone Incentive or WOTC.
Research indicates that more than 50% of credits and incentives go unclaimed each year. Many state and local governments offer businesses incentives, such as grants, cost reimbursement, and tax credits for job creation, retention, and training. Timing is everything because most business incentives from federal, state, and local tax jurisdictions require the terms to be finalized before the project begins. To safeguard a company's relocation and capture the greatest amount of benefits available, it's imperative to get tax professionals involved as early in the process as possible. They can secure and negotiate credits and incentives for expansion into new markets.
A major concern for companies, especially publicly traded ones, is to consistently portray a message of business stability to stockholders and employees. Whether retooling an existing site, expanding an existing facility, or relocating to an entirely different city or state, confidentiality is key. Therefore, any kind of change in operations is typically kept within a small "circle of trust" until implementation is well underway. The primary parties involved in the circle of trust tend to be homogeneous and primarily focused on operations, often forgetting the tax liability and potential tax opportunities that may exist.
While confidentiality may be vital, timing and communication are equally important. By inviting the tax department into the circle of trust from the beginning, the cost analysis will be assuredly more holistic and accurately reflect the tax implications for each site option.
CFOs should insert their tax department in the operations process from the onset of the project, and on a parallel path, tax departments should feel empowered to break into the circle of trust by selling their value to leadership in the real estate, facilities, human resources, and supply chain departments. These departments may not be aware of the true cost of taxes and the benefit of tax planning. An organization seeking to relocate or make other operational changes without involving the tax department from the beginning will end up paying in the long term.
Melissa Munoz is a credits and incentives manager in the Albuquerque, N.M., office of Ryan LLC. In addition to transaction tax services, Munoz is responsible for identifying and implementing multi-state sales and use tax savings for companies across a wide variety of industry sectors. Sharon M. Welhouse is a principal and practice leader of the credits & incentives practice of Ryan.