Investors obsess over the Federal Reserve's "dot-plots." These charts show the rough trajectory that senior Fed officials think its benchmark interest rate should follow over the next few years.
Before every second meeting of the rate-setting Federal Open Market Committee (FOMC), members say how high they think the rate should be at the end of the current year and the two subsequent ones. Each estimate is then plotted as an anonymous dot on a chart, to provide a sense of the range of views within the FOMC. For instance, at its meeting in March, seven of the 17 members thought that the benchmark rate should be 0.625% by the end of the year (see chart, below). They will now be preparing new dots for their next meeting, on June 16 to 17.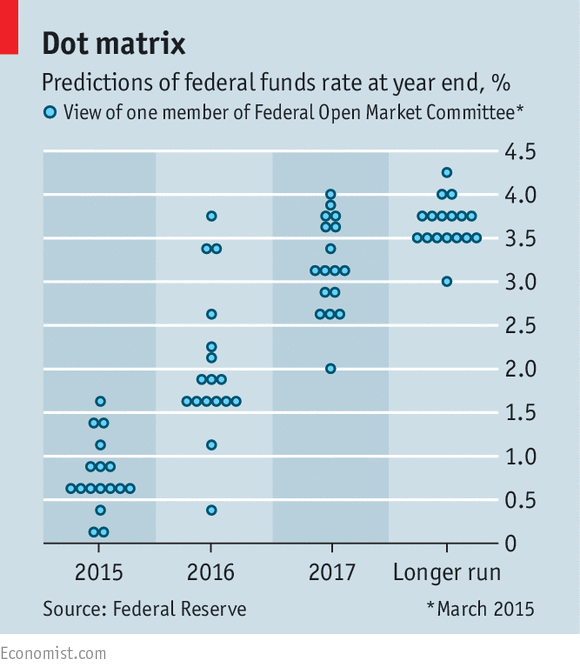 At first glance, the dot-plots seem to offer a wealth of information. For instance, they show that there is plenty of disagreement within the FOMC. Its two most dovish members think the rate should remain where it is (a range of 0-0.25%) until the end of the year, whereas its fiercest hawk wants the rate to rise to 1.625%. For the end of 2016, the range is even wider: 0.375% to 3.75%.
But the dot-plots are less useful than they appear. For one thing, the FOMC consistently overestimates future rates. Its projections have moved steadily downward since the chart's inception, due to disappointing economic data. The very first dot-plot, in January 2012, suggested that the rate would have topped 1% by the end of last year.
Moreover, no one — not even the members of the FOMC — knows for sure whose dot is whose. This is a problem because each member's view is not of equal value. Only 12 of them have a vote on monetary policy. One of the dots — that of Janet Yellen, the Fed's chair — is more important than all the others.
Worse, there is no explanation of how members reached their decisions, or how confident they feel about them. For instance, hawks may look as if they are moderating their views when they are not. They may think the FOMC should already have started raising the rate, but since it hasn't yet done so, they have no choice but to reduce the level they think the rate could plausibly reach by the end of the year.
All this means that the dot-plots are of limited use for understanding monetary policy. At times, Yellen seems to agree. When trying to prime the market for future rate rises, she argued that people "should not look to the dot-plot" to understand the FOMC's intentions. Yet at a recent press conference she pointed to downward revisions of the dot-plot to bat away suggestions that the committee was in a tightening mood. If Yellen cannot decide how significant the chart is, what hope is there for the rest of us?
© The Economist Newspaper Limited, London (June 13, 2015)