The Society of Actuaries recently updated the mortality tables that pension plans use to project the life expectancy of plan participants and beneficiaries to reflect that people are living longer. For example, average life expectancy for a 45-year-old has increased from 83 to 87[1]. And as people are living longer, pension plans have to accumulate more assets to fund lifetime annuity payments.
When fully implemented over the next few years, the new tables are expected to increase pension plan liabilities by an average of 6-9%. In response to this and other factors (e.g., scheduled increases to Premium Benefit Guaranty Corporation premium rates after 2014), sponsors are seeking to remove pension liabilities from their balance sheets by offering lump-sum payments to their terminated vested participants and/or by purchasing annuities for benefits due from the plan.
While there has been lots of discussion about the impact the new mortality tables will have on pension plans, there's been far less talk about how longer life spans also affect defined contribution (DC) plan participants. Yet the average employee shares the same goal as any defined benefit plan: accumulate sufficient assets to provide a targeted percentage of preretirement income for their remaining lifespan.
Barring strategies such as deferring retirement or investing more aggressively (in hopes of achieving higher returns on retirement assets), living longer means people need to save more to fund a longer retirement. However, many of the communications offering participants a lump-sum payment of their accrued pension benefit instead of a lifetime annuity don't mention they will have to make the payment last over an expected longer lifespan.
Take the example of a 45-year-old earning $80,000 per year deferring 6% per year with a 6% employer contribution. Assume he started saving at age 30 and had planned to retire at 65. In light of the new mortality tables, the grid below presents different options for the employee to maintain the same monthly annuity amount they had otherwise projected:[2]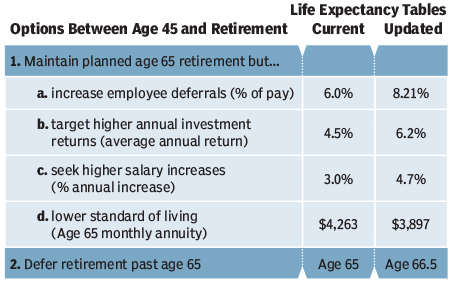 There has been a great deal of discussion on the topic of retirement readiness but, candidly, far less action. It appears DC plan sponsors have been reluctant to institute changes or commit resources given a lack of regulatory protections (e.g., for in-plan annuity purchases). They are also unwilling or unable to increase benefits. Perhaps most importantly, there's been little interest from either plan participants or executive management to address the problem.
But with the ability the new mortality tables afford to quantify the impact of longer lifespans on DC plan participants, as well as all the attention that the lump-sum offers have received, there may be more interest in addressing this topic than in the past.
Some organizations are beginning to carefully evaluate these issues by:
Developing detailed retirement income projections for their plan participants, including all existing benefit programs as well as Social Security.
Comparing results under the existing and updated tables to quantify the impact on employees' retirement savings needs and the potential of longer life expectancy awareness to delay voluntary retirement.
Considering plan-design changes such as boosting automatic enrollment and escalation rates, re-enrolling existing participants who have waived participation, or even using a "stretch" matching level to reflect the higher savings level needed given longer life expectancy.
Re-enrolling existing participants, not just new hires, in the plan's Qualified Default Investment Alternative (QDIA) unless they opt out. This may be particularly relevant for organizations where participants still retain a large percentage of assets in capital preservation vehicles such as a fixed account or stable value fund that's unlikely to provide the returns needed to accumulate sufficient retirement assets.
Introducing tools that monitor each individual's retirement plan (and outside assets if provided) and automatically make adjustments so savings are aligned with a retirement income target. These tools have long been available to monitor a participant's asset allocation but are needed for a participant's savings rate as well.
Re-examining the possibility of adding an in-plan annuity feature or providing other options for participants to secure a lifetime income stream.
Developing education campaigns to raise employee awareness of the need to evaluate their options.
Acting now may mitigate the less-favorable outcomes (increased employee stress, low morale, delayed retirement) employers will experience if employees don't grasp the impact of longer lifespans until the end of their careers, when it is too late to act. And outside observers (including government, media and litigators) may one day question why organizations are so focused on the impact of increased longevity on their costs yet focus so little on helping their employees with the same problem.

Alan H. Vorchheimer is a principal of Buck Consultants at Xerox in New York. He can be reached at [email protected]. The author wants to thank his colleagues Anastasia Aleksandrova and Shirley Cheung for developing the calculations used in this article.

Footnotes
[1] Current mortality is based on a 50/50 blend of the male and female post-retirement mortality tables as mandated by PPA and specified in IRS Regulation 1.430(h)(3)-1 for minimum funding purposes for 2014. Updated mortality is based on a 50/50 blend of the male and female RP-2014 table for a 45 year old in 2014.
[2] Current mortality is based on a 50/50 blend of the male and female post-retirement mortality tables as mandated by PPA and specified in IRS Regulation 1.430(h)(3)-1 for minimum funding purposes, applied on a static basis, projected 7 years from the assumed normal retirement date of 1/1/2034. Updated mortality is based on a 50/50 blend of the male and female RP-2014 post-retirement mortality tables projected to the assumed normal retirement date of 1/1/2034 using the MP-2014 improvement scale. Assumes a 3.0% rate of salary increase, 4.5% annual investment returns, and a 3% rate to annuitize account balances.