This is the third story in a four-part series on cash management. The first story, The Value of Cash, looked at how to value $1 of surplus balance-sheet cash. How to Segment Surplus Cash, the second story, examined approaches to categorizing cash to enable longer term investment. Loosening Without Losing, the final story, explores how treasurers can prepare for a rise in interest rates.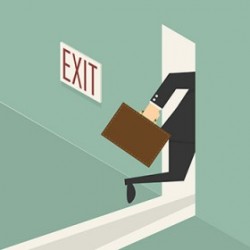 When trying to judge whether corporate treasurers will flee for the exits when money market fund reforms take effect, one thing becomes clear: U.S. monetary policy may wind up resuscitating what financial services regulators have tried to kill.
The "what," of course, are prime money market funds, defined as funds that invest in things like floating-rate debt, commercial paper, and securities of U.S. government agencies. The Securities and Exchange Commission didn't really try to kill prime funds, but it did adopt structural and operational reforms in July, after years of debate and squabbling.
To address the risks of investor runs in times of crisis, U.S. regulators first imposed regulations four years ago that require money funds to hold a certain portion of their portfolios in highly liquid investments. The more recent reforms, however, strike at the heart of prime money funds' attractiveness to corporations: liquidity (there could be less of it in times of financial market stress) and safety of principal.
All of the changes have the money markets wondering not whether corporate cash will retreat from the near $3 trillion in prime funds, but how much. But the ramifications of the reforms are hardly certain: two years from now, in an investing environment that will be very different from today, companies may find that on a relative basis, prime money market funds still work for them.
The Buck Stops
With the latest SEC amendments to money market regulations, prime funds (including what are called institutional municipal funds) lose what the commission calls their "special pricing and valuation conventions." Before, prime funds were allowed to maintain a constant share price of $1; now, as with mutual funds, their net asset value (NAV) will float — rise and fall along with changes in the market-based value of the underlying investments. The fund sponsor has to sell and redeem shares based on the floating NAV.
Some think the change is overdue. "Money market funds are made up of securities, and the value of those securities can fluctuate based on a host of conditions," says Brandon Semilof, a managing director at StoneCastle Cash Management. "Most folks didn't have a true understanding of what exactly a prime money market fund was."
The second part of the reform package allows the boards of money market funds to impose "redemption gates" and "liquidity fees" — measures that presumably would halt or at least slow an investor exodus in a financial crisis. Allowing a fund sponsor to charge a fee to an investor that wants to sell its shares could not only reduce the incentive for investors to redeem shares but also "buttress" the NAV, said Fitch Ratings in an August report, because "the language [of the amendment] indicates the liquidity fee would be paid in a manner that would benefit those shareholders still in the fund."
The redemption gate would allow a fund's board to temporarily suspend shareholder redemptions for up to 10 days. As Fitch notes, boards previously had the option to stop redemptions, but "the amendments highlight the potential tools a fund board might use and thus make [redemption gates] a publicized and known market norm."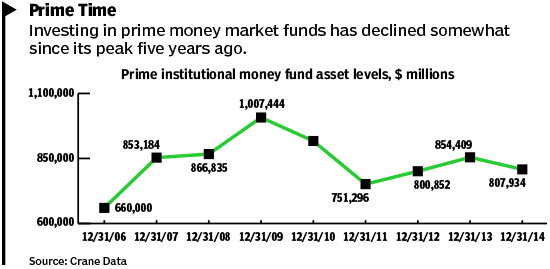 A Nonstarter?
How will all this sit with treasurers? The prognosis has been highly negative. In one survey by the Association for Financial Professionals, 20% of 740 corporate treasurers (with a total of $250 billion of cash in prime money funds) said they would exit the vehicles if a variable NAV was imposed.
Moreover, as StoneCastle's Semilof points out, the AFP didn't even ask about the possibility of a redemption gate, which he sees as more likely to violate a company's cash investment policy. A redemption gate is inconsistent with the liquidity aspect of many investment policies, he says, so "that aspect of the new rules for many treasurers is a nonstarter."
Jerry Klein, managing director at HighTower Treasury Partners, predicts there will be outflows of corporate cash from prime funds. Treasurers still believe the prime objective of short-term cah investing is preservation of principal. Although NAV fluctuations will most likely be minimal, "treasurers will not be comfortable with the potential for small losses when they redeem their shares," Klein says.
That's not to mention the accounting and tax headaches that could come from investing in a floating NAV fund. As the Treasury Department stated in issuing proposed guidance last July, shareholders that "frequently purchase and redeem shares (as is the case where the fund is used as a 'sweep arrangement') … may experience a high volume of small gains and losses. Tax compliance might be difficult and burdensome if these taxpayers had to ascertain the cost basis and gain or loss for each transaction."
The guidance, issued jointly with the Internal Revenue Service, proposed a "simplified, aggregate annual method of tax accounting for gains and losses." Although the guidance is out for comment, "shareholders in floating NAV MMFs can now rely on these proposed regulations to begin to use the simplified method," Treasury stated.
Still, Semilof is wary. "The idea behind cash management [and money markets in particular] has been to remove all labor-intensive aspects," he says. "It may not be worth it from an accounting perspective to have to deal with this on a day-to-day basis."
Klein points out that floating NAVs could also cause an issue with intraday liquidity. "Some treasurers need very quick turnaround times on their wire transfers," he notes. But with a floating NAV, the sponsor has to price the fund to process redemptions, and it's not clear how often floating NAV funds will get priced, says Klein. While the fund companies are confident they will have same-day settlement on prime funds, redemptions will not be processed as quickly as they are today, says Klein. As a result, some companies may move into government money market funds that will retain a fixed NAV.
No Simple Decisions
Two things will certainly happen as a result of the new regulations. One, companies will reevaluate their short-term cash investing policies. "The first thing we are telling all our clients is to check the language on money market funds and make sure that the language encompasses funds with a floating NAV," Klein says.
Says Fitch: "Many institutional investors will need to reexamine and update their written investment policies to be able to use the new money fund structures or access alternative liquidity management solutions. For example, some policies specifically dictate that money funds must have a stable NAV, and corporations and municipalities will have to determine whether they would be comfortable investing cash in a floating NAV fund."
Also certain to happen are at least some outflows from prime funds. Some investors will move cash into government money market funds and bank deposits, for example. Others may explore separately managed accounts or even go back to directly investing in short-term securities. But with the Federal Open Market Committee expected to start raising the Federal funds rate in June 2015, deciding whether to invest in money market funds won't be straightforward.
Outflows may occur in the near term, says Fitch, because "the current yield difference between government and prime funds is compressed enough such that shareholders may not feel compelled to keep their funds parked in prime funds as the new rules take effect." But in the two-year period before implementation, investors may get more comfortable with a floating NAV. In addition, a rise in interest rates and other factors could push the spread between government and prime funds wider, more like historical levels, says Fitch, leading to a slowing or total reversal of prime fund outflows.
The spread between the interest paid on bank deposits and money fund rates could also increase. "Many of our clients have already had meetings with their banks, and [due to rules like the liquidity coverage ratio] banks are less interested in nonoperational short-term deposits," Klein says. "If banks are going to continue to accept them, the interest rates banks pay will likely decrease."
Fund sponsors have two years to comply with the rules, but the uncertainty created by them may require finance departments to develop strategies to cope with the transition period. Treasurers are going to have to revisit the issue with their CFOs, CEOs, and boards of directors and possibly reevaluate how they forecast and segment their cash. On the plus side, short-term investing of corporate cash — a rather dull undertaking the past few years — may once again get interesting.
Image: Thinkstock