U.S. finance executives are feeling increasingly confident about the economy and their companies, while their European counterparts appear to believe they have finally turned the corner. But in Latin America, a gloomier economic outlook has started to erode the confidence that corporate leaders have in their businesses.
These are some of the highlights of the Duke University/CFO Magazine Global Business Outlook Survey for the third quarter of 2014. The survey collected responses from 383 CFOs and other executives at U.S. companies of all sizes, and from 622 executives from countries in Europe, Asia, Latin America, and Africa.
CFO optimism about the U.S. economy continued to rise during the quarter, soaring to 62.5 on a scale of 0 to 100. That's up from 61 in the second quarter and nearly 4 points above the long-run average of 59. The optimistic outlook boosted the confidence of U.S. finance executives in their own companies, which came in at 69, compared with 65 a year ago.
Meanwhile, in Europe, economic optimism leapt upwards to 61, coming on the heels of a dip to 53.5 last quarter. Own-company optimism similarly reached a new high of 64.
Latin American Distress
The solid U.S. outlook and the renewed enthusiasm in Europe stand in stark contrast to Latin America, where 62% of executives said they were less optimistic about their local economies this quarter than last. This level of pessimism was approximately three times higher than seen anywhere else in the world.
What a difference a year makes. In the third quarter of 2013, Latin American finance executives led the world in optimism about their economies, with an optimism level of 61. Now, the Latin American index stands at 50, on a par with levels seen in the United States only in the aftermath of the Great Recession.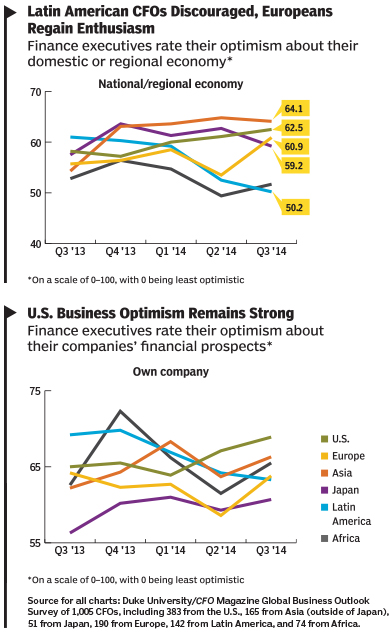 Latin American executives indicated that the pain was being felt within their own companies as well. A year ago, the level of own-company optimism in Latin America registered nearly 70 out of 100. This quarter, the Latin American outlook for their businesses fell to 63, coming in just below the Europeans.
Regulation and Taxes
With the domestic economy improving—or at least not backsliding—U.S. finance executives now see the most significant risks to financial performance coming from government policies (39% of U.S. respondents) and regulatory requirements (36%), rather than economic uncertainty (24%).
Since the Citizens United decision in 2009, in which the U.S. Supreme Court lifted restrictions on corporate contributions to political campaigns, companies have had more opportunity than ever to exert their influence over policies and regulation. In this quarter's survey, however, only 3 out of 10 U.S. firms (31%) said they currently make political contributions. Public and private companies were equally likely to donate, the survey found. Among the firms making contributions, the primary reasons were to strengthen relations with policy makers and to make sure their corporate views were heard.
The larger companies in the survey—those with revenue above $500 million—were much more likely to make contributions than smaller companies. Small and midsize businesses may believe that their financial results are not affected as much by regulation, or they may simply have decided to apply their earnings to support their growth strategies more directly. Among the most common reasons respondents cited for not making corporate donations were company policies against them, and the perception that political contributions were not particularly effective.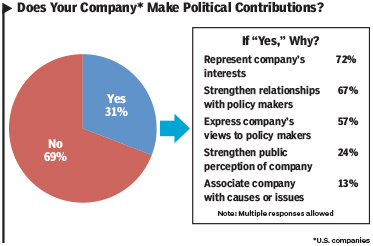 The survey also confirmed that domestic tax policies rank high among the concerns of U.S. companies. A very large portion of the U.S. respondents (76%) said that other countries' tax codes are more favorable to companies than the U.S. tax code is. Approximately half of the U.S. respondents agreed that their companies aggressively manage where their profits are realized because of tax considerations (47%), and that tax incentives influence their companies' decisions on where to locate operations both domestically and abroad (54%).
However, despite recent media and political focus on corporate inversions, such as the recent Burger King/Tim Hortons merger, relatively few companies in the survey (13%) have actively considered reincorporating in another state or country in order to reduce corporate tax obligations.
Raising the Minimum Wage
Minimum wage legislation does not appear to be a concern for the majority of companies in the survey, with 77% reporting that none of their workforce currently earns minimum wage. The consumer sector (retail or wholesale) had the largest percentage of the workforce paid at $8.75 an hour or less, while the technology and consulting sectors were least likely to be affected by minimum wage considerations.
Among the companies that would be affected by minimum wage legislation, firms indicated that they could reasonably accommodate a modest hike to $8.75 an hour (from the current federal minimum of $7.25). The survey showed that an increase in minimum wage to $8.75 an hour or less would have relatively little effect on current employment levels, but it would also cause more companies to rethink their hiring plans. However, larger increases in the minimum wage, in the range of $10 to $15 an hour, would start to be felt in a number of ways, including higher likelihood of layoffs, curtailment of future hiring, reductions in employee benefits, and higher product prices.
Acceleration of the shift away from labor and toward machinery was also seen as a potential consequence of a higher minimum wage. Nearly half of all companies surveyed reported that they had already implemented, or soon would implement, labor-saving technology, such as robots. At these firms in particular, the low-wage employees whom minimum wage increases would be designed to help are also those at the most risk of losing their jobs from new labor-saving technologies.