In an interesting counterpoint to the recent flurry of tax inversion deals, Microsoft is among many U.S. companies with big cash hordes overseas. It's pile is just bigger than most: almost $93 billion, Business Insider reported. Were the money brought back to the United States, the software giant would owe nearly $30 billion in taxes on it.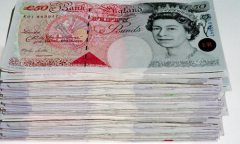 Microsoft's most recent annual report, filed with the U.S. Securities and Exchange Commission on June 30, disclosed that its foreign subsidiaries had "permanently reinvested" $93 billion abroad. That was $17 billion more than a year earlier.
According to a May 2014 Citizens for Tax Justice report, Fortune 500 companies at that time had some $2 trillion in offshore accounts that allowed them to save $550 billion in taxes.
U.S. firms are immune to paying taxes on "income they earn overseas as long as they also spend that money overseas," Business Insider noted. They are liable for paying U.S. taxes on that income if they repatriate the money in order to, for example, pay shareholder dividends, hire employees or make an acquisition. Upon a repatriation, the money would be subject to the U.S. corporate tax rate of 35%, less any taxes paid in the countries where it was earned, Business Insider wrote.
The biggest U.S.-based stockpiler of cash outside the United States is believed to be Apple, which disclosed last September that it had $137.7 billion in offshore cash. Citizens for Tax Justice noted that General Electric has $110 billion of such cash, Pfizer $69 billion, Cisco $48 billion, Hewlett-Packard $38 billion, Google $39 billion and Oracle $26 billion, based on each company's latest annual report as of May."
Not only is the practice not illegal, "a corporation owes it to its shareholders to keep its tax bill as small as possible," Business Insider pointed out.
What such companies want, says the site, is for the U.S. tax code to be revamped with a lower rate on repatriated cash. They might also embrace a "tax holiday," recently proposed by the Joint Committee on Taxation, in which companies would pay little to no taxes on repatriated cash.
Source: Microsoft has nearly $93 billion in overseas cash, and it's reduced its tax bill by almost $30 billion
Image: Johnny Void