With banks still easing underwriting standards on corporate loans and fixed-income investors welcoming corporate issues with open arms, it's no surprise that many large companies are tapping credit markets aggressively.
But in the past many bank loans and bond deals were about refinancing existing debt. In the last two years, many financial executives have chosen to increase their companies' balance-sheet debt, even when it's measured net of growing cash hoards.
A year ago, we found 369 large U.S. companies (more than $500 million in revenue and $250 million in EBITDA) that had increased their net debt-to-EBITDA in 2012. This year, an analysis of data provided to CFO by S&P Capital IQ shows that 295 U.S. companies in that size category (7 percent of the total) increased their net-debt-to-EBITDA ratios in 2013.
For 2013, the median increase in the net debt-to-EBITDA (earnings before interest, taxes, depreciation and amortization) ratio among the 295 companies was 18 percent, and the average net debt to EBITDA was 3.36, up from 2.68 for the same group of 295 companies in 2012. The median net debt-to-EBITDA ratio was 2.71, compared with 2.43 in 2012.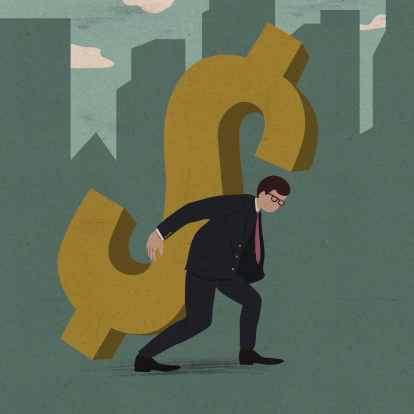 The 25 nonfinancial companies whose net debt-to-EBITDA rose the most in calendar year 2013 were Science Applications International (net debt to EBITDA of 1.0), Northern Tier Energy (0.7), Diamond Offshore Drilling, (0.3) Western Refining (1.4), CH Robinson Worldwide (1.0), Exxon Mobil (0.3), Northrop Grumman (0.2), Zoetis (2.4), EnerSys (0.3), Amgen (1.7), Outerwall (0.8), Genuine Parts (0.5), PBF Energy (1.7), Paragon Offshore Limtied (1.8), Global Payments (0.7), Salix Pharmaceuticals (1.5), Mattel (0.4), Bally Technologies (5.2), NCR (3.2), Hyatt Hotels (1.6), Gannett (3.3), Rockwell Collins (2.1), NII Holdings (9.2), Packaging Corp. of America (3.1) and Rosetta Resources (2.2).
For many companies that upped their leverage, the net debt to EBITDA number was not alarmingly high. Those at the top of the chart increased debt off a very small base, for example. But 54 of the 295 companies that increased leverage had net debt to EBITDA of 5.0 or above. Bank covenants usually stipulate that debt-to-EBITDA ratios can't go above 5, so that level of net debt might make it hard for those companies to meet their obligations out of earnings and cash, or make refinancing tranches of maturing debt difficult. More urgently, the greater leverage gives them a thinner margin of safety if revenue or profit turns south.
In addition, many companies that increased their net debt to EBITDA in 2013 were already highly leveraged. The 25 with the highest resulting net-debt-to-EBITDA ratios in 2013 were Bonneville Power Administration (net debt to EBITDA of 22.9), Long Island Power Authority (16.1), Catholic Health Inititiatives (15.5), Arch Coal (15.2), Oglethorpe Power (12.6), South Carolina Public Service Authority (11.9), Pinnacle Entertainment (11.4), CC Media Holdings (11.1), Avis Budget Group (10.1), Regency Energy Partners (9.62), NII Holdings (9.2), Claire's Stores (9.20), Toys "R" Us (8.87), Cumulus Media (8.68), Sacramento Municipal Utility District (8.41), Centaur Guernsey LP (8.35), Tenet Healthcare (7.99), Atlas Energy (7.95), The ServiceMaster Co. (7.39), Ford Motor (7.36), Penske Automotive Group (7.29), CarMax (7.07), Berkshire Hathaway Energy (7.05), Enbridge Energy Partners (6.75) and Sonic Automotive (6.72).

Net debt subtracts cash and cash equivalents from long- and short-term borrowing, so a net debt-to-EBITDA ratio increase means different things for different companies. A fall in EBITDA, a shrinking of cash and equivalents, and a large amount of new debt can all raise the ratio.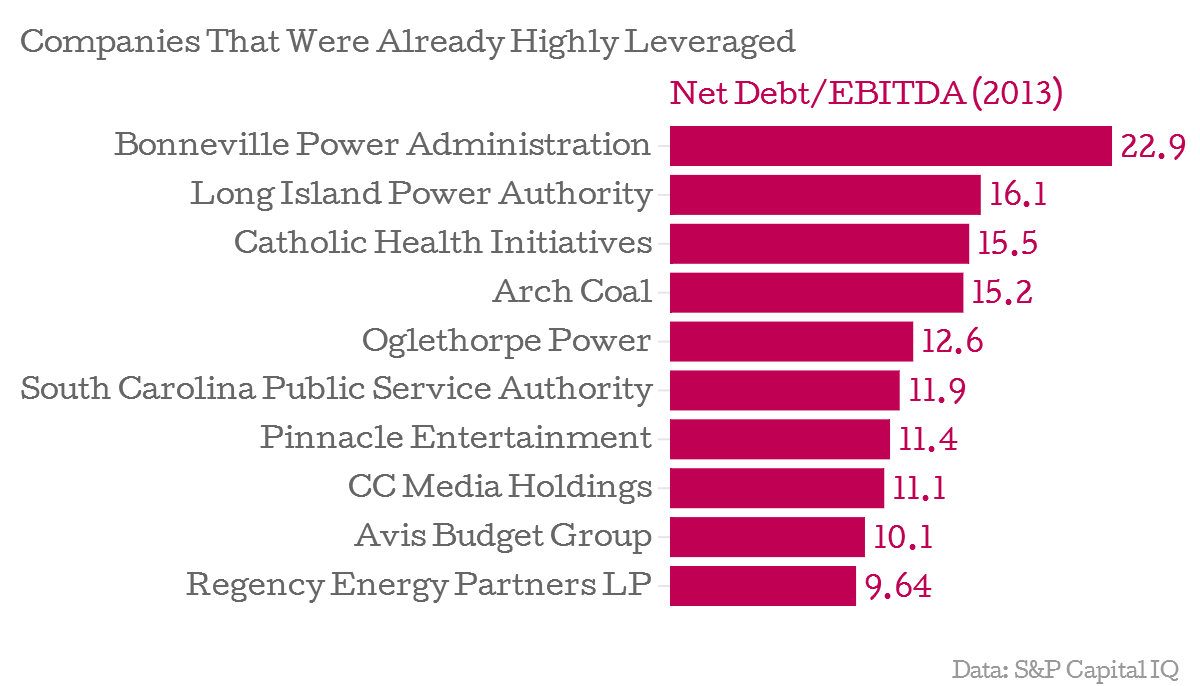 The last reason was the most common among the 295 companies that increased their leverage. Their median increase in total debt was 13 percent. However, 21 companies did see their EBITDA drop. In addition, 160 companies experienced a fall in cash and cash equivalents, which pushed up their net debt-to-EBITDA ratios.
The one-year trend of rising leverage doesn't mean the same thing for all the companies, of course. Some energy companies, for example, had huge drops in cash earnings. Others, however, tapped bank financing to buy companies, driving up their net debt.
Gaming outfit Bally Technologies used debt to make a $1.3 billion acquisition of SHFL Entertainment, part of an expansion into Asia and Australia. Similarly, Packaging Corp. of America, a containerboard company, increased its leverage to finance a nearly $2 billion purchase of regional competitor Boise. The consideration included $714 million of Boise debt assumed by Packaging Corp. of America. 
While companies are applauded these days for making acquisitions to boost earnings and revenue growth, they can also get themselves in trouble if they take on a heavy debt load to do so. Casino developer Pinnacle Entertainment, for example, already had net debt to EBITDA of 5.3 when it added about $2.5 billion in debt to acquire Ameristar. With its leverage now at 11.4, Pinncale does plan to reduce debt, but a downturn in gaming revenues industry-wide could force it to delay the debt repayment schedule it originally forecast.
Image: Thinkstock